I have received several questions asking about the best way to include turmeric in one's diet.
This is a very important question because using turmeric in a regular manner is a 'preventive' measure and prevention is always better than cure.
Of course, using turmeric regularly will also help in several existing health problems.
Note, we have not included Turmeric Paste in the list, but instead of using turmeric powder in any of the below dishes, you can use Turmeric Paste  (recipe here)
6 Easy Ways to Include Turmeric in Daily Life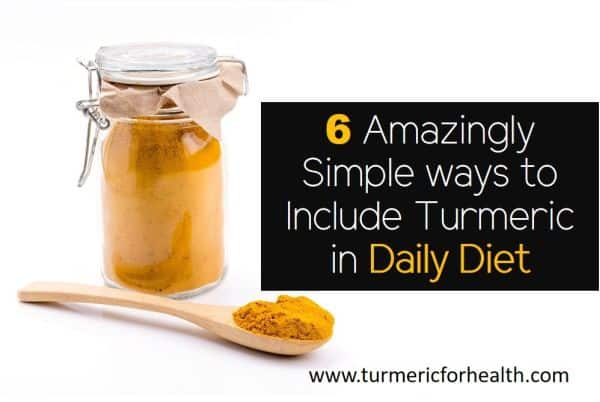 There are so many ways turmeric can be included in your diet, but my focus is to present most easy and effective ones so that you do not need to go out of the way to make special dishes for it. So here is the list:
1. Delecious and Healthy Turmeric milk
This remains my all-time favorite because it is easy to prepare (even small children can prepare turmeric milk if given some guidance) and includes the benefit of milk too!
I found that people love turmeric milk flavor and thus stop using any other flavors (chocolate etc.). It is awesome in case you have a cough and cold. You can take it in the morning or just before sleeping. Check out the recipe here
2. Tasty Turmeric tea
For all those tea lovers, turmeric tea is another great way of including turmeric in daily life. Tea is an integral part of breakfast, evening snacks, etc. in many parts of the world and thus turmeric can tea perfectly fits. Check out the recipe here
3. Adding Turmeric in Curries
In India, most of the vegetable curries we make have turmeric in it. This makes turmeric indispensable part of our food. Based on the curry and requirement, turmeric also gives flavor and color to the curry.
If you have not been adding turmeric to your curries yet, try experimenting with some and see the difference. I am sure you would love it.
4. Add Turmeric to Salad dressing
There are also some exciting new ways of using turmeric, I was not aware that turmeric could be used as a part of salad dressing too.
I have researched over the internet and there are so many amazing salad dressings which have healthy stuff such as turmeric, honey, etc. If you do not know how to make one, just search over internet and you will find several salad dressing recipes with turmeric.
5. Make Turmeric rice
If you love rice, this one will for sure excite you. Adding turmeric to rice not only adds flavor but an amazing color to the rice. Not forgetting the health benefits it brings with it.
Again, there are several ways of making turmeric rice; here you can recipe of lemon rice which includes turmeric.
6. Add Turmeric to Soup
Turmeric can also be part of your soup! Yes, it tastes good too. I tried adding a pinch of turmeric with lentil soup and it was nice. Of course, you should experiment it your favorite soups. Check out the recipe here
Turmeric can be used in so many other ways but I have tried to put only the ones which I feel are easy to follow on a regular basis. As I am vegetarian myself, I do find it difficult sometimes to highlight how turmeric can be used regularly with non-vegetarian food. If you have any ideas please share!
As I am vegetarian myself, I do find it difficult sometimes to highlight how turmeric can be used regularly with non-vegetarian food. If you have any ideas please share!
If you have any other awesome ways to use turmeric, please share as comments or email me. You can also send your recipes to me, I will put them on the portal with due credit.
I have put some recipes too on the website, you can find them here 
Turmeric dosage
Turmeric is very safe when taken as a spice and thus it is the best way to include it in this manner. But very high intake for a long period of time can also cause some side effects., so be careful.
Here is a detailed article on turmeric dosage.
Also, as turmeric is absorbed poorly in the body, it is best to include black pepper in the diet to enhance its benefits. Read more details on how black pepper helps here.