Treatment of inflammation with turmeric is a gradual process. It may take from a week to a month to notice significant changes in inflammation while taking turmeric. It is observed that regular intake of turmeric considerably reduces inflammation as time progresses. The whole course of treatment may last from 4 weeks to 8 weeks, depending on the patient's health condition.
Read: Why turmeric is great for inflammation?
Non-Steroidal Anti-Inflammatory Drugs (NSAIDs) though may provide faster relief, have adverse health effects. However, turmeric offers gradual but more efficient outcomes and without side effects.
Time Required by Turmeric to Reduce Inflammation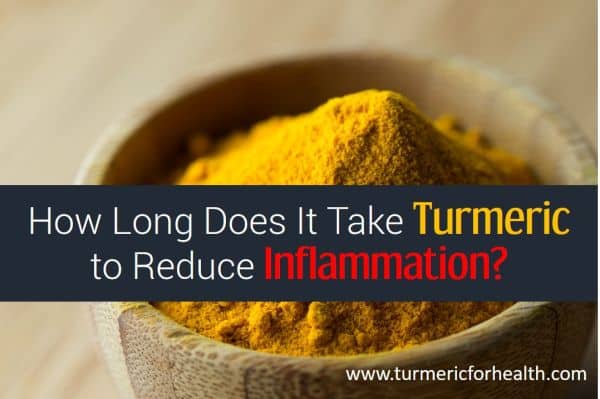 The efficacy and time taken by turmeric to reduce inflammation depend on various factors. They are discussed in detail below:
1. The severity of inflammation/disease
There are a number of inflammatory diseases like inflammation of joints, digestive tract, and respiratory tract or other organs. Conditions may have a varying degree of severity, depending on which, the time taken by turmeric to reduce inflammation may differ.
More severe disease may take not only more time, but also a higher dosage of turmeric.
2. The dosage of turmeric/curcumin
Studies have experimented with different compositions of turmeric and curcumin and taking a higher dose may result in faster recovery.
In a study, taking about 2.8g turmeric per day in the diet for 4 weeks showed no effects or improvements in inflammation or oxidative stress in overweight or obese individuals. [1]
Among other studies, consumption of about 500mg of curcumin daily for 4 weeks has shown positive outcomes.
Thus, a high dose of turmeric or curcumin may reduce inflammation faster.
One can take a higher dose for a more profound effect, but other health conditions and tolerability have to be taken into account.
The dosage, which is specific to an individual, must be formulated by consulting with a health professional.
3. The dosage of other medications used
Turmeric is often advised as adjuvant therapy in addition to other medications and not as a sole treatment measure.
The potency and type of drugs may influence the time taken by turmeric to reduce inflammation.
4. The route of administration
Turmeric may be taken orally, topically [2] or by intranasal application [3], depending on the disease.
Topical application may provide faster relief from inflammation (within hours [4] or days [5]) as compared to oral intake (within weeks).
This may be because when applied to wounds or inflamed skin, turmeric directly comes in contact with affected cells, whereas if taking orally, turmeric has to be first absorbed by the gut and then utilised.
This takes a long time to reduce inflammation.
What is the time taken by turmeric to reduce inflammation?
Considering the above factors, one cannot say the exact time duration after which reduced inflammation may be experienced after turmeric consumption.
However, clinical trials studying the effects of turmeric report significant differences after 3 days [6] to 2 months [7] of turmeric intake in different health conditions.
Studies have reported improvements within days [8], 4 weeks [9] [10], 6 weeks [11] and 8 weeks [12] [13] [14] duration of taking turmeric.
In a study, topical application of turmeric gel in gingivitis patients resulted in significant improvement in health condition within 21 days. [15]
Although one may start experiencing differences as early as a week, the treatment should continue for at least a month or two, or longer, if inflammation persists. Studies have reported better results and improvements in condition with increasing time. [16]
One may even continue turmeric intake afterward to prevent recurrence of the disorder.
However, one should determine the proper dosage and duration of intake of turmeric by consulting with a medical professional based on health and other medications used.
How to Take Turmeric for Inflammation
There are several ways to take turmeric in case of inflammation if you are looking to take turmeric powder/spice – the two best ways are:
It is important to understand turmeric dosage, please check the detailed article on turmeric dosage here>
If you are looking for some good turmeric powder brands, here is our list of recommended brands> 
While turmeric is very safe, but it is not recommended to take it in certain cases and also not in too much quantity. Understand what these situations are so that you can avoid turmeric's side effects. Read more>
One very important thing to be considered while taking turmeric powder is its absorption. Turmeric is poorly absorbed in the body, but that limitation can be easily overcome by adding fats (oils) or Black pepper to turmeric. If you want to know more about how they help, please read here>
If you plan to take turmeric supplements or curcumin, check out the types of supplements available in the market here> and choose a good brand accordingly.
Have you used turmeric for pain and inflammation? If yes, how was your experience with it? Please share your experience and feedback by commenting below.  It will be of great help to all our readers!