The oldest memory I have of using turmeric is that of taking it with milk.
So here I discuss how turmeric when used with milk can be beneficial for various health problems and some common ways of preparing your turmeric milk.
Turmeric Milk Benefits
Turmeric has been used as a spice in Indian recipes and as an Ayurvedic medicine for many thousands of years. Turmeric offers many health benefits since it has both anti-inflammatory and anti-oxidant properties.
It is used to relieve swelling and pain due to headaches and wounds and is called 'natural aspirin' in Ayurvedic medicine.
It also possesses anti-bacterial properties and when applied to small cuts and wounds, it can stem blood flow by aiding with blood clotting, prevents infections and heals wounds. Combined with milk, turmeric is used as a drink, lotion or even a face mask.
This all-natural cure for various ailments is safe to use. Milk we all know strengthens bones. Combined with turmeric it provides additional benefits to bone health.
Now, this is very important for people with bone disorders such as arthritis. Turmeric is known to help people suffering from joint pains.
Both milk and turmeric are anti-oxidants. Turmeric milk helps fights free radicals that damage skin and make it lose its glow and elasticity.
Most of us know turmeric face masks and how they help skin but the internal usage of turmeric (as milk or otherwise) can also help.
For a comprehensive list refer – Long list of turmeric / curcumin benefits>
One of the key benefits of turmeric milk to me personally has been during a cough and cold. I prefer taking turmeric milk rather than any other medication for this.
I have noticed that since the time I started taking it a recurrence of cold/cough has decreased. This is a firsthand account of how turmeric milk has benefited me!
Turmeric milk can treat diarrhea and indigestion. For this, low-fat milk must be used for high-fat milk can aggravate diarrhea.
Turmeric milk works as soothing mask or lotion to reduce redness of the skin or patches. Skin patches and its redness are common problems we all face and that can be effectively taken care using turmeric milk at home.
Turmeric milk is also a great way for general body detox. Taking turmeric milk daily can help in blood purification and liver detox. Blood impurities can lead to severe health problems and turmeric milk is a great way to combat it.
Turmeric is said to help those with Alzheimer's disease by slowing its progress and lowers risk of various types of cancer.
Okay, so there are so may benefit from turmeric milk. Let's understand how to prepare it. It is very very simple!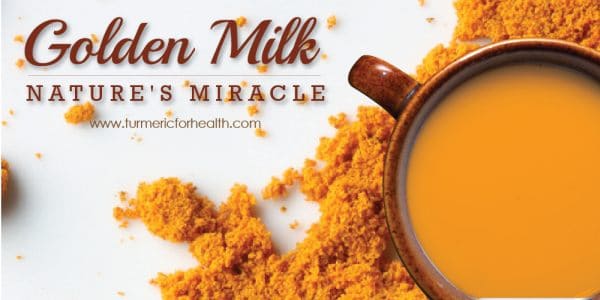 Recipes for Turmeric Milk
The following are some simple turmeric milk recipes:
1. Basic Recipe
A ½ to 1-inch piece of turmeric is heated for up to 15 minutes along with 8 ounces of milk until the milk is almost boiling.
Strain out the turmeric and drink this milk after allowing it to cool for a few minutes. This recipe can soothe inflammation, diarrhea (use non-fat milk), strengthen bones and fight free radicals.
To use as a mask or wash, take ¼ cup of whole milk and add to this ½ teaspoon ground turmeric. Take a clean washcloth, soak in the mixture and apply to affected skin. Leave it for 10 minutes before washing off.
2. Recipe to soothe sore throats and coughs
This simple recipe has been used in Indian households for centuries to soothe an aching throat or feverishness. A sip of this hot turmeric milk will give you a good night's rest and improve your symptoms by morning.
Add ½ teaspoon turmeric and 1 teaspoon ginger (minced) to a ¼ cup of water and mix well. Top off the cup with milk. Microwave or boil the mix for a few minutes until the milk almost boils.
Let this mixture stand for a few minutes to allow the ingredients to blend well with the milk. To this, you can add honey, jaggery, sugar or cane sugar to taste. Mix and re-heat for a few minutes. Strain the mixture to get rid of pieces of ginger and turmeric. Drink this while hot.
As a variant, few peppercorns can be added along with turmeric and ginger. Peppercorns is said to help improve the absorption of turmeric by the body.
Another addition to the above recipe that can give a slightly different flavor to turmeric milk is to add a few pods of cardamom (cracked) and pinch of saffron to the milk/water concoction before boiling.
Here is another variant turmeric milk recipe to soothe a cough. Take a cup of milk, add sugar to taste, heat and keep this aside. Take ½ teaspoon ajwain (carom seeds) and heat in a non-stick pan for a few minutes until brown.
To this add a large pinch of turmeric powder and stir for a couple of seconds. To this add the warmed milk, mix well, pour into a cup and drink while hot.
3. Turmeric Golden Milk
This is a delicious recipe and if you like, you can make and keep turmeric paste mixture for a month in the fridge.
So, to make the turmeric paste, take good quality (organic) turmeric powder – ¼ cup and add ½ cup of pure water. Combine both and keep over a medium flame for a minimum of 7 minutes until thick paste forms.
If the mixture gets too dry, add a little more water. Take this mixture off the fire and allow it to cool before putting in a glass container and storing in the fridge.
To make the organic golden turmeric milk, take a teaspoon of the turmeric paste and combine with a cup of organic milk. The milk can be soy, goat, cow, coconut, almond or any other milk of choice. Let this mixture boil well.
Take off the stove and add some honey or maple syrup to taste. To this add ½ teaspoon of organic sesame or almond oil or ghee (clarified butter). Turmeric milk is ready to enjoy.


What users say!

… I have been taking turmeric milk for last 2 months now and cannot tell you how much relief i got in my arthritis pain. I drink it 2 times a day, cannot live without it now.  – Ramsey M

.. Absolutely love the taste and color – Vivek Ram

… it took sometime to like the taste (just like whiskey), but now i cannot have my milk without turmeric. I use organic turmeric. – Terry

.. I am giving it to my 11 year old son for last 1.5 years and I can see marked improvement in his immunity. – Sultana
Precautions while using turmeric
Pregnant women are advised not to use turmeric. Turmeric is an anti-inflammatory agent can contribute to stomach ulcers.
Normally turmeric in food is safe. However, since it acts as a blood thinner, those who require surgery must stop taking any form of turmeric – food or supplements a couple of weeks before surgery.
It can also react with diabetic medication and medication taken to reduce stomach acid.
My take on turmeric milk
I am a regular user of turmeric milk, especially in the winter season as I get cold and cough very easily.
While there are some specs on how much turmeric one should use, but if you do not want to use much, try taking a little bit less.
It would still be better than taking none at all.
Again, just make sure – 1) turmeric you use is pure and 2) understand situations when you should not use turmeric. Hope, you try these various recipes for turmeric milk and enjoy the many therapeutic benefits.
Share your views about turmeric milk through comments and emails! Would love to hear them