If you are reading this, you already must be knowing about turmeric benefits. If not here is a list of some awesome health benefits of turmeric.
Okay, so lately there has been a lot of confusion on how much turmeric one can take in a day and how many times one should take it.
The primary reason for the confusion on "how much" arises from the fact that one can take turmeric (and thus its active ingredient – curcumin) in so many ways:
Fresh turmeric root
Turmeric dried root powder
Supplement with various % of curcumin present
Fluid extract
Tincture
Now the key difference in each of them is the quantity of "curcumin". So how much of this one can take in a day?
If you are confused what curcumin is – curcumin is the "most active" ingredient of turmeric, it is also the most studied (A quick search on Greenmedinfo will throw more than 1,500 results!)
According to numerous studies, curcumin is known to have fantastic anti-inflammatory (1, 2, 3), anti-oxidant (1, 2), anti-microbial (1, 2, 3) and natural painkilling (1, 2) properties, just to name a few.
If you want to read more about Curcumin and its benefits, read our detailed article here>
Recommended Turmeric Dosage Per Day
If you already know about turmeric and looking specifically for turmeric recommended dosages, use the table below. If you want to know more, we encourage you to read the full article first
Turmeric Dosage – Quick Reference
Turmeric Type
Dosage
Keep in Mind

Raw Turmeric

3 - 4 gms per day

Can be eaten as it is, already bioavailable

Wash before use

Turmeric Powder

1 tsp / 2 - 4 gms per day

Start small - 1/4 tsp, then gradually increase

Choose Quality powder

Low absorption, take with black pepper/fats

Turmeric / Curcumin Supplements

1,000-1,800 mg per day

Go for reputed brands

Look and follow the recommended dosage on the pack

Do not use for a long duration
Before we go and dive deeper into Turmeric dosage, let's discuss the three most popular ways to take turmeric/curcumin and their pros and cons. Please use the following Table of Contents to jump to sections of interest –
Popular Ways to Take Turmeric
Three ways stand out when it comes to taking turmeric / curcumin –
Raw Turmeric
Raw turmeric is what you get from the turmeric plant directly and it has amazing health benefits.
In fact, as many beneficial ingredients of turmeric (e.g. Turmeric Oil) are lost when it is converted to powder or supplement if you want to get the full spectrum of turmeric benefits, this is the best way to do so.
Another great benefit of raw turmeric is that thanks to turmeric oil, you do not need to worry about its low bioavailability (turmeric is not water soluble, but fat soluble) (1).
(Read: Why Turmeric has Low Bio-availability and Solution).
But, the problem with raw turmeric is not readily available, difficult to use and difficult to store.
Turmeric Powder
Turmeric powder which is made by drying raw turmeric can be stored for a long time and much easier to use at any time of the year. (Read: How to make powder turmeric from raw turmeric)
Turmeric powder can be used in various ways. It can be added to curries, smoothies, milk and so on. The list is endless.
This is what makes it the most popular choice. In the case of powder, you need to take it with black pepper/fats to increase its bioavailability.
But, many people do not like the taste of turmeric powder, also in case of severe pain, cancer, etc, the quality of powder required is too much and thus almost impossible to take. This is where supplements can help.
Turmeric / Curcumin Supplements
Turmeric supplements are an easy way to get benefits of Turmeric's key ingredient – curcumin.
There are several types of supplements (Meriva, Theracurmin, Longvida, etc.) on the market and most of them, also address the problem of poor bioavailability by using proprietary methods, etc.
They also have their recommended dosage on the bottles.
If you are interested in knowing more about the supplements types and how they are different, read this –Types of Tumeric / Curcumin Supplements
The key issue with supplements is that they should not be taken for a long duration. This issue is not when you are taking turmeric powder or raw turmeric.
Thus, supplements are best for a short period of time.
How much turmeric can I take in a Day?
Now, let's discuss how much turmeric one can actually take in a day. As turmeric is not a drug, the opinion on how much you can safely take vary a lot.
Here is what Research Studies Reliable Sources have to say about it –
According to University of Maryland Medical Center
The permissible dosages of various forms of turmeric (for adults):
Cut root: 1.5 – 3 g per day
Dried, powdered root: 1 – 3 g per day
Standardized powder (curcumin): 400 – 600 mg, 3 times per day
Fluid extract (1:1) 30 – 90 drops a day
Tincture (1:2): 15 – 30 drops, 4 times per day
Both fluid extracts and Tinctures are not commonly used.
According to WebMD:
For upset stomach (dyspepsia): 500 mg of turmeric four times daily.
For osteoarthritis: 500 mg twice daily of a specific turmeric extract (Meriva, Indena); 500 mg four times daily of a non-commercial product has also been used.
The first two are related to normal turmeric powder and the third one – BCM-95®, Arjuna Natural Extracts – with a 95% standardized powder (a supplement).
As you can see the dosage is within 2g range.
Dosage Used in Research Studies
Most of the research conducted on turmeric has been done using turmeric extract or supplements.
Various research studies conducted for joint, cholesterol and skin benefits have used the dosage of curcumin supplements 1,000-1,800 mg per day (1, 2, 3).
But, these dosages are recommended for short periods of time, 2-3 months.
Summary of info
If you are using the powder we would like to mention that you can take 1 tsp of powder on a daily basis without any issues. In terms of gms, the figures are mentioned below:

These are very conservative figures and taking up to 4-5 gms per day is also fine.
In terms of tsp – ideal turmeric dosage is thus around 1 tsp per day.
But then why some Research Study use High Dosages?
While researching over dosages we found a very interesting thing and looking back and thinking about it, we were just wondering why a thing so simple and logical did not strike me!
While we were researching over dosages, we came across studies where researchers were giving dosages as high as 8 g per day to patients.
This we observed in several studies. But then why the University of Maryland Medical Center and others suggest such a small dosage?
The answer may lie in the fact that the dosages are high when we need them i.e. when we are not well.
For example, if you have back pain, you may want to take a high dosage for a day or two and get well. But once you do, you come to the normal "preventive" dosage.
Thus, in our opinion, there are two kinds of turmeric dosages we can take:
Preventive – which are low and which we can continue for the lifetime
Curative – required when we have some issues. For example, some of the studies mentioned high dosages to cancer patients and it makes all the sense to do so as we need quick action here.
So when you are suffering from say arthritis pain and you take large dosages, it acts as a strong painkiller and helps you.
This can go on for some time and then one should get back to preventive dosage as soon as our body is back in shape.
Turmeric Dosage – what experience tells us
Turmeric has been used in India for thousands of years. Millions of people take milk with turmeric on a daily basis and it is included in almost every curry / vegetable we make.
Thus, experience tells that taking even 1 tsp turmeric a day will not have any issues. Of course, if you are new to it, start small – maybe 1/4 tsp and then increase.
So, 1 tsp good quality turmeric powder (check for recommended brands here) should not have any issues at all.
Possible side effects – large dosage for a long time
There are no side effects when you use turmeric as a spice, why? Because the dosage is always limited. But things may be different when you take supplements or large amounts of turmeric powder for a long period of time.
It is important to understand that the side effects occur when you take them for a long period of time and not immediately.
Thus we can always take curative dosages whenever we require and shift to preventive ones when fine. Also when the preventive dosage limit says 3.0 g per day, nothing wrong is going to happen if you take 6-8 g per day.
Most of the times the dosages mentioned are on a much safer side.
Typical side effects are related to the digestive system – stomach upset, diarrhoea, ulcers.
The side effects may also vary from person to person too. I was not able to find any "very" serious side effects though except ulcers.
Again, we would not like to create a panic here and thus would like to highlight that turmeric is very very safe, only it is the very high dosage for a very long period of time is known to cause issues.
How to choose Right Turmeric Powder?
If you are new to turmeric, then use any of these 3 methods to get the right turmeric powder:
Ask people you know well who are using turmeric and get their recommendations
Go to an online portal and look for organic brands / certified brands (we are saying this because if you do not know what good turmeric is, it will be difficult to figure it out in hundreds of brands, some very cheap and some with a lot of reviews
You can check the list of our recommended brands here>
Key Takeaways On Turmeric Dosage
It is safe to take up to 1 tsp good quality turmeric powder a day
There are indeed some limits of turmeric usage on a daily basis if you are taking a preventive dose. (see details above). Regarding turmeric powder (and not supplements) – you can exceed them to a certain extent with no issues at all.
In case of disorder, a curative dosage can be as high as 8-10g per day (note – this is not prescribed dosage, but we found this to be the highest quantity among all the used dosage in research studies we analyzed).
Turmeric (powder) is very safe to use and side effects only occur when high dosages are taken for the long duration of time
FAQs
Will my dosage vary based on the type of curcumin supplement I take?
Yes, it may. In the case of supplements, we have found that all leading supplement brands do provide details of the recommended dosage on the pack. That can easily be used as a guideline to take a particular supplement.

Every Turmeric Powder has different curcumin%, so should we change dosage?
On an average powder will have 3% curcumin. Do not get obsessed with a higher percentage. That would be too much work to do! In the long run, if you are taking turmeric powder, 3% or 3.5% is not going to matter much.
Which Supplements do you recommend?
The market is flooded with turmeric supplements and that's a big problem. You can read our guide on selecting the supplement and also know the best supplements types
here
>
Can I Overdose Turmeric Powder
It is very very difficult to do so. You will have to take a HUGE quantity to overdose turmeric powder / raw turmeric. But you can overdose supplements.

Is Organic Tumeric Powder Better?
We would not say " better" but a properly certified turmeric powder will not have issues of contamination which is so common. But make sure you take a proper certified one. Here are some guideines>

How Long can I take Turmeric?
Turmeric can be made part of your life and diet can be taken lifelong! In fact, that is when the best results are likely to come.

Awesome Turmeric Powder Recipes
So, now you know everything about turmeric dosage., but how exactly you can make it part of your diet? The good thing about turmeric is that it can be added to any food / drink.
Som here are some great recipes which include turmeric to get you going.
</p> <h4>Meatballs in Creamy Turmeric Mustard Sauce</h4> <p>
Here is one delicious looking Meatballs in Creamy Turmeric Mustard Sauce from Jill Moore.
What all you need?
500g lean minced beef
2 spring onions, finely sliced
2 dessertspoons spelt flour, or plain flour
1/2 beef stock cube
1/4 cup hot water
1 brown onion, sliced
1 heaped teaspoon seeded mustard
2 dessertspoons spelled flour
water
2 teaspoons turmeric paste – refer here to make the golden paste
1/2 beef stock cube
cream, kefir or yogurt
How to cook?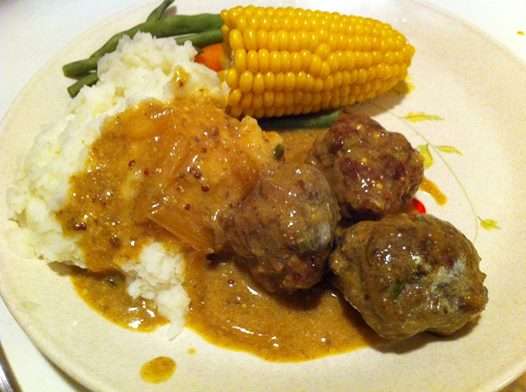 Use a knife to mix flour and spring onions thru beef, then add stock cube dissolved in water. Stir well, then break up into small pieces and roll into small balls. Refrigerate for 1/2 hour.
Heat some olive or coconut oil in a large frying pan, and brown meatballs.
Add onion and saute with meatballs until soft and slightly browned.
Add flour, stir through the pan to soak up oil and brown, then add enough water to make the sauce.
Stir in mustard and turmeric paste. Simmer for 10 minutes, adding water as needed and stirring occasionally.
When ready to serve, add a splodge of cream, kefir or yogurt and stir through to make a creamy sauce.
</p> <h4>Lemon Turmeric King Prawn Linguine</h4> <p>
Here is the recipe for awesome Lemon Turmeric King Prawn Linguine:
What you need:
1 tablespoon coconut oil
250g raw King Prawns shelled
3 cloves garlic, crushed or chopped finely
1 teaspoon chili flakes
2 courgettes (baby zucchini) chunked
6 button mushrooms, sliced
2 tablespoons fresh lemon juice
1 chicken stock cube
1 tablespoon butter
A handful of fresh basil leaves, roughly chopped
2 teaspoons turmeric
How it looks! Just awesome, right?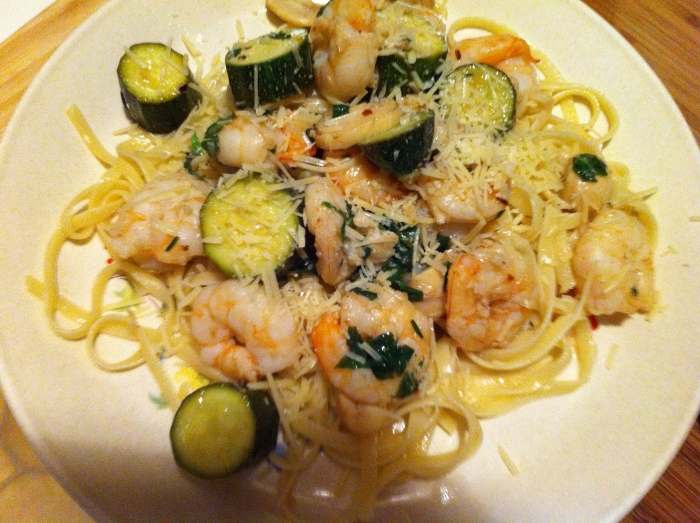 While your linguine is cooking, use a wok to saute the prawns, chili, and garlic until only just cooked (2-3 minutes), turning once.
Set aside in a bowl, add more oil to wok if needed.
Add courgettes and mushrooms, stir fry a few minutes then add juice, butter, and stock cube.
Simmer over low heat with the lid on a few minutes, then add basil, turmeric, and prawns. Cook for one minute, stirring well.
Serve over linguine and liberally sprinkle with fresh ground black pepper, add Parmesan cheese as desired.
</p> <h4>Turmeric Topper</h4> <p>
Who says one can only use turmeric while cooking? Not correct.
Here is a ripper (just look at the awesome looking recipe image) turmeric drink by Zoe Pezzack.
Zoe regularly experiments with food and comes up with awesome turmeric recipes.
Here is her one of the great ones. She named her – Turmeric Topper! :), really a topper I must say!
What all you need?
The list is really long and interesting. She has put lots of healthy stuff into it.
This also means one can experiment with this one a lot!
Chia seeds
Oats
Coconut milk
Coconut oil (prefer organic virgin coconut oil)
Black pepper (increases turmeric absorption in the body)
Turmeric (prefer organic turmeric from a reputed brand)

Peanut butter (avoid if you are allergic)

Spinach (yum! )

Rosemary & mint

Strawberries (awesome!!)

Blueberries (of course if they are available in your area)

Physalis

Apple juice (an apple a day keeps the doctor away!)

Pineapple, passion fruit & kiwi.
Here is how the final product looks like! Superb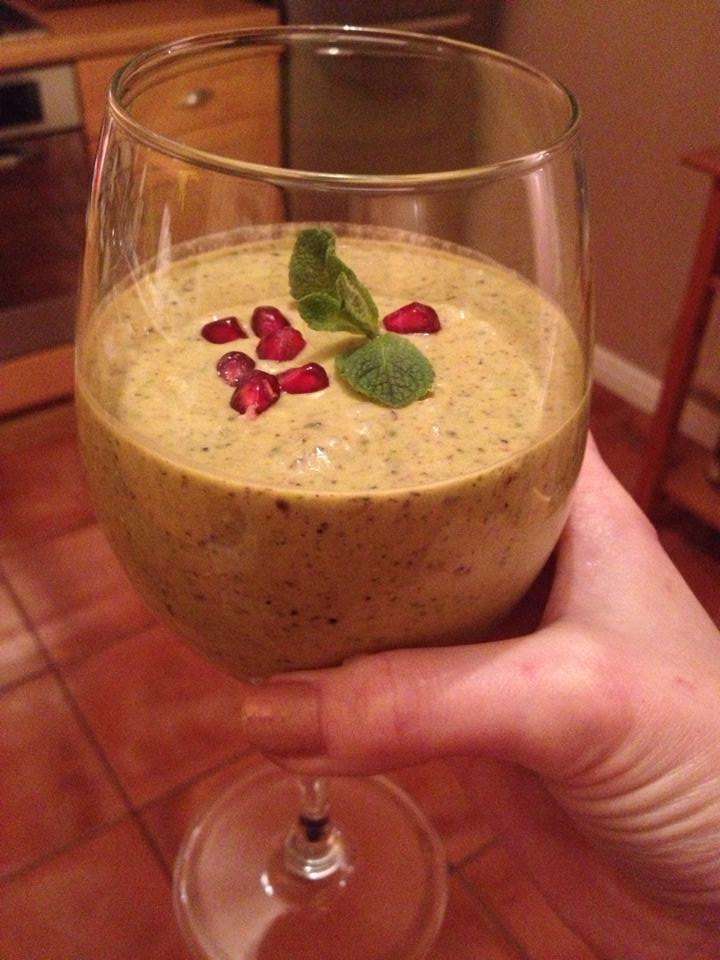 </p> <h4>Cauliflower and Chickpea Curry</h4> <p>
Serve with Basmati rice and natural yogurt.
What all you need?
1 tbsp coconut oil – please use virgin coconut oil of the reputed quality
1 onion, diced
2 garlic cloves, crushed
1 tsp ginger (or 2 tsp chopped fresh ginger)
2 teaspoons turmeric – please use organic turmeric
1 tsp yellow mustard seeds
1 tsp cumin powder
1 tsp garam masala
1 tsp chili flakes
½ cauliflower, cut into florets
3 button squash, chopped
1 cup orange sweet potato, peeled & cut into chunks
1 chicken stock cube
1 400g can chopped tomatoes
3/4 cup water
1 400g can chickpeas
1 400g can lentils
1/2 green capsicum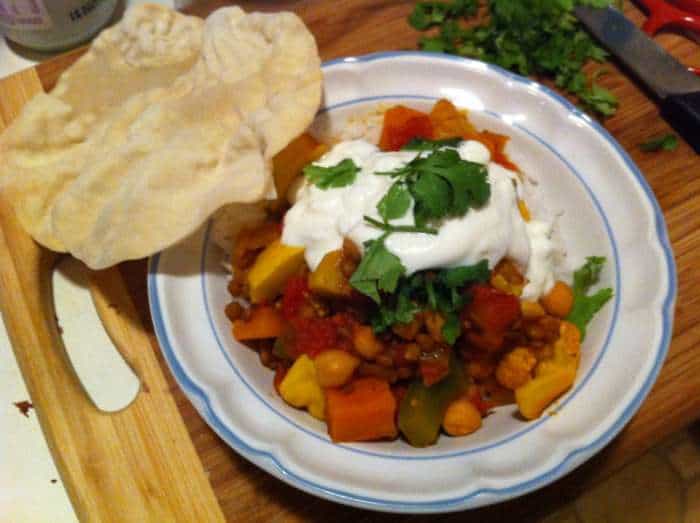 How to cook?
Heat oil in a large wok or soup pot, and saute onion for a minute or two until softened. Add garlic and spices and stir fry with onion over a medium/gentle heat until fragrant.
Add cauliflower, sw. potato and squash, stir well to coat with spice, then add tomatoes, stock cube, and water.
Simmer over a gentle heat for 10 minutes, then add chickpeas, lentils, and capsicum.
Simmer a further 5 minutes.
</p> <h4>How to Make Apple Dip with Turmeric</h4> <p>
Here is another delicious dip which also includes turmeric. I strongly believe that it is better to take turmeric in our food rather as supplements.
Fortunately, there are so many ways to include turmeric in your diet. I will not be discussing how to include turmeric as a spice as that most of us can do but talk about some interesting recipes which have turmeric.
An apple a day keeps the doctor away goes an old saying. Apples are great for health; they are rich in fiber and antioxidants.
The best thing about this recipe is it also has other great health-promoting foods – honey, cinnamon, and lemon.
What all is required?
2 apples, grate them properly
2 tablespoons lemon juice
1 tablespoon honey (any flavor should do, just make sure that it is pure and not adulterated)
1/2 teaspoon cinnamon
1/4 teaspoon turmeric powder
1/4 teaspoon stevia
1 cup applesauce (this can be bought from the market or made at home)
How to prepare Apple dip with turmeric
Apple dip preparation is even simpler than yogurt dip. Mix all the ingredients in a bowl and serve it with other fresh fruits and vegetables. That's it!
You can serve this to 5-6 people easily.
Nutrition facts
Approximate values:
Calories: 108
Fat: 0
Cholesterol : 0
Fiber: 4g
Sodium: 2 mg
</p> <h4>Yellow Yellowfin Tuna with Coconut Rice</h4> <p>
This recipe is by Dennis Richardson. I requested Dennis if I could share some of his awesome recipes involving turmeric and coconut oil on my portal and he gladly agreed.
So here is one of his mouth watering ones – Yellow Yellowfin Tuna with Coconut Rice
What all you need?
The usual suspects:
Turmeric powder
Flour
Coconut oil
Salt
Black pepper
Fish (of course!)
Tomatoes
Garlic
Ginger
Onion
Lemon
White wine
Cooking cream
Basmati rice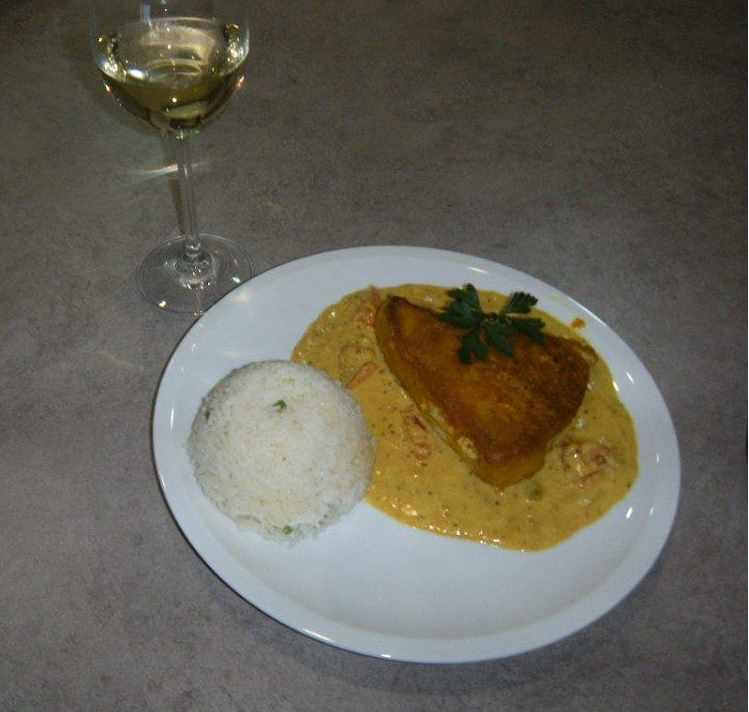 How to cook?
Here are the steps –
In a plastic bag, put 1 Tblspn plain flour and 1 Tblspn turmeric powder, a tspn seasalt and a tspn cracked black pepper, add fish steaks.
Coat them fully and let rest in the powder till room temp.
Fry till done to your liking in a non-stick frypan and ample coconut oil.
When done, lift steaks out and let rest on a plate.
Leave oil and dregs in the pan, then you do the sauce in the same pan. 6 cherry tomatoes, quartered, tspn minced garlic, tspn minced ginger, 1 stalk spring onion, 1/2 brown onion finely sliced, big sprinkle of smoked or sweet paprika, big dash of turmeric, big sprinkle of cracked pepper and big pinch of sea salt, juice of 1/4 lemon, and when just about all hot, a (big) splash of white wine and 150ml cooking cream.
Let it bubble then remove from heat and serve.
Rice is well-rinsed basmati, soaked then quickly fried in coconut oil, then add water and cook as normal.
</p> <h4>Make Delicious Lemon Rice!</h4> <p>
Lemon rice is a very popular variant of rice recipe in India. This tasty and healthy dish comes from southern parts of India.
Lemon rice is called lemon rice because they are sour in taste because lemon juice is used to prepare them. Apart from that, another distinct feature is its very beautiful looking yellow color which it gets from the use of turmeric in it.
Read- Awesome Health Benefits of Turmeric>
I had lemon rice first time just a few years ago and since then I have become a huge fan. It appeals to all senses – has great taste, awesome color, and amazing aroma.
What is needed to make lemon rice?
Here is the list of key ingredients for lemon rice:
4 cups cooked white basmati rice / brown basmati rice (basmati rice is the best rice for lemon rice)
3 tbsp vegetable oil (any oil of your preference would do)
3 tbsp fresh lemon juice
1 tsp mustard seeds
6 green cardamom pods, split
1⁄2 tsp ground turmeric
2 dried hot red chills, cut lengthwise
Finely chopped pieces of ginger (based on your taste)
Garlic and clove – choose quantity based on your taste
10 fresh or dried curry leaves (we use curry leaves a lot for taste and garnishing, use them if you find them good)
Garnishing of choice – Coriander, dry fruits, etc.
How to cook lemon rice
Cooking of lemon rice is not time-consuming. It just takes 15-20 min.
Step one is to heat the oil in a pan over medium heat and put all spices. Cook till you can very well smell the aroma of the spices. Typically it will take 3-4 minutes.
Then put lemon juice and cook for 1 minute and then add rice. The important part is to keep stirring the mixture so that spices blend well with rice. Cook for 3-4 minutes.
Your lemon rice is ready! Add garnishing of choice. We typically add cashews, roasted peanuts, coriander, etc.
The quantity is sufficient to serve 4 people.
Image Source: nandyala.org
</p> <h4>Delicious Lemon Rasam with Turmeric</h4> <p>
I had rasam around 10-12 years ago when I went on a trip to South India. Since then I am a big fan. There are so many ways to cook it and everyone has a unique style.
Here I am putting together one which is very commonly followed.
What all is needed?
2/3 cups of split pigeon peas (also known as toor dal)
¼ tsp. of ground turmeric
¾ tsp salt
1 tbps grated ginger
2 serrano chilies
15 oz can of plum tomatoes
2 tsp clarified butter (popularly known as ghee in India)
1 tsp mustard seeds
1 dried red chili (dried red chilies are extensively used in Indian cuisines for taste)
½ tsp ground cumin
½ black pepper
¼ cup lemon juice
Garnishing – based on your own choice
How to prepare it
Split pigeon peas are brought to boil over medium heat in a pan along with 4 cups of water and turmeric. Partially cover the pan and lower the heat.
Allow simmering for 40-45 minutes.
This will make toor dal soft. Then bend using a blender to make it smooth. Put in the pan again and add water to make 5 cups of rasam.
Add ginger, chilies, salt, and tomatoes and again bring to boil over medium heat. Reduce heat again and allow to simmer for some time. Keep stirring occasionally.
After this heat, the ghee in a skillet over medium heat, add mustard seeds, red chili, cumin, pepper and heat for a few minutes. Put this into the soup when it is still over gas.
Remove pan from the gas and stir in lemon juice. Add further salt and pepper for taste (if needed). Add garnishing of choice. Your tasty rasam is ready!
Making good rasam is an art and it is best to experiment to discover how you like it. It is a great appetizer and goes very well as a starter.
</p> <h4>Yummy Yogurt Dip!</h4> <p>
Dips are loved by kids and thus can be a great way to make them eat nutritious foods for example fruits etc. Yogurt dip is very easy to prepare and very healthy too because of the presence of probiotics.
The only key thing which is required in the preparation is to strain the yogurt overnight. This makes it thick. One can also use Greek yogurt instead, and in that case, no straining will be required.
What all is required?
2 cups plain yogurt / or Greek yogurt
2 tablespoons orange juice
1/2 teaspoon turmeric
1/2 teaspoon cinnamon
1/4 teaspoon stevia
Fresh fruits (based on choice):

Pineapple / apple slices
Sliced, peeled kiwi fruit
Fresh pear slices
How to prepare
Just place the strained or Greek yogurt in a bowl and add all other ingredients except fresh fruits. Mix well, cover it and then refrigerate for 2-3 hours. The dip is ready to be used. You can put it alongside fresh seasonal fruits; it will for sure make them more delicious to eat!
This dip can serve 6.
Key Nutrition values:
Total fat – 3 gms out of which 2 gms is saturated
Cholesterol – 11 gms
Sodium – 38 mg
Carbohydrate – 5 gms
</p> <h4>Delicious Lentil Turmeric Soup</h4> <p>
There only a few dishes where turmeric is the main ingredient as it is mostly used as a spice. Thus, most of the recipes I will be discussing will have turmeric but not in a key role.
Lentil is a member of the legume family. It has very high fiber content and provides lots of energy. Another health benefit of lentil is that it is great for heart health and stabilizes blood sugar. As with all legumes, it is an excellent source of protein.
Lentil is very popular in India, not as a soup but we make 'dal' (sort of a curry) from it. Lentil can also be taken in soup form and in that turmeric plays an essential part. Lentil soup is also used in detox diets.
Here is the recipe for lentil soup with turmeric
What all is required?
2 tablespoons olive oil (if you can get organic olive oil, it is better)
2 onions, peel them and then chop them
5 cloves garlic, peeled and minced
2 tablespoons grated ginger root
2 sweet potatoes, peeled and chopped
1 parsnip, peeled and chopped
4 carrots, chopped
1 teaspoon turmeric powder
2 sprigs rosemary
5 cups of water
1 1/2 cups apple juice (you may take any other juice you like too)
1 cup lentils
2 tablespoons squeezed lemon juice (seasoning based on choice)
1/4 teaspoon pepper (seasoning based on choice)
1/2 cup chopped flat-leaf parsley (seasoning based on choice)
1 cup plain yogurt, drained in cheesecloth
1/2 cup toasted pumpkin seeds (seasoning based on choice)
One can always experiment with the ingredients based on taste.
Cooking Steps
The method is very straightforward and the soup takes around 20 min to prepare and around an hour to cook. Here are the steps:
Cook onion, garlic and ginger in olive oil over medium heat for 5-7 min. Add other ingredients – sweet potato, parsnip. You need to cook until all these vegetable starts turning soft.
The second step is to add carrots, turmeric, rosemary, water, apple juice, and lentils. Bring all these to a simmer. Turn down the gas knob to low, cover the utensil and allow to simmer for 35-45 min. This makes vegetables tender.
Lastly, add seasonings based on your choice. We had taken parsley, lemon juice, and pepper. It can be served dolloped with yogurt. If you like add pumpkin seeds at the top.
The soup can serve 6 people.
</p> <h4>Fast and Easy Potato Soup with Turmeric and Brewers Yeast</h4> <p>
Here is the recipe of Potato soup with twist and taste of turmeric!
Initial preparations:
4 large potatoes, peeled and cubed
1 brown onion, peeled and sliced
2 spring onions, finely sliced
Method:
Bring to boil in a large saucepan and simmer for 15 minutes. Remove from heat, drain water into a small pan and mash cooked veg still in the saucepan. Add the drained cooking water. Then add: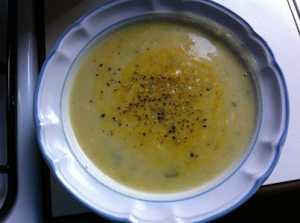 Add sea salt to taste

Add fresh ground black pepper, to improve turmeric's bioavailability
1 dessert spoon Brewer's Yeast
Turmeric paste to taste (start with 1 teaspoon if new to the flavor)
1/2 cup cream
1/2 cup grated tasty cheese (or parmesan)
Stir well, and adjust flavours to suit. Your Potato soup is ready!
Recipe and Image Courtesy: TUG
</p> <h4>Rocket Fuel - Turmeric, Coconut Oil and Dry Fruits Tango</h4> <p>
If you think a turmeric recipe cannot be rich with dry fruits, think again. If you were looking for a recipe where you could get benefits of coconut oil, turmeric and dry fruits in one go, you have come to the right place!
Here is one awesome turmeric, coconut oil and dry fruit rich recipe by Dough English and yes it has an awesome name too – ROCKET FUEL! And I must say given the ingredients it fits perfectly.
What all you need?
300 ml coconut oil (virgin organic coconut oil)
3 large heaped tablespoons turmeric (organic)
Dry fruits – almonds, cashews, walnuts, pistachios, etc.
Others – pomegranate seeds, cranberries, etc.
Salt and pepper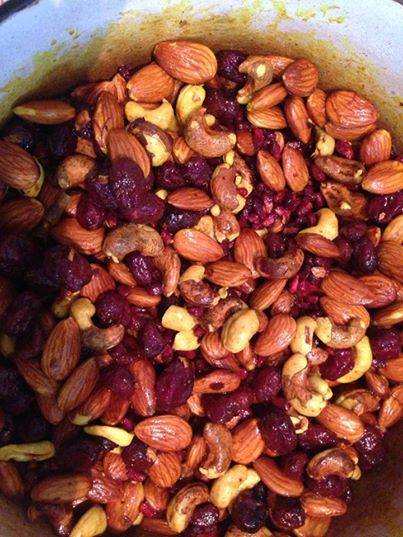 How to cook?
The process of cooking is extremely simple.
Heat coconut oil in a pan
Add turmeric
Add dry fruits and others and stir for sometime
In the end, add salt and pepper based on taste
Your Rocket fuel is ready. Let it cool and then store it in the fridge and use when you feel like.
</p> <h4>Lemon Turmeric Cleanse</h4> <p>
We take toxins in our body through the air we breathe, the water we drink and the food we eat.
Thus it is best to regularly cleanse the system so that it can keep working properly.
There are many ways to do this; people follow regular detox diets which include fruits, lots of liquids, etc.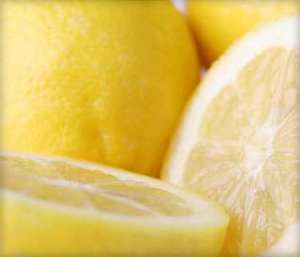 If you cannot follow an elaborate cleanse it is best to keep trying with small things such as pre-breakfast lemon cleanse with turmeric.
This is an extremely simple but highly effective cleansing recipe.
Here is what you need:
Juice a decent size fresh lemon
1tbps of raw (organic if possible) honey. You may choose any particular flavor if you like
1/4 tsp turmeric (if you are not used to taking turmeric start with lower amounts such as 1/8 tsp)
1 glass or 2 cups of warm water (500 ml)
The preparation is very simple, just combine all the ingredients in warm water and stir well. This has to be taken before breakfast.
The cleanse is very healthy.
It has some of the most healthy foods available to us – lemon (rich in vitamin C and great for health), raw honey (considered to be a superfood as it has numerous health benefits) and turmeric.
Hope you will try some of these. Do send your feedback and also send across your own recipes! We would love to have them!