According to 2012 worldwide stats, more than 14 mn new cases of cancer were detected in a year. More than 8 mn died due to cancer.
This makes cancer one of the leading causes of death across the world.
What is more disturbing is the fact that the number of new cases is likely to increase by 70% in the coming 2 decades. Thus, cancer is showing no signs of slowing down.
Cancer is very different from most body disorders and so is its treatment. Modern medicine uses chemotherapy, radiation, and surgery to treat cancer.
All 3 have their limitations and benefits.
Today, alternative treatments of cancer are been explored in great detail and a very promising one is curcumin – active ingredient of the spice turmeric.
Numerous studies on animals and humans have shown positive effects of curcumin on various types of cancer and scientist believe it to be a great adjunct to traditional methods to treat cancer.
But how much curcumin one should take?
There is a lot of debate over this. We try to answer this query here.
Curcumin Dosage for Cancer
Dr. Bharat B Aggarwal is a pioneer in exploring curcumin as an alternative treatment for various disorders in the body including cancer.
Dr. Aggarwal has published more than 600 scientific papers; many of them are on benefits of turmeric / curcumin to the human body.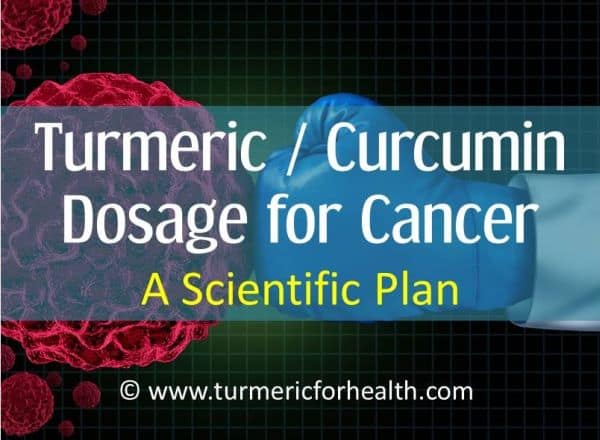 We discussed with him the dosage of turmeric for people suffering from cancer and he has proposed the following 8-week regimen:
Curcumin for Cancer: 8 Week Regimen
Week 1: Start with small dosage of 1 gm curcumin per day. If you see no side effects, take it for a week and proceed to dosage of week 2.

Week 2: Increase the dosage of curcumin to 2 gm/ day. Again check for any issues side effects etc. If everything looks fine, take it for a week and proceed to dosage of week 3.

Week 3: Double the dosage again to 4 gm / day. Again if things look fine, continue for a week and go for final step.

Week 4-8: Double again to 8 gm / day. Continue this for 5 weeks
Here is the same info in an image form to take a print:

I know there will be so many questions in your mind regarding this and I have tried to answer them below
Q.

Isn't so much of curcumin harmful?
Curcumin in large dosage is known to cause issues if taken for a very long time.
Studies done have found curcumin dosage of even 12 gms day to be safe till 3 months.
Thus it is unlikely to cause any serious issues.
Q.

Why I need so much, in normal cases I just take 1 tsp turmeric?
Cancer is an aggressive disorder and prompt action is very necessary to check its growth.
Therefore large dosages are required here.
Q.

What if I do not note any benefits even after 8 weeks?
According to Dr. Aggarwal, if there is no improvement noted even after 8 weeks then curcumin is very less likely to help you.
Q.

Can I get this much curcumin by taking turmeric powder?
You cannot.
It is very hard to get this amount of curcumin by taking turmeric powder given the fact that a typical powder only has 3-4% curcumin.
So to get even 1 gm curcumin you will have to take 25-30 gms of turmeric powder. In the case of 8 gms you will have to take 200 gms of turmeric powder a day, which is not possible.
Thus, you have to use a trusted brand of curcumin supplements here. The studies were done on curcumin and cancer also used curcumin supplements for their research.
Q.

How do I take curcumin?
Curcumin powder can be taken along with milk, fluids, etc.
Take them with fats and black pepper for best results as it improved its bioavailability.
Another way is to take curcumin supplements which already have absorption promoting ingredients. Most supplements already have piperine or other compounds to improve their bioavailability.
If not, then you can take the capsules just after taking fats such as coconut oil / olive oil mixed with grounded black pepper.
Nanocurcumin is also becoming a popular choice, but it seems to be in the nascent stage.
General precautions
It is good to discuss the regimen with your doctor before starting as there may be interactions with the medications you have been prescribed.
Also, make sure you stop taking curcumin supplements 2 weeks before surgery.
Which curcumin supplement brand should I buy?
It is extremely important to choose the right supplement brand.
We are trying to figure out a brand we can whole-heartedly recommend but till then you can explore these brands which are popular and have very good customer reviews.
You can check out the supplement brands here – Best Turmeric Supplements Today
Research Studies
In the end..
In our email exchange, Dr. Bharat agreed with the philosophy that in the case of most disorders taking good quality turmeric powder is fine. Also, he stressed that one should make turmeric as part of life, this will prevent the body from any future diseases.
In the end, it is advisable to let your doctor know if you plan to start "Curcumin for Cancer" regimen.
Hope this helps.
Do let us know your views about it by commenting below.