According to 2012 worldwide stats, more than 14 mn new cases of cancer were detected in a year. More than 8 mn died due to cancer.
This makes cancer one of the leading causes of death across the world.
What is more disturbing is the fact that the number of new cases is likely to increase by 70% in the coming 2 decades. Thus, cancer is showing no signs of slowing down.
Cancer is very different from most body disorders and so is its treatment. Modern medicine uses chemotherapy, radiation, and surgery to treat cancer.
All 3 have their limitations and benefits.
Today, alternative treatments of cancer are been explored in great detail and a very promising one is curcumin – active ingredient of the spice turmeric.
Numerous studies on animals and humans have shown positive effects of curcumin on various types of cancer and scientist believe it to be a great adjunct to traditional methods to treat cancer.
But how much curcumin one should take?
There is a lot of debate over this. We try to answer this query here.
Curcumin Dosage for Cancer
Dr. Bharat B Aggarwal is a pioneer in exploring curcumin as an alternative treatment for various disorders in the body including cancer.
Dr. Aggarwal has published more than 600 scientific papers; many of them are on benefits of turmeric / curcumin to the human body.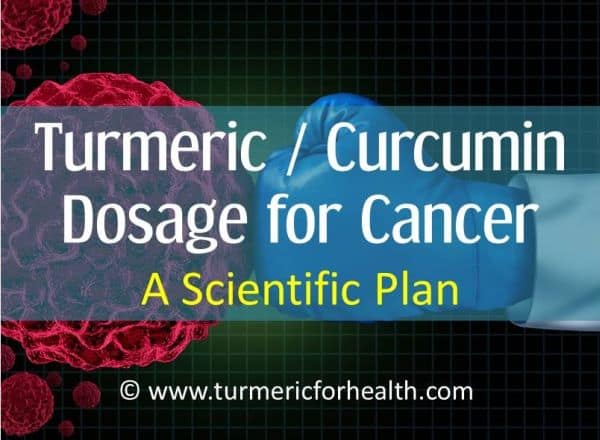 We discussed with him the dosage of turmeric for people suffering from cancer and he has proposed the following 8-week regimen:
Curcumin for Cancer: 8 Week Regimen
Week 1: Start with small dosage of 1 gm curcumin per day. If you see no side effects, take it for a week and proceed to dosage of week 2.

Week 2: Increase the dosage of curcumin to 2 gm/ day. Again check for any issues side effects etc. If everything looks fine, take it for a week and proceed to dosage of week 3.

Week 3: Double the dosage again to 4 gm / day. Again if things look fine, continue for a week and go for final step.

Week 4-8: Double again to 8 gm / day. Continue this for 5 weeks
Here is the same info in an image form to take a print:

I know there will be so many questions in your mind regarding this and I have tried to answer them below
Q.

Isn't so much of curcumin harmful?
Curcumin in large dosage is known to cause issues if taken for a very long time.
Studies done have found curcumin dosage of even 12 gms day to be safe till 3 months.
Thus it is unlikely to cause any serious issues.
Q.

Why I need so much, in normal cases I just take 1 tsp turmeric?
Cancer is an aggressive disorder and prompt action is very necessary to check its growth.
Therefore large dosages are required here.
Q.

What if I do not note any benefits even after 8 weeks?
According to Dr. Aggarwal, if there is no improvement noted even after 8 weeks then curcumin is very less likely to help you.
Q.

Can I get this much curcumin by taking turmeric powder?
You cannot.
It is very hard to get this amount of curcumin by taking turmeric powder given the fact that a typical powder only has 3-4% curcumin.
So to get even 1 gm curcumin you will have to take 25-30 gms of turmeric powder. In the case of 8 gms you will have to take 200 gms of turmeric powder a day, which is not possible.
Thus, you have to use a trusted brand of curcumin supplements here. The studies were done on curcumin and cancer also used curcumin supplements for their research.
Q.

How do I take curcumin?
Curcumin powder can be taken along with milk, fluids, etc.
Take them with fats and black pepper for best results as it improved its bioavailability.
Another way is to take curcumin supplements which already have absorption promoting ingredients. Most supplements already have piperine or other compounds to improve their bioavailability.
If not, then you can take the capsules just after taking fats such as coconut oil / olive oil mixed with grounded black pepper.
Nanocurcumin is also becoming a popular choice, but it seems to be in the nascent stage.
General precautions
It is good to discuss the regimen with your doctor before starting as there may be interactions with the medications you have been prescribed.
Also, make sure you stop taking curcumin supplements 2 weeks before surgery.
Which curcumin supplement brand should I buy?
It is extremely important to choose the right supplement brand.
We are trying to figure out a brand we can whole-heartedly recommend but till then you can explore these brands which are popular and have very good customer reviews.
You can check out the supplement brands here – Best Turmeric Supplements Today
Research Studies
[su_expand]
Study 1: Curcumin Reduces Side Effects Of Conventional Cancer Therapy
Patients undergoing chemo and radiotherapy and scoring above 70 on the Karnofsky scale were enrolled in the study. Karnofsky scale is used to classify a patient's performance status when suffering and being treated with cancer.
All the patients were in reasonably good condition, independent and able to take care of themselves.
They were given 500mg Meriva (a special formulation of curcumin) or placebo thrice a day for 60 consecutive days. Patients were asked to record the incidence of side effects.
What were the results?
Oxidative stress (imbalance between prooxidants and antioxidants in the body) was assessed on the basis of medical tests. It was observed that oxidative stress reduced in Meriva group and increased in the placebo group.
Within 2 months of treatment, a significant reduction in score in chemotherapy-induced side effects was observed.
For example, nausea and vomiting fell down by 2.4 points while diarrhea and constipation dropped by 3.7 points. In the placebo group, scores remained the same or increased.
Similarly in radiotherapy-induced side effects % incidence of side effects reduced greatly in the Meriva group in comparison to the placebo group.
For example, the incidence rate for nausea and diarrhea was 15% in the Meriva group and 22% in the placebo group whereas weakness was 38% in the Meriva group and 63% in the placebo group.
How did this occur?
Researchers attributed most of these to curcumin's principal properties: anti-inflammatory and antioxidant. These properties help in reducing gastrotoxicity, infection, and malnutrition.
Cognitive function was also assessed since cancer is marked with depression, anxiety and memory impairment. Curcumin also improved these factors which are indicative of its use for improving brain health.
Curcumin has an immune modulating property and can help in boosting immunity which is of value to cancer patients.
What does this mean?
Administering bioavailable forms of curcumin, in this case, Meriva, during conventional cancer treatments can significantly reduce the prevalence of side effects of cancer treatment. Consult your doctor before taking curcumin supplements.
Read the paper here: http://www.ncbi.nlm.nih.gov/pubmed/23775598
Study 2: Curcumin reduces the severity of radiation dermatitis in cancer patients
30 breast cancer patients enrolled in this study. They had non-inflammatory breast cancer and were being treated with radiotherapy without chemotherapy.
Patients were given 2g of curcumin thrice daily or placebo. The severity of radiation dermatitis was assessed by means of observation, questionnaire, and comparable scales.
What was the result?
It was observed that in comparison to the placebo curcumin reduced the severity of radiation dermatitis. Fewer patients treated with curcumin had moist desquamation or peeling off of the upper layer of skin due to radiation exposure.
How did this occur?
In ancient times turmeric paste was primarily used for wound healing. Few of turmeric's pharmacological properties involved in this are anti-inflammatory, antioxidant, antimicrobial and anti-coagulant, etc.
Curcumin aids in wound healing but supporting collagen deposition, scab formation, and wound contraction. Apart from its skin regenerative potential, curcumin has been used to treat skin related disorders.
These properties together are possibly responsible for treating radiation dermatitis.
What does this mean?
Oral curcumin administration helps in reducing the severity of radiation dermatitis. Although this study doesn't report any such findings, other clinical evidence suggests that curcumin boosts the anticancer potential of radiotherapy.
This could be another benefit of taking curcumin concurrently with radiotherapy. Consult your doctor before opting for curcumin supplements.
Read the paper here: http://www.ncbi.nlm.nih.gov/pmc/articles/PMC3998827/
Study 3: Curcumin Could Be a Very Promising Adjunct to Traditional Cancer Treatments
A recent study titled 'Targeting Cancer Stem Cells By Curcumin And Clinical Applications', published in Cancer letters, has found that curcumin has the ability to selectively target CSCs while having no deleterious effects on normal stem cells.
It produces the cytotoxic effects on CSCs through the following ways-
Modulation of self-renewal pathway of CSCs – Curcumin blocks the self-renewal pathways i.e. Wnt/ beta-catenin, notch and sonic hedgehog 89(SHH) pathways whose aberrant signaling is responsible for carcinogenesis and metastasis.
Regulation of microRNAs – MicroRNA is a small non-coding RNA molecule that helps in RNA splicing and post-transcriptional gene expression.
Curcumin inhibits tumor growth by regulating the expression of specific microRNAs involved in the acquisition of Epithelial-mesenchymal transition.
Direct anti-cancer activity – After testing the safety and tolerability of curcumin, it was found that curcumin directly targets the malignant cells with no adverse effect on healthy cells.
Summary
The study indicates that curcumin has the potential to serve as an effective anti-cancer agent.
By blocking the self-renewal pathways and inhibiting the expression of specific microRNAs, curcumin efficiently destroys the cancer stem cells, reducing the chances of recurrence of the disease.
Its minimal side effects and high tolerability make it a promising anti-cancer substance.
Study 4: Use of Curcumin Improved Precancerous Lesions in a Clinical Trial
Conducted by the scientists of National Taiwan University College of Medicine, the research involved 25 patients suffering from either of the following diseases-
Urinary bladder cancer
Arsenic Bowen's disease of the skin
Uterine cervical intraepithelial neoplasm (CIN)
Oral leukoplakia
Intestinal metaplasia of the stomach
They were administered with curcumin for 3 months and tested for the right dosage.
Starting with 500mg per day, they found that curcumin dosage up to 800 mg/per day was well tolerated by patients and no side effects or toxicity was reported.
The concentration of curcumin in the serum was highest at 1 to 2 hours following curcumin consumption and reduced gradually in 12 hours.
The encouraging aspect was that most of the patients participating in the study showed signs of improvements (histologic improvement) of precancerous lesions.
Summary
Several studies have indicated turmeric's benefit for cancer and cancer prevention. It is known to exhibit therapeutic properties against various cancer types.
This study indicates that it may help in treating precancerous lesions and hence reduces the chances of cancer development in people.
Study 5: Curcumin Double Benefits – Inhibits Cancer Stem Cells but Stimulates Normal Stem Cells
Research published in The International Journal of Cancer Research and Treatment: Anticancer Research explores the effects of curcumin, the primary polyphenol of turmeric, on CSCs and Normal stem cells (NSCs).
About the research
The aspect of the research was to understand how curcumin (the key active ingredient of turmeric) acts on the two kinds of stem cells – one normal and one cancer.
This is what was observed:
The cytotoxic effects of Curcumin on CSCs are produced by the following mechanisms
It was also found that curcumin has no deleterious effects on NSCs as it has on CSCs probably because of the following reasons-
Curcumin uptake is higher in malignant cell lines.
Curcumin affects the microenvironment of cells in a manner that is beneficial for NSCs but not to CSCs.
Curcumin depletes CSCs by causing their trans-differentiation.
Further, read:
Summary
Hence, this study indicates that curcumin, a compound in the yellow colored spice, turmeric can prevent recurrence of Cancer and induce apoptosis in Cancer Stem Cells by various mechanisms while causing no harm to the Normal Stem Cells.
[/su_expand]
In the end..
In our email exchange, Dr. Bharat agreed with the philosophy that in the case of most disorders taking good quality turmeric powder is fine. Also, he stressed that one should make turmeric as part of life, this will prevent the body from any future diseases.
In the end, it is advisable to let your doctor know if you plan to start "Curcumin for Cancer" regimen.
Hope this helps.
Do let us know your views about it by commenting below.