Okay, so you slogged hard (not exactly true, I know) to make your golden paste.
You ensured that all ingredients are present to make it healthy.
You make sure that you store it in a nice glass jar so that you can use it when required.
You are happy but suddenly your heart sinks, how the hell I am going to use this paste!
The paste you felt will only last for a few days seems will be there for months!
If you have this feeling, do not worry, absolutely common and we call it – "what to do with my golden paste syndrome" [just kidding].
Some easy and awesome ways to use turmeric paste
Most of these useful tips are based on the philosophy that turmeric should be part of your life and not taken as a medication.
So here are some great ways you can use your paste:
1. Take it as it is
One very popular way, especially if you are like me who loves turmeric's taste this can be a great way to take your turmeric paste. Take small quantities 2-3 times a day.
2. Add some honey
Some may not like turmeric paste's taste as such. In such a situation adding good quality, honey makes the job easy. Use organic honey if possible.
Manuka honey is considered to be the best. Adding honey (should be pure) to paste enhances its already existing health benefits.  How to take? Just mix the paste with honey (based on taste) and that's it!
Caution – avoid in case of inflammation and sugar related disorders.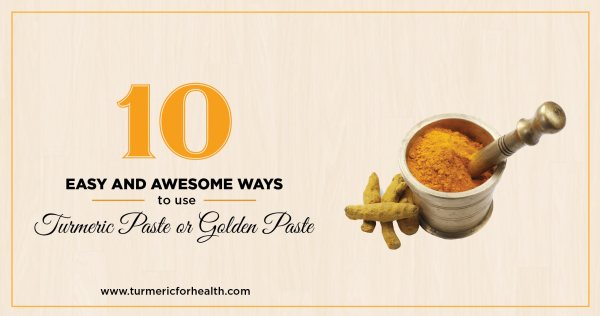 3. Add to warm milk
Golden milk/turmeric milk is one of the most popular ways to take turmeric in the daily diet. Turmeric milk is extremely popular in Asian countries.
You just need to add some turmeric paste in your warm milk and drink it. That's all! Warm milk at night helps in inducing sleep apart from its usual benefits to bones etc.
This It is easy and super healthy. Check out its recipe here>
4. Add to salads
We all love salads! Salads are healthy and fiber-rich. So why not make them even healthier by adding turmeric paste? A small amount of turmeric paste does not alter the taste of salad but ensure you get its benefit. Great for people who cannot take paste otherwise.
 There is no limit to innovations you can do here. Since then I have seen users adding turmeric paste to all kinds of smoothies and making their favorite ones even healthier. 
5. Add to smoothies
One of our readers emailed me a unique way to take her paste. She makes healthy smoothies on a regular basis and just loves them.
She was trying to take turmeric paste but hated it. One day, as an experiment she added a small amount of paste in one of the smoothies and wolah! Success! She loved it.
6. Add to curries
Curries are an important part of our food. One great way to include turmeric is to add turmeric paste in curries. It is an extremely easy way and effective as curries are regular and thus it makes taking turmeric paste regularly too!
7. Add it to rice
Many of us have rice in meals or otherwise.
Turmeric paste can easily be added to the rice. You can add after you have cooked the rice and they are still warm and moist (enables smooth distribution of paste everywhere). Check out the basic recipe here>
8. Use it with dry fruits
If you are a dry fruit lover, you will love this recipe by Doug English. The recipe talks using turmeric from start. If you already have a paste just warm it a bit and add the dry fruits of your choice.
9. Turmeric tea
Another great way to have turmeric paste. You can add turmeric paste to warm cup of water, add honey and your quick turmeric tea is ready.
The taste and texture may not seem like a "normal tea" as it has black pepper and oils 🙂 .. but it is tasty, I have tried it. check out the basic recipe here>
As a variation, I added a small quantity of paste to my green tea. Well, the color looked really odd after that but the taste was good!
10. Add it to warm soups
Adding a small quantity of turmeric warm soup can be a great idea. It does not alter the taste and you get benefits of turmeric paste.
In the end.
As you can see I keep stressing to add small quantities of turmeric. This is because it is better to take small quantity 3-4 times a day rather than one single large one once a day.
The method of using turmeric paste is literally infinite and only limited by your imagination and taste.
If you have some other great idea of taking turmeric paste, please share as a comment or email me, I will add them to the list with due credits.