No adverse interactions have been reported between metformin and turmeric spice. Thus, dietary turmeric and metformin, when taken together, do not pose the risk of any adverse health effects. However, when taking supplemental dosages of turmeric (curcumin) or the golden paste, a gap of about 3-4 hours is recommended with metformin.
In fact, curcumin, an active ingredient in turmeric and the drug metformin, both assist in treatment, management and prevention of type 2 diabetes and cancer.  [1]
Turmeric, when taken with metformin, may give better results in diabetes and can inhibit the side effects of this drug.
Read: Benefits of Turmeric in Diabetes
Read: Benefits of Turmeric in Pre-diabetes
Care should be taken when taking turmeric with metformin, as high dosage could lower blood glucose and may result in hypoglycemia.
Turmeric and Metformin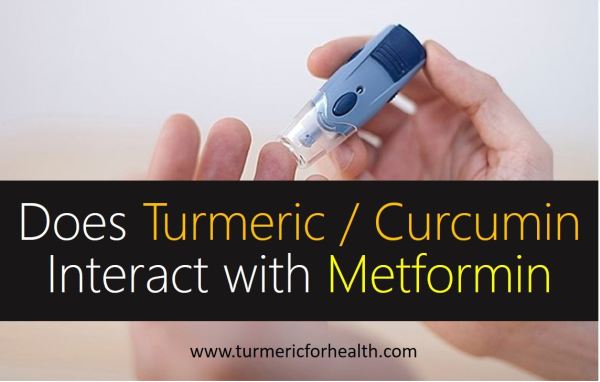 Let us know more about the scientific aspects of these effects.
1. Turmeric does not interact with metformin
There are hardly any studies which prove that turmeric may alter the functioning of metformin or vice-versa. However, there are many studies in which curcumin, the active ingredient of turmeric has been used along with metformin with positive results and no reported adverse effects.
In one such study, turmeric was given in combination with metformin to diabetes patients, and it contributed to decreased glucose and lipid levels and an improved antioxidant activity. It was concluded that turmeric could be used as an effective adjuvant in treating diabetes. [2]
Due to the combined effects of curcumin and metformin in reducing glucose levels, an adduct consisting of curcumin and metformin together was synthesised to benefit the treatment of diabetes. [3]
Curcumin and metformin in combination have also been used for the treatment of various types of cancers including breast, liver, prostate and oral cancers. [4] [5] [6] [7]
These studies suggest the potential use of the combination of turmeric and metformin without either altering or suppressing the effects of the other.
Therefore, consumption of turmeric or golden paste can help one lower the doses of metformin and its potential side effects.
2. Piperine in turmeric supplements may interact with metformin
However, care should be taken while taking metformin and turmeric with black pepper.  Black pepper contains piperine, which increases the absorption of turmeric. [8] [9]
In studies, piperine has also been found to improve the therapeutic effect of the drug metformin. [10]
This is because piperine, being a bioenhancer can increase absorption of drugs by interfering with their metabolism. [11] [12]
Metformin, advised for diabetes, is usually taken for a long-term and its increased absorption may not only improve the results but also aggravate the side effects. Thus, it is recommended to maintain a gap of 3-4 hours between taking large doses golden paste or turmeric supplements and metformin.
3. Turmeric and metformin both benefit in diabetes
Both turmeric and metformin have been shown to have therapeutic advantages in treating type 2 diabetes.
Curcumin found in turmeric lowers blood glucose levels and insulin resistance. [13]
It decreases the risk of diabetes by regulating lipid levels, blood pressure and body weight. [14] [15] [16]
Metformin is one of the widely used drugs to treat type 2 diabetes. [17]
The working mechanism of turmeric and metformin is quite similar. Curcumin in turmeric and metformin, both lower the blood glucose levels by targeting the AMP-activated protein kinase pathway, which results in suppressed glucose metabolism in the liver. [18] [19]
In fact, curcuminoids in turmeric carry out this task with much more efficacy and 400 to 100,000 times increased activity than metformin. [20]
Thus, taking turmeric with metformin could enhance the therapeutic action.  However, large dosages of turmeric taken with metformin could possibly reduce glucose levels significantly which may pose a risk of hypoglycemia. Thus it is advised to include turmeric in the diet rather than taking turmeric or curcumin supplements.
4. Turmeric alleviates side effects of metformin
The drug metformin, used for management of diabetes has been reported to cause certain adverse effects on health such as oxidative stress, mitochondrial damage and DNA or cell injuries. Its intake has also been associated with an increased risk of Alzheimer's disease.
Curcumin found in turmeric is a potent antioxidant which could prevent or treat oxidative stress and the resulting cellular damage.
Thus, turmeric taken with metformin could reverse the unwanted effects caused by metformin and protect the body from developing many other disorders. [21]
Interested in Taking Turmeric? Here is how to do it
Best ways to take turmeric: Some great ways to include turmeric in your diet (which is also the best way to include turmeric in your life):
Ideal Turmeric dosage: Find how much turmeric you can take in a day>
Turmeric absorption problem and how to solve it by using black pepper and oils>
Turmeric supplements, what are they and popular types>
Who should not take turmeric, here is the list of precautions>
Summary
Studies point out there is no adverse interaction between turmeric as spice and metformin. In fact, it can help in several ways in case of type 2 diabetes. If you are taking turmeric supplements, its best to have a few hours gap.
Have you taken turmeric with metformin? What is your experience with it? Do comment and share your feedback for benefit of other readers.