I recently wrote about a "turmeric bomb" recipe which included all the right ingredients needed for turmeric absoption.
Well here is another blockbuster!
This is something by which you can replace golden paste (I know a bold statement, but its true.)
This one is straight from my Mom's recipe book. Thanks mom!
Turmeric pickle has been integral part of our diet like forever.
When my mom used to cook it around 20 years ago it was so unique (remember there was no internet then) that everyone who used to visit us wanted to know how to prepare it and meanwhile also took a box full with himself 🙂
Okay, back to present.
What do I like about this recipe?
I believe it is of the same category in terms of benefits as Golden Paste. Why? Here are my reasons:
Firstly, it is made using raw turmeric. Now the processing of turmeric into a powder does take away some of its constituents. Thus raw turmeric is indeed the "best package" if you are looking for turmeric benefits.
Secondly, when you use raw turmeric you eliminate the processing cycle of making powder. That means you also eliminate things which can go wrong there like adulteration, irradiation, additives, artificial colour, etc.
Thirdly, it is very cheap to get raw turmeric than say getting powder or capsules.
Fourthly, one of the key issues with raw turmeric is that it cannot be preserved for a long period as you can do with powder. But the good news is – turmeric pickle can last for months. The last batch I got from my mom lasted 3 months ago (would have lasted more but there was nothing left in the jar :p)
Lastly, you can grow turmeric in your backyard and then make this paste! (nothing can be better!)
So, let's dive into the recipe
List of ingredients
What we need:
Raw turmeric – 1 kg. Get organic turmeric or just grow in your backyard!
Oil (coconut, olive, or any other healthy oil): 150-300 gms [I will explain why there is a range here]. In India, we use mustard oil a lot for making pickle.
Fennel (spice) : 1-2 tsp [based on taste] – fennel is essential part of Indian cuisine. Its aroma is superb. It is great anti-oxidant and known to be good for the immune system.
Brown Mustard seeds: 1-2 tsp [based on taste] – mustard seeds are known to be good anti-inflammatory and anti-cancer.
Salt, red chili powder [according to taste]
How to make Turmeric Pickle
It's very simple. Here are the steps:
Step 1: Take raw turmeric. Peel it with soft hands. Then wash it thoroughly.
Step 2: Let it dry under a fan. By drying, we ONLY want to remove the extra water which has been added because of washing.
Step 3: Grate it into small pieces. Typically 1-2 cm long. You can check the picture below to get the idea.
Step 4: Put your preferred oil in a pan, put mustard seeds. Heat the oil till the mustard seeds turn black
Step 5: Add the dried turmeric and mix it well. Add fennel and some salt based on taste.
Step 6: Indian dishes are spicy and we add red chili powder too. You can skip this if you do not want.
Step 7: Keep mixing it on mild gas for 5-7 min.
Step 8: Allow to cool and then store in a glass jar
Your pickle is ready!!!!
Okay, so why I gave a range for the oil? If you want to preserve pickle for a long time (for months) it needs to be immersed in oil. In that case, you use 300-350 ml oil.
But in case you are preparing in small quantity then you can add a small amount of oil and then keep the pickle in the fridge. It works well for a month.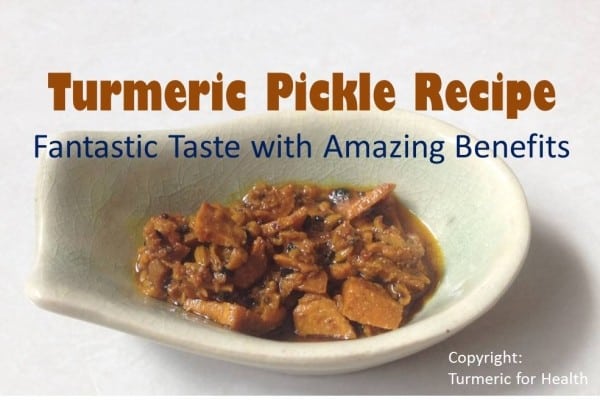 What about the absorption of turmeric in the pickle
Turmeric pickle already has enough fats to ensure it is absorbed well.
But you can always sprinkle freshly grounded black pepper over it while serving.
I tried it and it did not taste bad at all.
So should I make the golden paste or turmeric pickle?
Good question.
As you can see both are awesome!
Taste wise turmeric pickle will taste better also it uses raw turmeric – which is hard to use while makingthe golden paste.
So, if you plan to use raw turmeric – pickle is a great choice. It has everything needed to get turmeric benefits + tastes yummy too.
How much turmeric pickle can I eat?
As we are using raw turmeric and not the powder you can easily include 10-15 gms of turmeric pickle. The great thing is as it is "pickle" you will actually make it part of your diet.
It is an integral part of lunch and dinner of so many people in India. I am sure after you make this one, it will become at your house too
So what are you waiting for, try it today!
Do let me know what do you think bout it through comments below