Turmeric (Curcuma longa, family: Zingiberaceae) is a well-known spice native to South East Asian countries.
It is used all over the world because of the beautiful golden-yellow color and aroma it provides to the curry and for the preservation of food.
Turmeric is also a very useful compound used in the healthcare industry.
Turmeric has been used as a therapeutic since time immemorial.
The Indian Ayurvedic system of medicine describes turmeric as one of the most potent herbal remedies that can be used to prevent and treat a large number of diseases.
It is highly effective against various cardiovascular, pulmonary and neurodegenerative diseases like Arthritis, Alzheimer's disease, Parkinson's disease, cancer, etc.
A powerful anti-inflammatory, anti- cancer, antiseptic, anti-allergic, anti-bacterial, antiviral and anti- fungal agent.
Turmeric owes most of its properties, including flavor, color, and medicinal properties, to a polyphenolic compound Curcumin present in it.
Turmeric is a very cheap and easily available spice. The herb can be easily grown in our kitchen gardens and its benefits can then be exploited to the fullest.
Let us see how we can grow turmeric at home and what important points do we need to consider while growing turmeric in detail.
You can also consider taking help from a local gardener whenever needed.
Please feel free to use the Table of Contents below to jump to the relevant section in the article.

Turmeric – The plant
Turmeric is obtained from the rhizome (underground stem) of Curcuma longa plant.
Currently, it is widely grown in India, China, Sri Lanka, Indonesia, Taiwan, Australia, Africa, West Indies, and Peru. The plant is 1.2 to 1.5 meters long.
The plant lives for more than 3 years. It produces large, bright green leaves. Healthy rhizomes can be cooked and eaten with vegetable curry or can either be eaten raw.
It gives rise to beautiful, tall white flower spikes. The flowers are produced at the terminal part of the shoot. They have fleshy roots.
The outer part of the rhizome is brown in color and the inner part is bright orange. Curcuminoids, which give turmeric its properties, are found in the rhizomes of turmeric.
4 Factors To Consider While Growing Turmeric At Home
Here are the 4 important factors that you should keep in mind when growing turmeric at home.
1. Analyse Climate and Soil
Turmeric is a tropical herb. The optimum temperature range is 20 to 30 degree Celsius or 68 to 86 degree Fahrenheit.
An annual rainfall of 1000- 2000 mm is required. It grows best in open areas under bright sunlight but can also grow in shade.
Loamy and alluvial soils are the best for turmeric growth. The soil should be well drained and not let waterlogging.
Alkaline soil demotes the plant growth. The pH of the soil can be tested with the help of a pH test kit which is easily available in nurseries.
Growth in gravelly, stony, sandy or clayey soils should be avoided.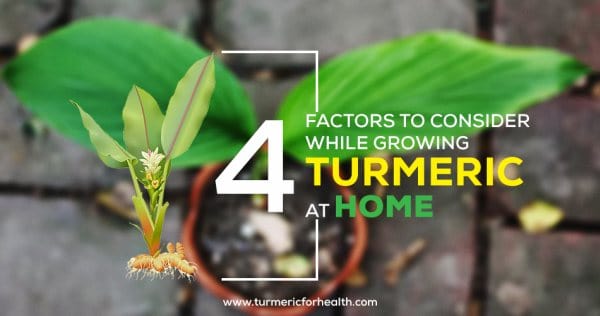 2. Planting and cultivation
Turmeric is planted in warm soil in the month of July and harvested in April. That is, it requires nine months to grow into a complete healthy plant.
Rhizomes are used for turmeric plantation.
Turmeric plant can be easily grown in small kitchen gardens at home.The step by step procedure for turmeric plantation is-
Choose small, healthy and disease free rhizomes having at least one or two buds.
Make small pits in the garden soil or one pit in each pot (if you want to grow the plant in pots) with a hand hoe and plant the rhizome 5-7cm deep in the soil.
They can be planted at distances of 20 to 30 cm away from each other if planting in a kitchen garden.
Cover the pits with soil or powdered manure.
Mulching– Mulching is a useful technique that can be done for maintaining a good plant health.
The soil is covered with green leaves immediately after planting the rhizome to provide nutrition and retain moisture.
This can be done again after 50 days after weeding.
Weeding- Remove weeds from time to time if you see them growing near your plant.
Watering- Watering should be started only after the appearance of shoots which takes about 30 to 40 days.
It should be watered regularly but adequately only when the soil feels dry. Over and under watering should be avoided.
Yellowing of leaves around the edges indicates overwatering.
Fertilization– General Fertilizers and compost used for fruits and vegetables are easily available in the market and can be used when the plant is growing after every third week.
This will provide the required nutrition to the growing plant. Fertilizer is applied near the base of the shoot and not the stem.
It can be grown along with chilies, onion, Brinjal, maize etc.
3. Plant Protection
Several diseases and pests can attack a healthy turmeric plant. Some of them are-
Leaf blotch- In this disease, small dirty yellow or brown colored spots appear on leaves. It is usually seen in the months of October and November.
Spraying 0.2% Mancozeb can help to alleviate the disease.
Leaf spot– Irregular brown spots which are white or grey in the center appear on the upper surface of leaves.
This develops into an irregular patch covering the entire leaf.
It causes the leaf to dry and rhizomes do not develop properly. Seen in August and September, It can be controlled by spraying 0.2% Mancozeb or 1% Bordeaux mixture.
Rhizome rot- It affects the entire plant. The plant collapses and rhizomes decay after the collar region of stem softens and gets soaked in water.
Spraying 0.3% Mancozeb half an hour before storage or at the time of plantation of rhizomes is helpful. Soaking the soil with Cheshunt compound or 1% Bordeaux mixture can also help.
Nematode pests- Nematodes like Meloidogyne spp., Radopholus similis, Pratylenchus spp. can destroy the plant.
Using healthy and nematode-free material as well as enhancing the organic content of soil can prove out to be beneficial.
Shoot borer- It is the most dangerous turmeric pest. The larvae feed on the internal tissues of the plant. The central shoot gets withered.
0.1% melathion and 0.075% monocrotophos sprayed after every 21 days from July till October prevents the disease.
0.05% dimethoate and 0.05% quinalphos can control the infection.
Rhizome scale- The infection in rhizomes occurs in the later stages in the field or in storage. The rhizomes shrink and become wrinkled, dry and desiccated.
Treating the rhizomes to be planted with 0.075% quinalphos for 20 to 30 minutes prior to storage can help in controlling the infection.
Rhizome fly- The infection appears in October and persists till the end. The flies eat away all the content of the rhizome reducing its yield by 50%.  Disease-free rhizomes must be used.
Beetles, lacewing bugs and turmeric thrip are other pests which infect the leaves of the plant.
They can be controlled by spraying 0.1% melathion and 0.05% dimethoate respectively.
4. Harvesting Your Home Grown Turmeric
The harvesting of rhizomes is done after 9 to 10 months of the plantation. Yellowing of leaves and drying of stems is a sign of mature turmeric plant.
Dig the plant carefully from the sides of the clump, remove the rhizomes and remove the mud and other material adhering to the rhizomes.
Points to remember
Use only healthy disease free rhizomes as seeds.
The temperature should always be kept around 20 to 30 degree Celsius.
Soil should be well drained and not waterlogged at any time.
Rhizomes must be planted 5-7 cm deep in the soil.
Care must be taken against excess watering.
Appropriate disease control measures must be taken during plantation and as soon as signs of pest infestation appear.