A decade ago, turmeric's identity was limited to that of a spice and food additive. A few individuals still knew of its medicinal properties and traditional texts validated this point.
However, today turmeric is equivalent to gold in the nutraceutical industry.
And these properties of turmeric are extensively attributed to its bioactive ingredient, 'Curcumin'. So one of the confusions that first arose was that should one take only curcumin or is turmeric better?
We have covered that in our article Should you take Turmeric or Curcumin: Which is better?.
Well, science keeps throwing in new terms and facts, thus giving rise to confusion and this time it is 'curcuminoids'. Turmeric's active components are divided into two phases: curcuminoids and oil.
So the question is 'Is curcumin and curcuminoids the same?'. Let's find out.
What are Curcuminoids?
There are over 100 species in the Curcuma family and one thing that is characteristic of these species is the yellow orange hue. The compounds responsible for this colour are curcuminoids.
The three main curcuminoids are curcumin, bis-demethoxycurcumin, and de-methoxycurcumin. They account for 2-6% of the rhizome content (80% curcumin, 18% demethoxycurcumin and 2% bisdemethoxycurcumin). This is what their structure looks like: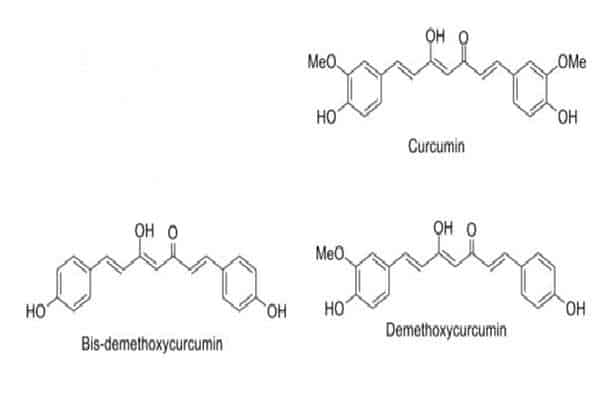 Adapted from: Recent advances in the investigation of curcuminoids, Hideji Itokawa et al. Chinese Medicine 2008 3:11
Curcuminoids is also a term used for synthetic analogs and other derivatives of curcumin which possess key structural features.
Analogs of curcumin are also derived from other plant sources eg: 6-gingerol and their activities are very similar to curcumin. Primarily curcuminoids are potent antioxidants. In addition research proves that they also possess anti-inflammatory activity, anti-HIV, and anti-cancer activity.
Some studies have implicated the use of curcuminoids in treatment of stroke, adjuvant to long term opiod therapy, Alzheimer's disease and in case of memory deficits.
The need to prepare synthetic variations of curcuminoids is that they have poor oral bioavailability and are rapidly metabolised. Over 30 metabolites of curcuminoids have been discovered from human samples after having consumed curcuminoids.
So the idea is to develop these metabolites and study their activity in order to directly provide these compounds without having to wait for metabolic reactions.
Note: Curcuminoids is the group of compounds that impart a orange yellow color to the spice. They also possess medicinal properties.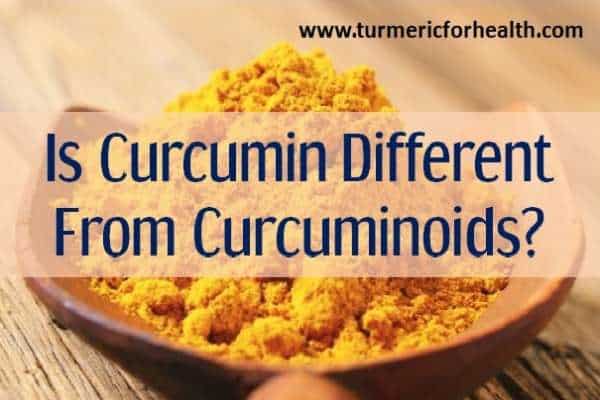 What is curcumin?
Curcumin is the principal bioactive ingredient of turmeric. It is the most important and abundant curcuminoid. Curcumin comprises 2-5% of the rhizome content.
The chemical name of curcumin, is (1E, 6E) -1,7-bis(4-hydroxy-3-methoxyphenyl)- 1,6-heptadiene-3,5-dione and it is often referred to as diferruloylmethane.
Curcumin is a powerful antioxidant. It raises the level of antioxidant enzymes and scavenges reactive oxygen species. Dietary intake of such plant derived antioxidants is considered important since it protects the body from damage by reactive oxygen species.
Its anti-inflammatory property is assumed to be linked with its antioxidant property. It inhibits the activity of enzymes and chemicals that are produced during inflammation.
Apart from these principal features, curcumin is considered as a highly pleiotropic molecule and this still remains a mystery as to how one molecule exhibit so many features and target so many biological molecules.
For example, it acts as a radiosensitizer and chemosensitizer to tumor cells and at the same time protecting normal cells from side effects of such treatments. As an anti-microbial agent, it inhibits the growth of fungi, bacteria, viruses, etc.
Some properties of curcumin are exclusive; for example its antidepressant activity, protection against cardiovascular diseases, action against cystic fibrosis, drug induced liver injury.
Other curcuminoids may show these properties but their therapeutic effect would be weak.
Among all the curcuminoids, curcumin is the most potent one but the only drawback it faces is that it is not absorbed well in the body.
Note: Curcumin is the most important curcuminoid. It is the bioactive ingredient of turmeric and demonstrates a number of pharmacological properties.
So why are the terms 'curcumin' and curcuminoids' used interchangeably?
Researchers clearly differentiate between curcumin and curcuminoids but the pharma industry for simplicity sake calls all curcuminoids as curcumin.
When opting for turmeric supplements it is always recommended standardized 95% curcumin or curcuminoids.
This does not mean that 95% of the product is curcumin but rather 95% of the product contains curcuminoids. This further contains 70-80% of curcumin and the rest accounts for bisdemethoxycurcumin and demethoxycurcumin.
Why not 100% or just pure curcumin? Because it is not going to add to the potency or bioavailability but just add to extraction expenses.
A number of different formulations are made in order to make the curcuminoids more bioavailable. This table gives you a rough idea of the curcuminoid concentration present in the supplements.
| | | |
| --- | --- | --- |
| Name | Contents | Bioavailability |
| Standardized 95% curcumin C95 | 95% curcuminoid mixture | – |
| Micronized Curcuminoids with turmeric oil | 95% curcuminoid mixture plus turmeric oil | 5 times greater than C95 |
| Curcuminoid phospholipid complex | 18-20%curcuminoids 40% phosphatidylcholine | 30 times better than curcuminoids and 20 times better than curcumin |
| Curcuminoid cyclodextrin complex | 2:1 cyclodextrin curcuminoid complex 14% curcuminoids | 45 times better absorption than C95 |
| Lipid curcumin particles | 20-30% total curcuminoids, lipids, and other inert materials | 65 fold better absorption than free curcumin |
| Dispersed nanoparticle curcumin | 10%curcumin, 2% other curcuminoids, glycerine, gum ghatti, water | 27 times better than free curcumin |
| Hydrophilic carrier dispersed curcuminoids | 20% curcuminoids, water-soluble carriers, and fat | 45.9 more bioavailable than curcumin |
Despite of reduction of curcuminoid concentration in the newer formulations the additional components increase the absorption of curcumin and other curcuminoids and this is better than absorption of older formulations of curcuminoids.
Conclusion
I hope this article has cleared the confusion of curcumin and curcuminoids.
Curcuminoids are a group of compounds that impart the golden yellow pigment to Curcuma species and curcumin is the most important curcuminoid.
For convenience sake, manufacturers use the terms interchangeably but from the scientific point of view, they are not the same. Any supplement stating that it has 95% standardized curcumin intends to say that 95% of the composition is curcuminoid mixture.
Save
Save