I am so excited to talk about this recipe.
It is as explosive as its name – Turmeric bombs!
Woah!! 🙂
The amazing recipe is by Lauren. She runs an extremely popular blog – http://empoweredsustenance.com/
She got excited about turmeric after reading about it and thought of this one.
There are several amazing aspects of this recipe and I will discuss them one by one here.
1. Ingredients are perfect
One of the unique benefit of the recipe is it's a great substitute to golden paste as it is tailor made to ensure good absoption of turmeric in body by using fats / black pepper and even quercetin (which we have never seen anyone using till now for this purpose!)
Here is the list:
Organic ground turmeric  – It is important to choose good organic powder as that is the base of the recipe. If you are confused how to do so here is our detailed article on it>
Quercetin powder  – Apart from fats and black pepper, quercetin which is found in fruits such as apple is also known to improve the absoption of turmeric in body.
Ground black pepper – black pepper not only helps in absoption it is also very good health promiting spice in itself. Here is detailed article on why turmeric + black pepper is a great combo>
Binding agent, choose ONE of the following :
Raw honey – ensure the honey is raw as most of the honey available today adulterated and full of artificial sugar. Avoid adding honey is you plan to take this recipe for "anti-inflammatory" purposes as sugar can make it worse.
Coconut oil  – an awesome choice. Make sure the coconut oil is virgin coconut oil
Ghee – ghee is amazing and unlike butter, it is healthy. It is integral part of Indian diet regime.
Unbleached parchment paper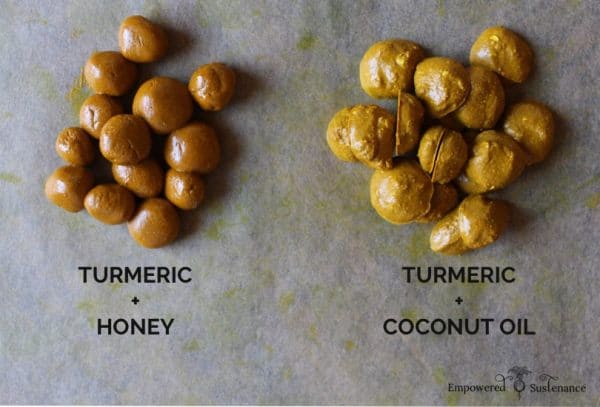 Image courtesy : Empowered Sustenance
I would also like to add olive oil to the above list of binding agent.
I know it is not as thick as coconut oil and thus may not give the shape we are looking for. But if you are not too much concerned about the shape of your "bombs" try virgin olive oil too.
2. It is easy to make and take
The recipe itself takes no time to make. This is in contrast to turmeric paste which is a bit more time consuming.
Like paste turmeric bombs can be taken easily too. One good thing is you do not worry about how many tsp here. You just remember the numbers of bombs 🙂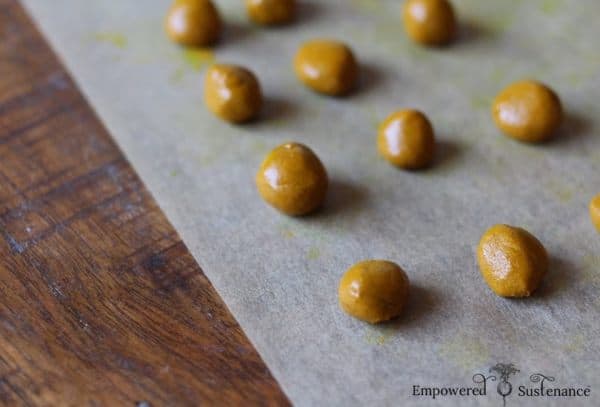 Image courtesy : Empowered Sustenance
How to make
Lauren requested that I do not publish the process of making and ingredient quantities while publishing this. It makes sense too.
So, here is the link for her recipe on her blog. You can find both ingredient quantities and process of making there.
How many to take
Okay so the next obvious query is – how many to take in a day ?
Make sure you do not take too many of them. In a day its okay to take 4-5 gms of turmeric without any issues.
So based on the size of the bombs (I really like the word – turmeric bombs!) you have made you should judge accordingly.
More details on turmeric dosage here>
Do make this one, I am sure going to do so!
Do share your feedback and your own turmeric recipes with us!