Turmeric is an awesome herb considering there are 4,000+ studies reported in the Pubmed database.
Is it all about curcumin, the most actively researched therapeutic component of turmeric? Well, turmeric as a herb has more to it than curcumin
But in studies assessing the effect of curcumin supplements, it has been found that curcumin is not well absorbed and has low bioavailability.
Black pepper contains active components that enhance curcumin's absorption.
Ever wondered how much black pepper you should take with turmeric? Let's find out.
How much black pepper to take with turmeric for absorption?
The answer is: ¼ tsp freshly ground black pepper can be taken with 1 tsp turmeric powder. There is no predefined value and this an approximation. Supplements use a 100: 1 ratio of turmeric extract (curcumin) and black pepper extract (piperine) but since the active ingredient content differs in the spice varieties, this ratio cannot be followed for whole spices.
Let's understand how black pepper helps and why this approximation.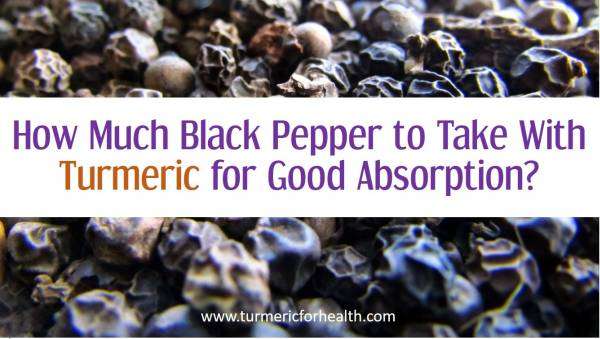 1. Piperine in black pepper increases curcumin's absorption
Curcumin has limited solubility and absorption in the body. (Read How to improve turmeric's bioavailability?)
Ayurveda, the Traditional Indian Medicinal System, has used black pepper since centuries as a bioenhancer (to increase absorption of drugs).
Science has identified piperine as the active constituent of black pepper that contributes to this effect.
Research suggests that piperine may increase curcumin's bioavailability by 2000%.
2. Proprietary formulation ratio of turmeric supplements is not applicable to whole herbs
Our Golden Paste recipe calls for 1.5 tsp black pepper powder for ½ cup turmeric. Proprietary supplements utilize a ratio of 100:1 for curcumin to piperine.
It is difficult to extrapolate this to turmeric and black pepper because based on the species the curcumin and piperine content differs.
The average content of curcumin ranges from 4-7% of the whole turmeric while piperine ranges from 2-7% (even as high as 9%) in whole black pepper.
If you were to do the math, the amount of black pepper (for 1 tsp turmeric) to be used to match the 100:1 ratio would be very less.
We cannot compare the ratio of standardized extracts of bioactive ingredients to whole herbs. Therefore ¼ tsp of freshly ground black pepper with one tsp turmeric powder should suffice.
Why freshly ground black pepper? Piperine, present in black pepper and necessary for the absorption of curcumin, is lost if stored for long periods. If you observe store-bought black pepper powder loses its pungency over time.
Therefore freshly grinding black pepper helps retain its volatile oils, piperine, and its pungency. But if that is not an option for you, then you can use store-bought black pepper to make Golden Paste but do store it in an airtight container.
There is no defined amount but to keep things simple we recommend ¼ tsp freshly ground black pepper to one tsp turmeric powder.
How to take turmeric and black pepper for daily health benefits?
Including turmeric in the diet is the best way to take the herb. Please check our list of recommended organic turmeric brands.
The Golden paste is an effective way to take turmeric as it contains healthy fats and black pepper to enhance absorption. You can Golden Paste from fresh turmeric roots as well.
Black pepper has its own set of health benefits (Read Health benefits of Black Pepper) and adds to turmeric's absorption and therapeutic activity.
Start with small doses such as 1/4-1/2 tsp and if you see no side effects then increase the dose gradually to 1 tsp 2-3 times a day over a few weeks.
It is best taken with food to avoid acid reflux. Avoid taking it at the same time when you take meds.
1 cup Turmeric Milk or Turmeric Tea daily can help with pain relief in arthritis.
If opting for supplements, please consult a health practitioner prior. Read 8 Popular Turmeric Supplements Available In Market Today
A few precautions to be noted when taking turmeric:
Conclusion
There is no exact science or ratio as to how much black pepper you should take with turmeric.
¼ tsp freshly ground black pepper with one tsp turmeric powder can provide health benefits and aid in the absorption of curcumin.
Golden Paste is a great way to take turmeric daily.
Let us know how you take turmeric and black pepper daily in the comments section below.