Gout affects the joints and is a type of arthritis which occurs when there is an excess buildup of uric acid in the body. This causes formation of crystals on the joints which leads to inflammation.
Uric acid is a waste product that is made in our body and normally it dissolves in blood and excreted by the kidneys. However at times uric acid levels are too high in the blood and this is called hyperuricemia.
Not all people with this condition develop gout, but when uric acid levels in the blood are excess they solidify to form needle shaped crystals of uric acid and get deposited in the joints leading to pain, inflammation and what is known as gout attack.
These crystals can even lead to the formation of kidney stones.  An unexpected gout attack is found to majorily affect the joint of the big toe and disturb one's sleep.  Pain, swelling, redness and stiffness are the most common characteristics.
Now uric acid is developed by breakdown of substances called purines that are present in the body as well as in foods like meat, seafood, dried beans etc. Foods such as alcohol and those containing fructose also trigger high levels of uric acid.
Obesity, poor metabolic health (heart problems, hypertension), genetic factors, certain medications increase risk of developing gout. Men are more prone to develop gout than women.
Treatment generally involves administration of NSAIDs and steroids to control pain and inflammation. Medications to block uric acid development and improve its excretion are also prescribed.
Change in diet, losing weight, limiting alcohol intake and good exercise levels can help prevent gout.
Please feel free to use the Table of Contents below to jump to the relevant section in the article.

6 Benefits Of Turmeric In Gout
Research studies and experience indicates that turmeric is benefits in gout as it helps attenuate pain related to gout, can reduce uric acid accumulation and can reduce / prevent occurrence of gout attacks.
1. It reduces uric acid levels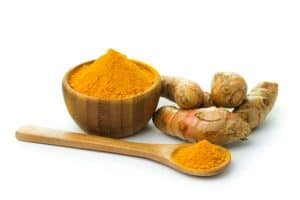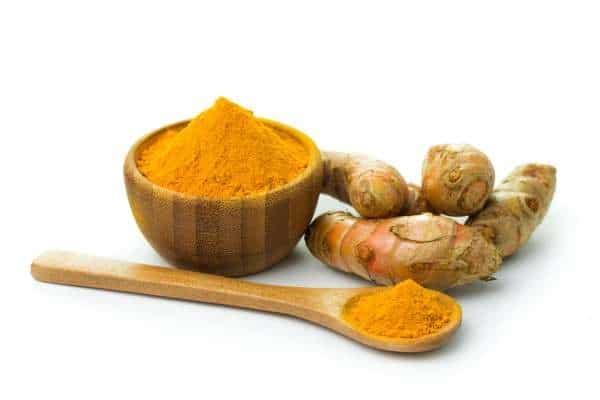 Fructose, one the components of sugar, is held as one of the dietary causative agents of metabolic syndrome and obesity. Both these conditions serve as a risk factor for obesity.
Zhang et. al showed in an animal study that curcumin reduced the levels of blood urate and increased the excretion of uric acid via urine.
Curcumin regulated the activity of proteins related to uric acid transport and inhibited the activity of certain biochemical pathways in order to improve kidney function.
Curcumin's antioxidant action may help lower uric acid levels.
Researchers concluded that curcumin can be a functional ingredient that offers protection from fructose consumption associated hyperuricaemia or increased uric acid levels.
Xanthine oxidase is one of the enzymes involved in uric acid formation. A study suggests that curcumin can inhibit the action of this enzyme thereby preventing uric acid formation while some researchers have found that curcumin may not affect this enzyme.
Coming to a concrete study in humans, this one focuses on curcumin supplementation in Non Alcoholic Fatty Liver Disease. Poor metabolic health and increased consumption of purine rich foods elevates uric acid levels in the blood.
This study published in Journal of Cardiovascular Pharmacology, 2016 showed that 1000mg of curcumin per day for 8 weeks lowers cholesterol levels and uric acid levels in individuals suffering from non alcoholic fatty liver disease.
What does this mean?
Curcumin, found in turmeric, works as an antioxidant and improves metabolic health and kidney function in order to bring down uric acid levels.
2. Turmeric is an anti-inflammatory agent
Arthritis of any form is characterised by inflammation which leads to pain and swelling. Turmeric is a natural anti-inflammatory agent.
Unlike conventional painkillers it does not act only on one enzyme –COX to inhibit inflammation but also acts on other enzymes like LOX as well as on multiple inflammatory pathways.
Aggarwal et. al have listed 30 molecular targets that curcumin modulates in order to bring about its anti-inflammatory effect.
A review of 6 clinical trials show that curcumin exerts potent anti-inflammatory effect and inhibits the activity of inflammatory mediators such as interleukin, COX enzyme, prostaglandins, TNF, thromboxane etc. Doses up to 8g of curcumin are found to be safe.
What does this mean?
Turmeric has potent natural anti-inflammatory property that can help reduce inflammation in gout.
3. It is a natural painkiller
Turmeric works as a natural pain remedy and it can help attenuate almost any kind of pain. (Read Turmeric for various kinds of pain)
Sahebkar et. al conducted a review of 8 clinical trials that assessed the efficacy of curcuminoids as analgesic or painkillers. Curcuminoids significantly reduce pain and are found to be well tolerated.
Curcumin's pain killer action is comparable to that of diclofenac sodium and aspirin.
Chandran et. al conducted a study where patients suffering from rheumatoid arthritis were treated either with curcumin (500mg) or diclofenac sodium (50mg) or their combination. Interestingly curcumin treated group showed significant improvement than patients in the diclofenac group and no adverse effects were reported.
A study was conducted in University of Brussels, Belgium to assess the effect of Flexofytol, a purified curcumin extract, on gout and fibromyalgia. 116 patients were enrolled in this study.
They received 4 tablets a day and 4-6 weeks of follow up was involved. 17 out of 19 patients suffering from gout reported drastic improvement with curcumin treatment.
They took 4-6 tablets a day and found quick reduction in acute gout attacks. 11 patients continued the treatment at 2 tablets daily for 3-6 months and 10 out of 11 were satisfied with the treatment at 6 months.
The reduction in pain with curcumin treatment was reported as early as 24-48 hours and patients reported that pain relief was as significant and quick as that of non steroidal anti-inflammatory drugs.
What does this mean?
Curcumin's painkiller activity can reduce pain and swelling in gout attacks. Clinical trial shows that curcumin can attenuate symptoms of gout attacks as early as 24-48 hours and is as effective as non steroidal anti-inflammatory drugs in relieving pain.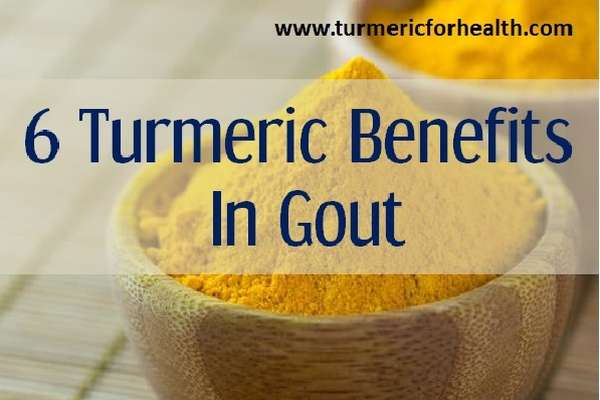 4. Turmeric counteracts side effects of painkillers
Turmeric has gastroprotective properties- it protects from acid reflux, formation of gastric ulcers and inflammation of the gut or gastritis. (Read 5 Reasons why Turmeric is Good For Heartburn, Can Turmeric Cause Acidity, Turmeric for Gastritis)
This property of turmeric protects from long term side effects of painkillers which can involve gastric inflammation and bleeding.
What does this mean?
Turmeric when used as an adjunctive treatment protects from gastric side effects caused by conventional medication.
5. Turmeric helps in weight loss
High dietary intake of purines or consuming excess alcohol or fructose containing beverages can increase risk of developing high levels of uric acid. Maintaining a healthy weight is suggested as one of the ways to maintain better metabolic health and reduce risk of gout.
A study published in European Review of Medical and Pharmacological Sciences demonstrated that curcumin supplementation increased diet and exercise induced weight loss to 4.91% and fat loss to 8.43% as well as significantly reduced abdominal fat.
What does this mean?
Curcumin potentiates the weight loss outcomes of diet and exercise. Maintaining healthy weight is beneficial in preventing gout.
6. It improves metabolic health
Turmeric is great for metabolic health in a number of ways:
Maintaining a healthy metabolism is very vital in reducing gout because each of these factors contribute to high uric acid and thereby treating these can help prevent gout.
What does this mean?
Curcumin can bring about significant improvements in metabolic health which if impaired serves as a risk for developing high uric acid levels and gout.
Is turmeric safe in gout?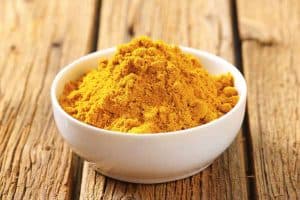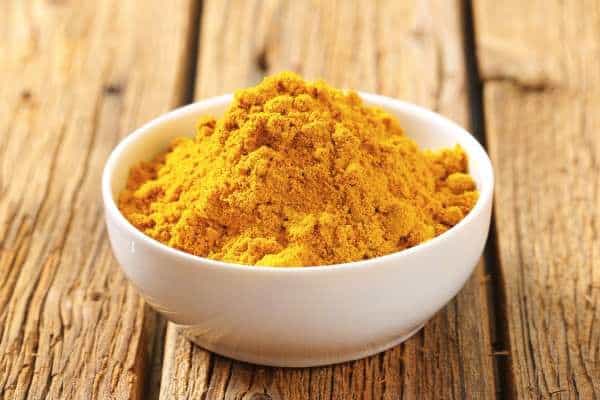 When it comes to taking turmeric for health we always recommend taking turmeric in diet. However there has been one study that suggests supplemental doses of turmeric is high in oxalates and may moderately increase the risk of developing kidney stones.
Sabsina Corp. (the company that developed C3 complex or standardized 95% curcumin extract) refute this study by stating that "The amount of oxalic acid in a dose of Curcumin C3 complex is 88 times lower than the lowest level needed to be classified as 'high oxalate'. You can read their report here.
Gout increases the tendency for developing kidney stones and these could be due to calcium oxalate, uric acid or mixed. Therefore it is advised to limit or indulge in moderate consumption of turmeric.
Turmeric DOES NOT cause kidney stones in normal individuals. If you are at high risk of developing kidney stones or consume a high oxalate or borderline oxalate rich diet then high doses of turmeric could add to the dietary oxalate load.
Therefore based on these concerns it is advised to limit turmeric intake in gout and for a therapeutic effect it is advisable to take curcumin supplements. Consult a health practitioner before taking supplements.
FAQs about Turmeric for Gout
Here are few frequently asked questions about the therapeutic effect of turmeric in gout.
1. Can turmeric reduce pain and inflammation in gout?
Yes turmeric is a natural anti-inflammatory agent and a natural painkiller. Thus it can treat pain and inflammation in gout.
2. Should turmeric be avoided in gout?
Low doses of turmeric in diet can be used in gout but for a therapeutic purpose it is preferable to take turmeric supplements. For more details refer to the above section Is Turmeric Safe for gout?
3. Should I take whole turmeric or curcumin for gout?
We recommend whole turmeric or turmeric powder for arthritis over curcumin as it contains curcumin as well as other therapeutic compounds and also essential oils which have anti-arthritic activity.
Turmeric is moderately high in oxalates and in case of gout there is a risk of developing kidney stones which contain oxalates. So if you already have a high or borderline dietary oxalate load turmeric could add to it. Hence turmeric supplements are advised in gout.
Turmeric can still be included in diet but you may have to stick to moderate consumption.
4. What is the dose of turmeric for gout?
This depends on the form of turmeric you take. The details have been highlighted in the Dosage section below.
5. How much time to see effects of turmeric in gout?
1 week is an ideal time to experience 40-60% relief in gout by taking turmeric.
6. Is it safe to take turmeric/Golden Paste with supplements in gout?
Yes it is safe to take Golden Paste or turmeric in diet when taking supplements; however it is advisable to limit to low doses say ½ tsp twice a day to avoid gastric discomfort and reduce dietary oxalate load.
7. What herbs can I take with turmeric for gout?
Herbs like Boswellia serrata and ginger can be taken with turmeric to attenuate pain in gout. It is best to consult a herbalist or naturopath about combining with turmeric with other herbs for gout.
8. Can I take turmeric with gout medications?
Turmeric in diet can be safely taken with NSAIDs and steroids. However turmeric supplements should not be taken at the same time as taking other medications. Maintain at least a 4 hour gap.
This is because curcumin and piperine can inhibit drug metabolizing enzymes and this can increase the concentration of other drugs in the blood; this on long term can cause side effects.
9. Can I discontinue gout medications after taking turmeric?
Turmeric is not meant to replace professional medical advice and treatment. Many readers do report discontinuation of anti-arthritic medications after taking turmeric but we recommend seeking your doctor's advice on this.
Certain medications like steroids require tapering and this is possible with appropriate medical advice.
10. I have taken turmeric for a month, but I see no effect of turmeric in gout. What should I do?
Since turmeric supplements are advised in gout, if you have not experienced any relief in gout here is what you could do:
• Consult a health practitioner about increasing the dosage of turmeric supplements.
• Switch to a better brand of turmeric which contains standardized 95% curcumin and piperine.
11. Are there any side effects or precautions to note about turmeric?
Turmeric when taken in diet in moderate doses is safe. However there are a certain precautions that you should be aware of and these have been discussed below in Precautions section.
12. I am taking a blood thinner, can I take turmeric?
Turmeric in small amounts in diet is safe but turmeric supplements should be avoided in case of bleeding/clotting disorder. If you are taking aspirin for gout or any heart condition, it is advisable to avoid turmeric supplements. It is advisable to discuss this with your doctor.
Dosage of Turmeric For Gout
The best way to take turmeric is to make part of diet. It makes delicious tea and can be added to salads, egg dishes and curries – check out recipe section.
But I do not recommend taking turmeric extracts or supplements. I recommend you taking turmeric powder as spice or part if diet. It is easy to do so too. Just make sure you include black pepper in your diet too. This will ensure turmeric is absorbed nicely.
Due to the concern about turmeric's oxalate content, turmeric supplements are advised in gout. The recommended dosage is 400-600mg 2-3 times a day but it is best to consult a health practitioner before taking turmeric supplements. Opt for standardized 95% curcumin extract with piperine or bioperine.
It is safe to include as much as ½ tsp turmeric in diet daily in case you suffer from gout. ½ tsp of Golden Paste 2 times a day is permissible considering your dietary oxalate load is less.
1 cup of Turmeric Milk or Turmeric Tea containing ½ tsp of turmeric a day can also be consumed in case you don't include turmeric in diet or need an alternative to Golden Paste.
Precautions
Turmeric in dietary quantities does not pose any risk. Doses up to 8g have found to be safe but high doses can cause gastric side effects in real life.
Turmeric supplements should be opted for only after consulting a doctor. When it comes to arthritis, whole turmeric has more benefits but in conditions like gout or if you are at high risk of developing kidney stones it is advisable to opt for curcumin supplements because turmeric is moderately high in oxalates.
Turmeric supplements should be avoided in pregnancy and lactation. Discontinue use of turmeric supplements 2 weeks prior to surgery. Avoid supplements if you are suffering from bile duct obstruction.
When on blood thinners, it is safe to occasionally introduce turmeric in diet and take in small doses in diet but do not use curcumin supplements. In such a condition it is best to discuss this with your doctor.
Turmeric may have drug interaction with stomach acid reducing drugs, blood sugar lowering drugs and blood thinners.
Conclusion
Turmeric is helpful in gout as it helps attenuate pain, can reduce uric acid accumulation and can prevent occurrence of gout attacks.
Turmeric as a spice is high in oxalates; therefore in conditions like gout and predisposition to kidney stones one is advised to limit intake of turmeric in diet. In such cases one can opt for turmeric supplements on short term for therapeutic effect after consulting a health practitioner.
Save
Save
Save
Save