Steroids are a class of drugs that are used to treat immunological, inflammatory and allergic diseases.
Also called corticosteroids or glucocorticoids, these are different from anabolic steroids used to enhance maleness and muscle power.
Corticosteroids are widely used to treat asthma, allergies, arthritis, skin disorders caused by immunological problems, multiple sclerosis, stress related disorders and even cancer.
They reduce inflammation and affect the functioning of mismanaged immune system.
Corticosteroids are similar to cortisol, a hormone that our body naturally makes in the adrenal glands.
During stress, the body makes enough amounts of cortisol to keep away the diseases or stress induced physiological ailments such as inflammations, allergies and other serious chronic disorders.
Normally, small amounts of cortisol are regularly (majorly in the morning) produced by the adrenal glands and released in the blood stream.
In case of stress induced, inflammatory disorders, allergic diseases and other ailments, corticosteroidal medicines help supplement extra cortisol in the body to reduce the symptoms.
How do steroids act in your body?
Steroids, upon entering the body, bind to steroid receptors in the cell. Steroid receptors are proteins that specifically bind to steroids. They then move into the nucleus, a portion of the cell where genetic material is stored and there they control the activity of the genes.
Steroids then activate genes that produce anti-inflammatory agents and suppress genes that promote inflammation.
They favor the production of anti-inflammatory protein lipocortin which inhibits the activity of enzyme phospholipase A2.
This enzyme favors the production of arachidonic acid, which is a precursor of pro-inflammatory agents.
Steroids also regulate the activity of nuclear factor-kappa B which controls genes and enzymes involved in inflammation. Steroids help in treating various disorders by demonstrating their anti-inflammatory and immunosuppressive properties.
Steroid medications are given in a variety of forms such as oral, intravenous, injections, nasal sprays or inhalers.
If they are to be given in large amounts in case of sudden injury or onset of a symptom, intravenous or injections are preferred. After that, to decrease the dose, oral steroidal drugs are given.
Why turmeric can be better than many steroid medications we use
Turmeric is an ancient herb that has long been used in food and as medicine.
It is added in curry and other food items for color and aroma. For therapeutic purposes, turmeric is used to treat swelling, cold, cough, eye problems, skin disorders, pain, inflammation, arthritis, and cancer.
An active ingredient in turmeric, curcumin, is responsible for its characteristic color, aroma and most of the therapeutic properties.
Turmeric has a lot of physiological healing effects similar to steroids.
Proven by research, it treats inflammation of several types such as general and arthritic, rheumatologic or immunologic imbalance, swelling, pain, allergic reactions of the skin, eczema and many more disorders, just like steroids do.
Of all the effects of turmeric, some of the most common ones that are similar to those of steroidal medications are described in detail below.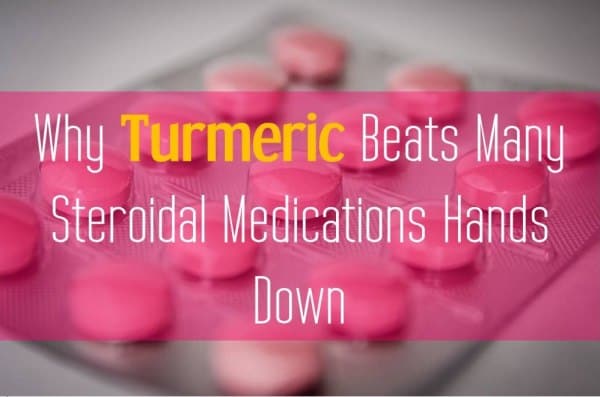 1. Turmeric reduces inflammation just like steroids
Research has suggested that several phenolic compounds such as curcumin, that are present in turmeric, show the powerful anti-inflammatory and anti-oxidant effect on the body.
Research performed on turmeric showed that it directly scavenges the oxidants in the arthritic and inflamed tissues. The major inflammatory pathways in the cells in diseases like cancers, arthritis, asthma, and others include the ones regulated by a signaling factor called NF-κB.
NF-κB is the major target of corticosteroids to control inflammation. Another compound called cycloxygenase 2 (COX2) is an important inflammatory molecule which is controlled by steroids.
Several studies on turmeric have concluded that both these factors, NF- κB and COX2 are analogously controlled by turmeric as well, thus producing the effects similar to those of steroids.
Another potent anti-inflammatory action of turmeric has been shown to be in uveitis patients. Chronic anterior uveitis is the inflammation of the uvea in the eye. It is caused by the immunological imbalance and infections often leading to permanent damage to the eye.
Currently, only corticosteroids are available as a treatment regimen for uveitis. Research on turmeric has shown that curcumin produces healing anti-inflammatory effects on uveitis affected eye, similar to that of corticosteroids .
Yet another comparative study on the use of turmeric and corticosteroids for the treatment of inflammatory bowel disease (IBD) revealed that besides being equally effective in managing the inflammation in IBD, turmeric may also be treated as a less expensive treatment option for this disease as compared to steroids .
What it means: Turmeric shows anti-inflammatory effects similar to those of steroids in treating inflammatory disorders like asthma, cancer, uveitis and arthritis.

It leads to the pharmacological effects analogous to those caused by administration of corticosteroids and provides an option of more non-toxic, effective and cheaper medication.
2. Turmeric effectively manages pain – just like steroids (sometimes even better)
Just like steroids, turmeric controls pain and burning sensation caused in many disorders, injuries and cancer.
A comparative study on the effects of steroids and turmeric on oral fibrosis (a precancerous disease involving stiffening of tissue) showed that turmeric was in fact far more superior and efficient in pain management than steroids.
Submucosal oral fibrosis causes a lot of painful symptoms and marks the onset of oral cancer. Normally, steroids are given to manage these symptoms. However, it has been found that while acting similar to that of steroids, turmeric produces better therapeutic results .
Another research on turmeric and steroids a very common disease of the oral cavity provided similar results. Recurrent aphthous stomatitis is a disease of the mucosal layer of the mouth in which painful ulcerative lesions are formed very frequently.
These lesions are self-contained and disappear quickly after a few days or even hours but are very painful and discomforting.
To manage this disorder, the major line of treatment currently used is steroids that not only control the pain but also the frequency of recurrence of the lesions.
In this study, it was found that curcumin, the active ingredient of turmeric also produced the same results of pain management and controlling of the level of occurrence of the ailment. In fact, the analgesic effects of curcumin were assessed to be better than that of steroids.
What it means: Turmeric helps in reducing burning sensations, pain and discomfort caused due to various disorders. Its target functions are comparable to that of steroids and its final healing effects are similar and even better than that of the latter one.
3. Turmeric shows disease preventive effects
Apart from healing several symptoms, both steroids and turmeric share the property of showing protective effects on the body.
Curcumin has immunomodulatory activity- it can alter immune responses. At low doses, curcumin boosts immunity, improves antibody functions and helps fight infections.
However, at high doses, it reduces the production of inflammatory chemical like TNF-alpha, Interleukins and manipulates genes involved in inflammation.
It also suppresses immune responses by preventing migration and activation of immune cells like T cells, B cells, macrophages, neutrophils, natural killer cells, and dendritic cells
Several diseases have a tendency to recur with adverse conditions such as stress or changing the environment. Steroidal drugs are given in such case to prevent the occurrence or recurrence of such symptoms.
One such study on pulmonary fibrosis revealed that with lung damage due to smoking and other factors, the risk for occurrence of fibrosis and cancer is increased several fold and steroids show a protective effect on the lungs, preventing the onset of the disorder.
Turmeric has also been found to exert similar protective effects on the lungs and other parts of the body by virtue of its healing antioxidant and anti-inflammatory effects. Thus it can be compared in function to steroids.
What it means: turmeric, just like steroids, shows protective effects on tissues and prevents the onset of chronic diseases.
4. It influences the secretion of natural steroids
Studies prove that curcumin can influence the body's ability to secrete natural steroid, cortisol. This steroid is produced by adrenal glands. One study proves that at low doses (1-20 µM) curcumin inhibits secretion of cortisol.
However, at high doses (50 µM) It stimulates cortisol secretion. The fact that curcumin can control steroid secretion in our body, suggests that it can be developed as a drug to treat Cushing's or Addison's disease or any disease occurring as a result of inappropriate cortisol secretion.
In addition to cortisol secretion, it is said that curcumin may regulate the release of steroid hormones like aldosterone, testosterone, and estrogen, as well as peptide hormones and neurotransmitters.
What it means? Unlike synthetic steroid drugs, curcumin can control secretion of natural steroids produced in the body.
Research in context to turmeric and steroids
Following studies demonstrate the various cases in which turmeric' bioactive constituent have shown similar or superior action than steroids.
Turmeric is better than steroids in treating eye inflammation
Chronic anterior uveitis is inflammation of the eye. A study was conducted wherein patients received curcumin or curcumin and antitubercular medication for 12 weeks to treat this condition. Both the groups showed significant improvement and recurrence of the disease was low.
Researchers concluded that curcumin's therapeutic effect was comparable to that of steroids which is the only treatment available for this disorder. The advantage of choosing curcumin over steroids was the lack of side effects.
Curcumin protects against lung injury
Lung transplantation injury is damage of the lung tissue which occurs when the blood returns into the organ after a period of lack of oxygen.
Steroid dexamethasone is commonly administered to prevent such injury. Experimental studies prove that like dexamethasone, even curcumin can prevent such injury by reducing oxidative stress (imbalance between prooxidant and antioxidant agents in the body).
It also curbs inflammation by inhibiting the activity of nuclear factor kappa B, a protein that regulates the activity of genes involved in inflammation. Both these mechanisms make curcumin a potential alternative therapy to protect against lung transplantation induced injury.
Eating turmeric can help in reducing arthritic pain
In the animal model of arthritis, curcumin was evaluated for its efficacy on early stages of arthritis. Animals were given either curcumin (100mg/kg) or prednisone (1mg/kg or 8mg/kg).
Curcumin was found to be more effective than prednisone in controlling inflammation for the first six hours since the development of arthritis. Researchers concluded that turmeric can be therapeutic in the early stages of arthritis.
Curcumin gel heals oral ulcers
Mouth ulcers are a common and recurrent problem in many individuals. Since it has a high frequency of occurrence, researchers are looking for a foolproof remedy to treat ulcers.
In this study patients were given either curcumin gel or steroid gel and were asked to apply it thrice a day on each ulcer. Within 7 days a significant reduction in pain, size, and number of ulcers was observed in both groups.
Researchers came to a conclusion that curcumin's antioxidant, anti-inflammatory and analgesic properties make it a viable alternative to steroids for treatment of oral ulcers.
Curcumin can treat spinal cord injury
Spinal cord injury may sometimes require a high dose of steroids to treat it. However, a high dose of steroids can cause side effects and toxicity.
Looking for safer alternatives, scientists recommend the use of natural compounds like curcumin and quercetin (a natural antioxidant found in fruits and grains).
Both of these compounds can exert antioxidant, anti-inflammatory and neuroprotective properties which is why they could be useful in treating spinal cord injury.
Additionally, scientists hypothesize that using a combination of curcumin and quercetin can aid in treating spinal cord injury without causing any side effects.
Curcumin as a treatment for inflammatory bowel disease
Inflammatory bowel disease is characterized by inflammation of large and small intestines. It is treated with steroids and antibiotics but long term use of these agents can cause side effects.
Curcumin inhibits oxidative stress, manipulates a number of biochemical pathways to control inflammation and even suppresses inappropriate immune responses. Clinical trials prove that curcumin, when administered along with standard drugs, improves treatment response.
This indicates that curcumin can be developed as an alternative to steroids in treating IBD.
How turmeric is different from steroids (comparative analysis of possible side effects)
If functions and effects are t be emphasized, turmeric indeed is equally or in some cases more effective than steroids. It causes similar pharmacological effects on the tissues and heals the symptoms with maximum efficiency.
However, turmeric is far more superior to steroids because of its low toxicity and low costs. Steroidal, drugs have a high rate of occurrence of side effects some of those being non-reversible.
These drugs are also not cost effective.
Turmeric, on the other hand, is inexpensive and non-toxic treatment for several chronic disorders. It can invariably be considered as a future wonder medication and a replacement to several toxic steroidal drugs.
Steroids cause a number of major side effects in contrast to turmeric: the side effects caused by steroids differ on the basis of the type of steroid consumption.
For instance, the side effects and their intensity by taking oral steroids are different from those of intravenous steroids.
Long term use of a majority of steroidal medications are known to have side effects:
Glaucoma (elevated pressure of blood in the eyes leading to blindness)
Cataracts
Increased blood pressure
Mood swings
Hormonal imbalance
Weight gain, obesity
Osteoporosis (thinning of bones)
High blood sugar
Slower wound healing
Infection in the oral cavity
Acne, thin skin and lesions
Side effects caused by over-consumption of turmeric: turmeric has not been reported to cause side effects if consumed in low to moderate amounts.
However, even if taken excessively, it does not pose such serious side effects as those of steroids.
Some of the common side effects of consuming turmeric in large amounts are given below-
Mild diarrhea
Low blood sugar
Mild stomach ache
Kidney stones/gall stones (caused only if turmeric is consumed in large amounts for a long time or in case of already present kidney or gall bladder disease)
Indigestion (reported in a very small number of people)
Turmeric can actually help in dealing with the side effects of steroids (wow!)
As mentioned above, unlike steroids, turmeric does not cause any severe side effects.
In fact, it can actually help with the side effects caused by steroids.
Following properties of turmeric suggest that it can help in overcoming side effects of steroids:
What it means: after analyzing the number of side effects caused by both steroids and turmeric, it can very well be concluded that turmeric is a lot safer medication as compared to steroids.

Apart from producing similar or even better healing effects than steroidal medications, it can also be used to take care of side effects caused by steroids.
Turmeric dosage
It is best to include turmeric in your diet.
It is safe and an easy way to reap health benefits from the herb. Here are some excellent recipes to help you>
You can have it with yogurt or add it to your curries, rice preparations, and soups.
Turmeric supplements are also available in the form of capsules containing powder, tinctures and fluid extract. But you should only take supplements when there is no way to take the powder.
You can easily take around 4-5 gms of turmeric powder a day. But always start small if you are new to taking turmeric.
Here is a detailed article on how much turmeric you can take>
Be sure to buy a good quality turmeric powder product, here are some guidelines>
Precautions
Turmeric as a part of the diet does not cause any side effects.
However, turmeric supplements contain a number of components other than curcumin to enhance its effect and this might not suit everyone.
Therefore before starting supplements, consult a doctor about the dose and safety of the supplement.
Avoid turmeric supplements in case of pregnancy and lactation and prior to surgical procedures.
Also, avoid taking them if you are suffering from diabetes and taking medications to lower blood sugar.
Individuals suffering gallstones, blockage of bile passages and gastrointestinal problems should exercise caution while taking turmeric supplements.
Conclusion
Steroids are a very important class of medications used to treat several common and complex indications that deal with immunological disturbances, inflammation, and pain.
Turmeric, though long been used traditionally in-home medication, is emerging as a powerful competitor to major drug families for the treatment of many diseases like arthritis, inflammation, pain, swelling, cancer, etc.
When compared to steroids, the effect of turmeric is highly comparable to the former class of drugs and thus the therapy area is also similar.
In fact, turmeric has been proven to be better than steroidal medications in several studies for the treatment of rheumatological and inflammatory disorders.
Not just the effects, turmeric also poses lesser side effects as compared to steroids and is a lot cheaper in terms of costs than its synthetic counterpart.
It can thus be considered as a potential future game changer and a tough competition to steroidal drugs for the treatment of several disorders.