Aspirin or Acetylsalicylic acid (ASA) is a commonly used Non-steroidal Anti-Inflammatory Drug (NSAID) for management of pain, fever, and inflammation.
Additionally, it has an antiplatelet effect which makes it useful for lowering cardiovascular risk factors and prevention of certain types of cancers.
The use of herbal supplements like turmeric and its active component curcumin is increasing to assist in the treatment of various disorders.
Though dietary turmeric is safe, it is essential to consider any possible herb-drug interactions if planning on taking turmeric/curcumin supplements with Aspirin.
Based on available research, here are some benefits and concerns associated with taking turmeric and Aspirin together.
Benefits of using Turmeric with Aspirin
1. Turmeric is a potent anti-inflammatory agent
With excellent anti-inflammatory and antioxidant properties, turmeric is quite useful in reducing inflammation and pain in many inflammation-related disorders.
It works by inhibiting various factors, immune cells, and enzymes which carry out the process of inflammation in the body. [1]
Turmeric also has a similar mode of action as aspirin as it also efficiently inhibits the cyclooxygenase group of enzymes. [2]
Studies show that turmeric has a synergistic action with other anti-inflammatory agents and thus, could help in assisting treatment of inflammation. [3]
Preliminary studies have also reported the use of curcumin to act as an adjuvant in combination with other NSAIDs like aspirin. [4]
This will not only help in reducing the dosages of aspirin but also lower the magnitude of any possible side effects that might occur.
Read: Why Turmeric is Nature's Best Anti-inflammatory Agent
2. Turmeric may be better than Aspirin
When scientists compared the therapeutic effects of turmeric oil with aspirin, it was found that turmeric oil, which is present in fresh turmeric, is a more potent inhibitor of inflammation and pain than aspirin. [5]
In another study analysing the potential of various anti-inflammatory agents,  curcumin from turmeric was found to be more effective than aspirin in suppressing inflammatory mediators. [6]
Being a natural food used for many generations, turmeric and curcumin are much safer than aspirin and are well-tolerated by the human body even in high doses of 8g per day. Unlike aspirin, they also do not pose a risk of severe adverse effects. [7]
Thus turmeric is better than aspirin both because of its safety and efficacy.
3. Turmeric may alleviate side effects of Aspirin
Some common side effects of aspirin include gastrointestinal problems, which in severe cases can lead to bleeding and formation of stomach ulcers or cancer. [8]
Due to its gastroprotective effects, turmeric could protect the stomach and intestinal linings from mucosal damage by aspirin and prevent ulcer formation. [9]
4. Turmeric benefits in other health conditions as well
There are many NSAIDs, but what makes aspirin distinct is its additional anti-platelet effect.
Due to this property, it is widely used in patients with cardiovascular risk, to prevent the occurrence of blood clot formation, stroke, and other heart diseases. [10]
Apart from this, it has also been found beneficial in cancer treatment, particularly in colorectal cancer.
Now, individuals who are taking aspirin for these benefits should know that even turmeric has antiplatelet and anti-cancer properties.
There are numerous studies which state that turmeric, with its anti-thrombotic effect, could prevent cardiovascular disorders. [11]
Read: Turmeric Benefits to Heart
It also suppresses tumour growth and progression and kills cancerous cells. [12]
Read: Turmeric Benefits in Cancer
In fact, curcumin has been used in combination with aspirin in several nanoformulations for treatment of pancreatic, ovarian and colorectal cancers. [13] [14] [15] [16]
Thus, the possibility of its use with aspirin in treating many health conditions cannot be ignored.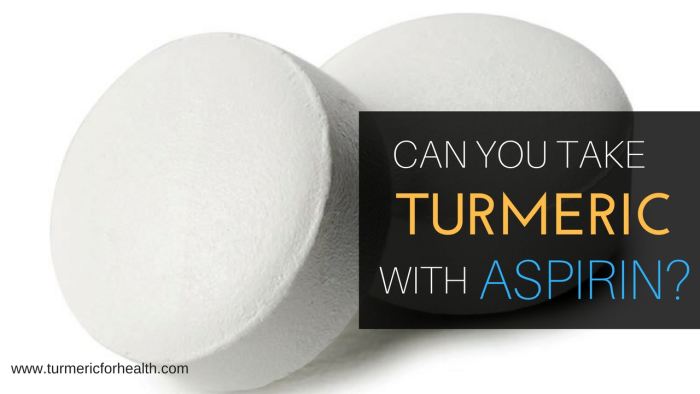 Concerns: Turmeric Interaction with Aspirin
There are hardly any human studies or clinical trials which could prove any adverse effects of taking aspirin with turmeric.
However, preliminary studies have pointed out the possibility of interaction between aspirin and turmeric. Let us know more about it.
Turmeric with Aspirin could elevate some side effects
Journal of Clinical Pharmacy and Therapeutics reports a study which states that NSAIDs, particular aspirin, can interact with other agents having an anti-platelet activity, like turmeric. Together, they could enhance the risk of bleeding due to their anti-coagulation effects. [17]
Moreover, piperine, the active ingredient of black pepper also inhibits platelet aggregation. [18]
Black pepper is often used with turmeric to increase its bioavailability.
However, another study conducted on 25 healthy volunteers stated that natural herbal supplements like turmeric, when taken together with aspirin, do not further inhibit the platelet aggravation or increase the bleeding risk.  [19]
Some other scientific reports show that the inhibition of the cyclooxygenase-1 enzyme by aspirin results in the upregulation of cyclooxygenase-2 enzyme to prevent gastric damage.
Now, taking aspirin with natural supplements like turmeric, which further inhibit the COX-2 enzyme, may result in aggravated gastric injury. [20]
Thus, caution should be exercised while taking turmeric supplements or golden paste (which contains turmeric and black pepper) with aspirin, mainly by those individuals who experience bleeding problems or some side effects with aspirin.
Turmeric may affect Aspirin metabolism
Curcumin from turmeric and piperine from black pepper, both inhibit P-glycoprotein and Cytochrome P450 enzymes which carry out the metabolism of various drugs in the human body. [21] [22]
Aspirin is one such drug which gets metabolised by these enzymes and disruption of its metabolic process might further alter its therapeutic action and may even elevate the side effects. [23]
Thus, concomitant use of turmeric supplements with aspirin should be avoided.
How to Take Turmeric
There are 3 ways to include turmeric/curcumin –
Raw Turmeric – this is slightly difficult to get but excellent. You can make Golden Paste and use it.
Turmeric Powder – the most popular way, also called turmeric spice. Golden Paste and Turmeric Milk are great ways to take the powder. Here is a list of recommended turmeric brands>
Turmeric Supplements / Curcumin Supplements – These contain curcumin along with absorption enhancing ingredients. Some of these are patented formulations. Here is a detailed guide on kins of supplements along with best brands>
Given the possibility of interaction, it is best to go for powder or raw and that too in limited amount. Also Golden paste should be made without the black pepper and only with fat to avoid any issues with Aspirin.
Bottomline
It is completely safe to take turmeric in diet, even if on medications. Turmeric is a regular ingredient in foods of many people around the world, and a small amount is unlikely to have any considerable effects.
As with any herbal supplement, always consult with your healthcare practitioner before taking turmeric/curcumin supplements in significant amounts, especially if on medications.
Based on one's health conditions, the appropriate dosage and time of intake might need to be adjusted.
However, if taking turmeric/curcumin supplements, it is better to maintain a gap of 3-4 hours while taking turmeric and aspirin.
Also, due to the possibility of increased risk of bleeding, large turmeric doses should be avoided concomitantly with aspirin, particularly by those people who have experienced these side effects.