Hypertension is the clinical term for high blood pressure. Normal blood pressure is defined as 120/80. These are systolic and diastolic blood pressure; systolic being the maximum pressure by which heart would pump blood in your arteries and diastolic being the minimum pressure by which your heart is refilling.
High blood pressure is a medical condition that would qualify as pressure above 140 and above 120 would be prehypertension . For a more detailed diagnosis on what your blood pressure readings indicate about your health you can refer to the these resources and consult a doctor for appropriate diagnosis.
Hypertension is classified as:
Primary hypertension: When there is no identifiable cause of high blood pressure.
Secondary hypertension: Any underlying condition that causes high blood pressure.
Age, family history, being obese, being physically inactive, tobacco consumption, lack of minerals and vitamins in diet are few of the risk factors for developing high blood pressure.
Chronic hypertension can lead to heart diseases, heart failure, vascular disease, kidney disease, vision loss etc.
Lifestyle changes like weight loss, reduced salt intake, healthy diet, exercise etc. can help reduce high blood pressure. Blood pressure medications are also prescribed.
Turmeric shows some excellent anti-hypertensive properties. Spicing up your diet with turmeric can benefit in hypertension.
How does turmeric benefit in hypertension?
Research studies do show some great evidence about how turmeric can help normalize blood pressure.
1.

Turmeric has anti-hypertensive property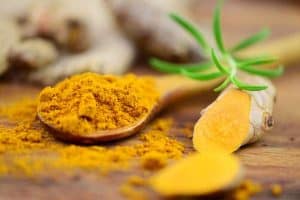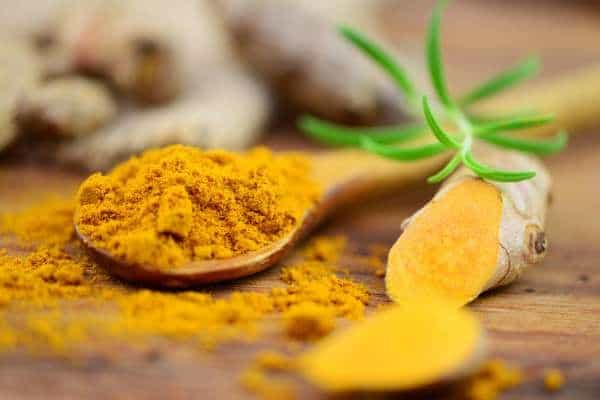 Renin-angiotensin is a hormonal system that regulates blood pressure. It involves activity of enzymes-renin and angiotensin as well as receptors or proteins that bind to these enzymes.
It also involves kidney function since kidney affects blood volume by filtering it from toxic elements and adjusting electrolyte balance.
Research shows that curcumin can reduce hypertension by regulating the activity of angiotensin receptors and thereby preventing the blood vessels from constricting. Not only curcumin, turmeric oil fraction and turmerone also demonstrate similar activity.
Both curcumin (bioactive ingredient of turmeric) and piperine (bioactive ingredient of black pepper) are found to reduce hypertension and ameliorate damage and structural changes that occur in the blood vessel due to high blood pressure.
Research shows that curcumin and its derivatives have vasorelaxant property or ability to relax blood vessels which reduces resistance to blood flow and hence reduces hypertension.
Nanocurcumin is proven to have anti-hypertensive activity which it mediates by inhibiting the activity of enzyme called angiotensin converting enzyme. Inhibition of this enzyme is found to relax blood vessels.
In fact its anti-hypertensive activity is found to be as good as Captopril, standard drug used to treat hypertension.
What does this mean?
Curcumin lowers blood pressure by influencing hormones that control blood pressure and dilating blood vessels. Nanocurcumin is found to be as good as captopril, anti-hypertensive drug.
2.

It is an excellent anti-inflammatory and antioxidant agent

Boonla et. al studied the effect of curcumin on animal model of hypertension. Curcumin was found to reduce blood pressure and improved functioning of blood vessels by reducing the level of angiotensin converting enzyme.

Reduction of angiotensin converting enzyme helps in relaxation of blood vessels and easing blood flow. By means of its antioxidant nature, it reduced oxidative stress caused by hypertension.

Even its derivative, tetrahydrocurcumin shows anti-hypertensive activity.

Curcumin's antioxidant property is found to protect against hypertension caused by toxic metal.

Akinyemi et. al have shown that turmeric and ginger extract can help reduce hypertension related inflammation by reducing the release of inflammatory chemicals in the body.

Dietary turmeric and ginger also protect against alterations in platelet activity. Platelets are a type of blood cells that are essential in blood clotting.
What does this mean?
Curcumin and dietary turmeric can protect from inflammation and oxidative stress occurring due to hypertension.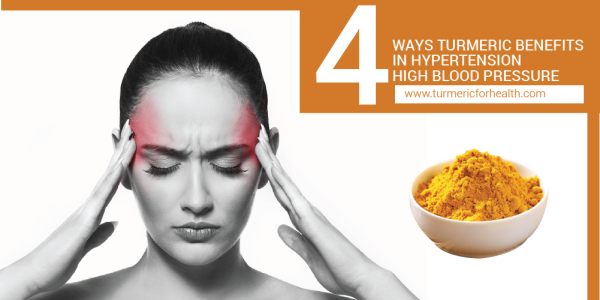 3.

It is beneficial for heart and vascular health

Curcumin has protective effects on cardiovascular system. It is found to be effective in treatment of cardiotoxicity, diabetes induced cardiovascular complications, heart failure etc.

It reduces cholesterol levels and is effective in treatment of atherosclerosis.

Curcumin is found to reverse aging related changes in arteries and its function. It inhibits hypertension induced heart failure and also protects heart from drug induced toxicity.

Endothelial dysfunction is a condition where the endothelium or lining of the blood vessels is affected and there imbalance between biological molecules that regulate constriction and relaxation of blood vessels.

Hypertension can occur as a result of endothelial dysfunction.

Research shows that curcumin can help in ameliorating endothelial dysfunction and improve vascular health.
What does this mean?
Curcumin has protective effects on cardiovascular system. Research suggests that curcumin can help in restoring vascular function and ameliorate structural changes which occur in diseased states in the blood vessels.
4.

Turmeric can mitigate causes of hypertension

Secondary hypertension is high blood pressure occurring as a result of certain disease. Turmeric can help mitigate the disease of which high blood pressure is a symptom.
Turmeric benefits in Metabolic health and obesity
Metabolic syndrome is a medical condition that presents with abdominal obesity, high blood pressure, high blood sugar, high blood lipids etc.
Turmeric and nigella sativa seeds are proven to ameliorate all parameters of metabolic syndrome within 8 weeks.
Research suggests that daily curcumin consumption can lower blood lipids in individuals suffering from metabolic syndrome. Curcumin in combination with lifestyle changes can help reduce obesity, another risk factor for hypertension.
Turmeric benefits in diabetes in a number of ways. (Read Turmeric for Diabetes)
Hassan et.al have shown that curcumin can protect against diabetes induced hypertension and diabetes induced changes in blood vessel function.
Turmeric aids in Thyroid problems
Impairment of thyroid function can lead to hypertension.
Curcumin, due to its antioxidant nature, can help in ameliorating hyperthyroidism ( excessive secretion of thyroid hormones) as well as hypothyroidism (deficient production of thyroid hormones).
For further details please read Can Turmeric Help In Thyroid disorders and 6 Benefits of Turmeric for Goitre.
Turmeric protects kidney from diseases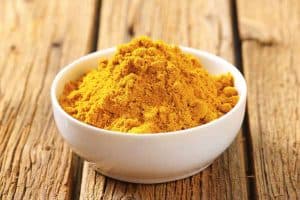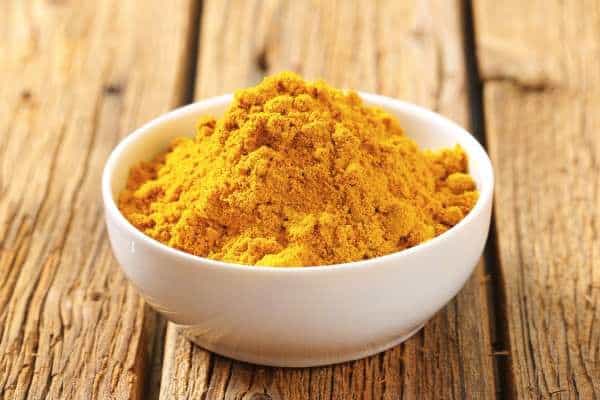 Curcumin benefits in kidney health and protects kidneys from injury, inflammation and other disorders. Kidneys play an essential role in blood pressure since they filter the toxins from the blood and manage the volume of fluids in the body.
Lupus nephritis is inflammation of the kidneys which is characterised by changes in blood pressure.
Turmeric supplementation 500mg thrice a day for 3 months was found to reduce blood pressure and improve kidney function in individuals suffering from lupus nephritis.
Curcumin's antioxidant nature helps combat oxidative stress and hypertension occurring as a result of kidney injury.
What does this mean?
Turmeric and curcumin can help in treatment of disorders like kidney diseases, thyroid disorders, metabolic health issues which can cause high blood pressure.
Dosage
Inclusion of turmeric in diet can help in hypertension. A therapeutic way of taking turmeric is The Golden Paste. It contains black pepper and oil which enhances the absorption of turmeric in the body.
1-2 teaspoons of the Golden Paste taken once or twice daily can help. Here are some easy ways to use The Golden Paste.Turmeric Milk is also a delicious way of taking turmeric.
For details on good brands of turmeric supplements and organic turmeric powder please visit this page.
Precaution
Turmeric in diet is safe. If you are trying turmeric for the first time you might experience slight gastric discomfort which should subside eventually.
Turmeric supplements should be taken with caution. A few cases in which you should avoid turmeric supplements are:
Pregnancy and lactation
Prior to surgery
If suffering gall bladder issues
If taking blood thinning medications, anti-depressants and blood sugar lowering medicines
Curcumin supplementation is found to have drug interaction with hypertension treating drug, losartan. Therefore if you are taking anti-hypertensive drugs there could be a possible drug interaction with curcumin supplements when taken together.
Read: Does Turmeric Interact with Losartan and Amlodipine?
Turmeric in diet is safe, since it has a lower percentage of curcumin and free from additives. Dietary turmeric can be taken with blood pressure lowering drugs.
Consult a doctor before taking turmeric supplements.
Conclusion
Turmeric shows great benefits in heart and vascular health. A simple change of including turmeric in your diet or consuming The Golden Paste can reduce hypertension and related complications.
So start taking Turmeric For Health!
Save
Save
Save
Save
Save
Save
Save