If you think a turmeric recipe cannot be rich with dry fruits, think again. If you were looking for a recipe where you could get benefits of coconut oil, turmeric and dry fruits in one go, you have come to the right place!
Here is one awesome turmeric, coconut oil and dry fruit rich recipe by Dough English and yes it has an awesome name too – ROCKET FUEL! And I must say given the ingredients it fits perfectly. 
What all you need?
300 mls coconut oil (virgin organic coconut oil)
3 large heaped tablespoons turmeric (organic)
Dry fruits – almonds, cashews, walnuts, pistachios, etc.
Others – pomegranate seeds, cranberries, etc.
Salt and pepper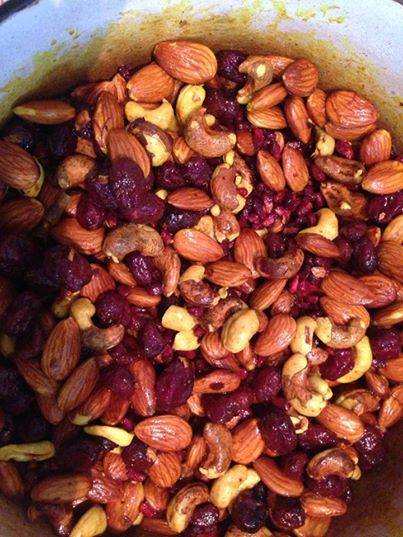 How to cook?
The process of cooking is extremely simple.
Heat coconut oil in a pan
Add turmeric
Add dry fruits and others and stir for sometime
In the end add salt and pepper based on taste
Your Rocket fuel is ready. Let it cool and then store it in fridge and use when you feel like.