Turmeric and more turmeric. What is turmeric? Is it a coloring agent or a spice or a herb or a nutraceutical?
Well, its all of these and that one miraculous plant that can protect and remedy almost any health condition.
Read – 100 Evidence-Based Health Benefits of Turmeric
The time when turmeric had not received much attention as a medicinal agent, people would generally stick to eating raw turmeric, including turmeric powder in food and boiling turmeric and drinking its extract.
Now that we know about curcumin- the foremost active ingredient of turmeric and its bioavailability issue, we are looking for ways to increase its absorption.
Curcumin is blessed with a number of pharmacological properties- anti-inflammatory, antioxidant, anti-cancer, analgesic, cardioprotective, neuroprotective, etc.
Interestingly people who used it earlier without knowing the absorption issue still reaped its benefits. Especially Turmeric Milk, 1 cup of that elixir and your cold would be gone.
So what exactly were these people doing? Did cooking turmeric actually aid in enhancing its therapeutic benefits?
Do you need to cook turmeric to get its benefits?
The recipe for Golden Paste calls for black pepper, oil, and cooking – all of these 3 enhance curcumin's absorption. So how vital is it to cook turmeric to get the health benefits?
Researchers at Oklahoma Medical Research Foundation have investigated the solubility of turmeric and curcumin after exposure to heat.
In their first study in 2007 Kurien et.al reported that curcumin's solubility in water could be increased from 0.6 microg/ml to 7.4 microg/ml.
That is a 12 fold increase in solubility of curcumin. Similarly, they have shown a 3 fold increase in solubility of turmeric with heat.
Now, these results are phenomenal since we consider that curcumin is not soluble in water and that impedes its absorption.
Further, in the study, they examined the therapeutic effect of heat solubilized curcumin and found that it exhibited strong antioxidant activity.
The protein modification to which curcumin binds- HNE modification, when inhibited by curcumin can have therapeutic effects in various diseases. Heat solubilized curcumin inhibited this protein by 80%.
The researchers suggest that heat solubilized curcumin should be used to overcome bioavailability issues in clinical trials. They also recommend the use of heat solubilized curcumin in animal studies.
Curcumin at 37 degree Celsius (normal body temperature) degrades at a faster rate within 30 minutes. Interestingly heat treatment stabilizes curcumin and protects it from degradation.
Further, the researchers have investigated the efficacy of heat solubilised curcumin on autoimmune diseases and lab studies indeed show that curcumin inhibits autoimmune reactions in Sjogren's syndrome and Systemic lupus erythematosus.
So one thing is clear, that exposing curcumin and turmeric to heat increases its solubility in water.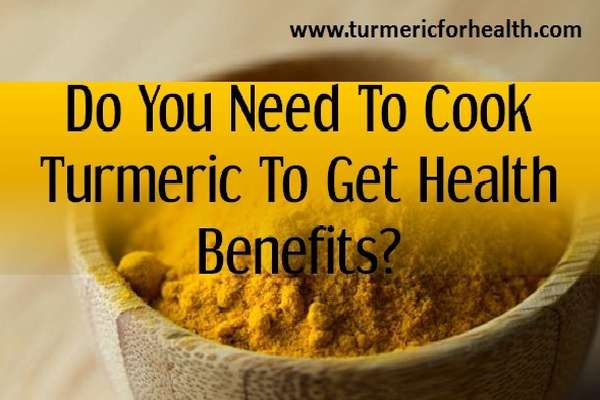 How does cooking affect turmeric's health benefits?
Coming to cooking, a study investigating food emulsions, shows that curcumin's bioavailability increases at 100 degree Celsius, a temperature used to prepare a cooking sauce.
Researchers have found that cooking curcumin in coconut or olive oil leads to the formation of a compound named 'deketene curcumin' which has better anti-cancer activity than curcumin itself.
Combining black pepper with turmeric powder increases antioxidant activity in cooking.
Roasting of curcumin leads to the formation of degradation products which are therapeutic in nature-they have an anti-inflammatory, antioxidant and immunostimulatory effect.
Taking into account all these pieces of evidence, it would be appropriate to say that cooking turmeric indeed enhances its therapeutic benefits. Though not mandatory, it would be a plus point to cook turmeric as Golden Paste or even in a regular diet before consumption.
What does this mean?

Here are a few reasons why it is better to cook turmeric:

Heat exposure increases solubility of curcumin in water by 12 folds.
Heat exposure increases solubility of turmeric in water by 3 folds.
Curcumin degrades within 30 mins at normal body temperature, heat exposure protects curcumin from such degradation and stabilizes it.
Cooking turmeric with oil at 100 degree Celsius increases its bioavailabilty.
Cooking turmeric at high temperatures (above 100 degree celsius) degrades curcumin to compounds which have better or equipotent medicinal property.
Conclusion
Clinical studies on turmeric focus on standardized powder or bioavailable formulations of curcumin which are efficient ways of delivering therapeutic doses of curcumin.
Black pepper and oil are still efficient agents to improve curcumin's absorption in the body but if you do have an option, its best to cook turmeric before consumption.
Heat stabilizes curcumin and increases its absorption in water and cooking does not destroy turmeric and black pepper benefits. (Read Does Cooking destroy turmeric and black pepper's benefits?)
Save
Save