Many bioactives obtained from nature have phenomenal health benefits but their limited absorption and rapid excretion from the body limits clinical effects.
Various attempts are made to improve their absorption in the body.
One such approach is creating a structure or molecular vessel in which the active ingredient can be embedded and this structure transports the bioactive to the right tissue and aids in absorption.
Researchers have developed various such structures but today we are going to learn about the structure phytosome and the curcumin phytosome complex.
The proprietary name for curcumin-phytosome complex is Meriva and this is a fairly popular curcumin supplement type that has been actively used in many research studies.
This post is going to tell you about what Meriva is, how Meriva was developed, what is Meriva good for, Dosage of Meriva etc.
If you already know about Meriva and want to just check out best curcumin/turmeric supplements with Meriva, continue reading. If you want to know more about Meriva first, please use the Table of Contents below to jump to the relevant section.
Best Curcumin / Turmeric Brands with Meriva
Here are our recommendations on some good brands of Meriva supplements.
Thorne Research – Meriva-SR – Sustained Release Curcumin Phytosome Supplement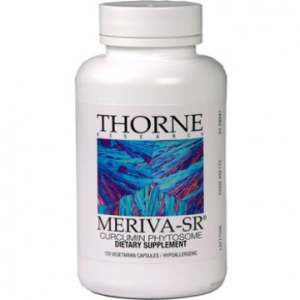 Thorne Research has over 30 years experience in manufacturing nutritional supplements and developing health diagnostic technology platforms.
Thorne manufactured Meriva as a joint health supplement in 2008.
Thorne Research has both Soy and Soy Free version of Meriva.
This supplement provides 500mg Meriva complexed with Time-Sorb (a time-release matrix).
Readers from the USA, buy from Amazon.com here>
Readers from Canada, buy from Amazon.ca here>
Readers from the UK, buy from Amazon.uk here>
Disclaimer: Supplement is hypoallergenic. It does contain methylcellulose, calcium citrate laurate, leucine, microcrystalline cellulose, silicon dioxide. Avoid if one is allergic to these.
Doctor's Best Meriva Phytosome Curcumin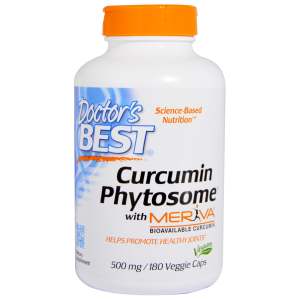 Doctor's Best is one of the popular companies offering health and nutritional supplements. It was established in 1990 and is located in Irving, California, USA. Coenzyme Q10, Magnesium, SAM-e and vitamin D are some of its popular health supplements.
Doctor's Best Meriva Phytosome Curcumin capsules provide 500mg Meriva in vegetarian capsules.It is gluten free, soy free and vegan.
Readers from the USA, buy from Amazon.com here>
Readers from the UK, buy from Amazon.co.uk here>
Readers from the Canada, buy from Amazon.ca here>
Disclaimer: Supplement contains magnesium stearate and silicon dioxide. Avoid in case of allergies.
Source Naturals Turmeric with Meriva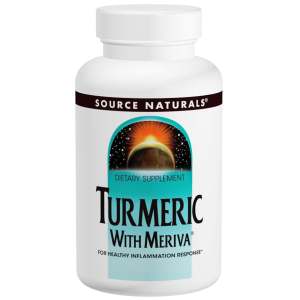 Source Naturals is one of the leading experts in the field of nutraceuticals and dietary supplements. They are the proud developers of Wellness Formula®, the industry's number one immune support product as well as other award-winning formulas such as Life Force® Multiple, Mega-Kid™ Multiple, Inflama-Rest™, the Skin Eternal™ line.
Source Naturals Turmeric with Meriva provides 500mg Meriva in each capsule.
Readers from the USA, buy from Amazon.com here>
Readers from the Canada, buy from Amazon.ca here>
Disclaimer: Supplement contains gelatine, magnesium stearate, silica, maltodextrin and dibasic calcium phosphate. Avoid in case of allergies.
Dosage of Meriva
There is no specific dosage of Meriva outlined for any particular disorder.
500mg Meriva provides 100mg curcumin which is sufficient for daily health benefits. The dosage used for most conditions in research studies, say for inflammation, is 1g Meriva per day.
For pain relief, a dosage of 2g Meriva per day is recommended.
Please consult a health practitioner before taking curcumin supplements.
Who developed Meriva?
Indena S.p.A. is the face behind Meriva's formulation. Indena stands for 'Industria Derivati Naturali' and as the name suggests it is one of the leading companies in the world that deals with phytotherapy research and product formulation.
Indena has its headquarters in Milan, Italy and its research center is based in Settala, Italy. It also interacts with university and research institutes to assess the safety of their products.
Indena focuses on identifying and screening bioactives from plants, assessing their pharmacological properties, utilising advanced technology to extract and purify them and incorporate them in pharmacological products, health foods and personal care products.
Indena's activity is backed by more than 90 years of botanical experience and the company has 120 primary patents and has published 700 research papers.
Apart from Meriva, they have many other nutraceutical products like Siliphos, Casperome, Soyselect etc.
Meriva 101 : What is Meriva?
As I mentioned previously, Meriva is a patented curcumin formulation involving a curcumin-phytosome complex.
Before learning about Meriva, we will first understand what is the Phytosome technology.
Phytosome is a patented technology developed by Indena to enhance the bioavailability of natural products.
This technology helps to enhance absorption of products without involving adjuvants or structural modifications.
Phytosome is similar to Liposome technology which is also used to enhance bioavailability. Liposome is a spherical structure that entraps the drug molecule and transports it to the area of absorption without allowing it to degrade and improving its solubility.
It contains phospholipids which are ampiphatic in nature i.e. soluble in both water and fat based environment. Now liposomes entrap the drug molecule in the center thus reducing its interaction in favourable movements.
Phytosome, on the other hand, is a dietary phospholipid matrix (contains soy lecithin) and it does not trap the drug molecule at the centre.
Rather the drug molecule is trapped in the outer lipid membrane making the compound more accessible and absorbable.
Also the phospholipid content of liposome is 5 times more than that of phytosome which is not suitable for high doses of oral consumption.
Apart from curcumin, Indena applies the phytosome technology to other active ingredients like Boswellia serrata, Gingko biloba, Licorice actives, green tea actives etc.
Meriva is a phytosomal formulation of curcumin. It is a 1: 2 proportion of curcuminoids and lecithin.
Lecthin is a fatty substance. This was first isolated from egg yolk but it also available from plant sources like soy.
Phosphatidylcholine is the most important constituent of lecithin used in Meriva or lecthinized formulation of curcumin.
It is amphiphatic in nature- it has groups that attract water molecules and groups that attract lipid molecule thus permitting the formulation to be miscible in both environments.
Curcumin is dispersed into this lecithin complex and this lecithin envelopes the curcuminoid in a way that absorption related properties are altered and it is easily passed into the cell membranes for absorption.
500mg Meriva contains 100mg curcuminoids, 200mg soy lecithin and 200mg microcrystalline cellulose. This results in 20% curcumin content per unit formulation.
How Bioavailable is Meriva?
Let's go over the research studies that examine the bioavailability of Meriva in comparison to unformulated curcumin and other curcumin formulations.
Meriva vs. Unformulated Curcumin
An animal study assessing toxicity and bioavailability of Meriva has found that curcumin concentration after Meriva administration is 5 times higher than unformulated curcumin.
In this study, the bioavailability of 3 different curcumin dosages was compared. 9 healthy individuals participated in the study. The treatment was as follows:
• 209 mg Meriva
• 376 mg Meriva
• 1799 mg unformulated curcuminoids
The study was designed in a way that every participant experienced each of the 3 treatment options with 7 days washout period in between each treatment.
The results of the study were as follows:
• Curcumin from Meriva was 18 times more bioavailable than that of unformulated curcumin
• Concentrations of curcuminoids (demethoxycurcumin and bisdemethoxycurcumin) from Meriva were 50 to 60 times higher than that of unformulated curcuminoids.
• Meriva was absorbed twice as fast as unformulated curcumin.
• Overall curcuminoid absorption was 29 times higher for Meriva than unformulated curcuminoids.
But yes it is important to note that equivalent dosages were not utilized in the study; if the weight is taken into account then Meriva is 6 times more bioavailable than unformulated curcumin.
Meriva vs. other Curcumin formulations
A study was conducted to assess the efficacy of Theracurmin with other curcumin formulations which included BCM-95 and Meriva.
In this study, it was observed that curcumin levels from Theracurmin were 10.7 to 5.6 times higher than those of BCM-95 and Meriva.
But it is important to note that the dosage of curcumin used via each formulation of curcumin was different. 180mg Theracurmin was compared with 260 mg BCM-95 and 150mg Meriva.
Since equivalent doses have not been utilised it is hard to compare Theracurmin with Meriva.
Another study titled 'Comparative absorption of curcumin formulations' compared the bioavailability of Meriva, BCM-95, and CurcuWin with unformulated curcumin.
Individuals received either 376 mg of total curcuminoids of the formulated version or 1800 mg unformulated curcuminoids.
Curcuminoids levels were 1.3 times higher for BCM-95 and 7.9 times higher for Meriva than unformulated curcumin.
Interestingly the absorption of CurcuWin was 45.9 times higher than unformulated curcumin, 5.8 times higher than Meriva and 34.9 times higher than BCM-95.
A recent study published in the European Journal of Nutrition, 2017 demonstrated that curcumin-cyclodextrin formulation is more bioavailable than Meriva.
What does this mean?
Curcumin from Meriva is 18 times more bioavailable than unformulated curcumin and 29 times more absorbable than unformulated curcumin. However if weight is taken into account it is approximately 6 times more bioavailable than equal weight unformulated curcumin.

Formulations such as CurcuWin, Theracurmin and curcumin-cyclodextrin are found to be more bioavailable than Meriva but since the dose used in studies is not equivalent, it is hard to compare their bioavailability and efficacy.
What does research say about the health benefits of Meriva?
Various scientific studies have examined the effects of Meriva in various health conditions.
1. Meriva alleviates Psoriasis symptoms in 3 months
Antiga et.al conducted a study that was published in Biomed Research International and this study demonstrated the clinical benefit of Meriva in psoriasis vulgaris.
63 patients with mild to moderate psoriasis vulgaris were enrolled in the study. They were treated with either a combination therapy of Meriva (2g per day) with topical steroids or with topical steroids alone. The study lasted for 12 weeks.
It was observed that both treatments resulted in a decrease of disease activity but this effect was more pronounced in the combination therapy group.
Also, reduction in inflammatory enzymes was observed in the group taking oral curcumin in the form of Meriva.
What does this mean?
Meriva is found to reduce symptoms of psoriasis vulgaris in 12 weeks.
2. Meriva provides excellent Pain relief comparable to conventional painkillers
A study published in the Journal of Pain Research compared the pain relief properties of Meriva with conventional painkillers.
2 g of Meriva (equivalent to 400mg curcumin) is found to be as effective as a standard dose of acetaminophen or paracetamol (1g) but it was slightly less effective than the standard dose of nimesulide (100mg).
Lower dosage of Meriva (1.5g) was not as effective as other painkillers. However, it was observed that Meriva was safer on the stomach than nimesulide as good as acetaminophen in terms of gastric tolerability.
Meriva dosage for reducing inflammation is 1-1.2g/day ; however for pain relief a dosage of 2g/day is required.
The pain relief action of Meriva is attributed to a reduction in inflammation and interacting with TRPV ion channels which are involved with pain sensations.
What does this mean?
Meriva at a dose of 2g per day is found to effectively help with pain relief and is better and safer than conventional painkillers.
3. Meriva relieves pain and inflammation in Osteoarthritis
Since Meriva enhances the absorption of curcumin, a study was conducted to assess its ability as an antioxidant, anti-inflammatory and pain relieving agent in osteoarthritis treatment.
A 4-month study was designed where patients with grade 1 and 2 osteoarthritides were treated with either Meriva and glucosamine or chondroitin and glucosamine.
Patients treated with Meriva and glucosamine has a significant reduction in disease activity on both emotional and physical compared to chondroitin and glucosamine combination group.
Walking ability was enhanced in the Meriva group and also this effect was sustained throughout the study.
Also, the reduction in requirement of medical attention and dependence on other medications was more pronounced in Meriva group.
Belcaro et.al conducted a 3-month study where Meriva treatment (equivalent to 200mg curcumin per day) in osteoarthritis was found to reduce disease activity score by 58%, enhance walking ability and distance as well as reduce inflammatory parameters.
An extended study for 8 months involving 100 osteoarthritis patients by the same group of researchers, demonstrated that Meriva is safe for long term complementary therapy for osteoarthritis management.
Meriva is also a part of Flexofytol, a supplement designed to manage osteoarthritis.
What does this mean?
Meriva is effective in treating pain and inflammation in osteoarthritis.
Turmeric and curcumin have a blood sugar lowering properties that aid in diabetes management but they also help in the treatment of diabetes-related complications. (Read Turmeric for Diabetes)
Diabetic microangiopathy is a complication of diabetes which affects the small blood vessels and in turn affects blood flow. Curcumin has antioxidant properties which may help to improve blood vessel function.
In this study, 25 diabetic patients were treated with 1g Meriva per day for 4 weeks. At the end of the treatment, a decrease in diagnostic markers of diabetic microangiopathy was observed along with a reduction of swelling and improved oxygen diffusion in the skin.
Further a study on individuals suffering from diabetic microangiopathy and retinopathy (a diabetes complication on the eye) when treated with Meriva (1g/day) for 4 weeks. Meriva treatment was well tolerated.
A reduction in swelling and improvement in blood vessel function was observed. Also a reduction in eye swelling and improvement in visual acuity was observed.
What does this mean?
Meriva treatment is found to improve diagnostic signs of diabetic complications such as microangiopathy and retinopathy.
5. Meriva exerts anti-cancer effect and attenuates side effects of cancer therapy
Cryoabalation is a process of freezing and thawing tumor cells in order to kill them. A study published in Oncoimmunology, 2015 demonstrated that Meriva administered after cryoabalation helped in delaying the spread of lung cancer and improved survival.
An animal study demonstrated that Meriva treatment can prevent the spread of breast cancer to lungs. Researchers at the University of Leicester, have found via an experimental study that Meriva treatment can reduce resistance to chemotherapeutic drug, oxaliplatin in colorectal cancer cells.
Researchers at St. George Hospital and the University of Wollongong conducted a study where they treated patients with stage 0/1 Chronic lymphocytic leukemia with 2g Meriva per day for 6 months.
20% of the patients experienced a more than 20% decrease in absolute lymphocyte count. Lymphocytes are white blood cells and individuals suffering from Chronic Lymphocytic Leukemia have a higher number of these WBCs.
Though the results were modest it indicated the immunomodulatory activity of curcumin in Chronic Lymphocytic Leukemia.
Researchers at the University of Leicester are investigation the efficacy of Meriva in chemoprevention of lung cancer.
In a company-sponsored study, researchers investigated the efficacy of Meriva to reduce side effects associated with cancer therapy.
Patients suffering from solid tumors, undergoing chemotherapy or radiotherapy, and independent (not in critical sages of the disease) were enrolled in the study.
Patients were given 500mg Meriva or placebo thrice a day after meals.
Those undergoing chemotherapy but receiving Meriva experienced a significant reduction in side effects such as nausea, vomiting, diarrhea, organ toxicity, reduced platelet count and they even experienced an improvement in cognitive function such as memory and thinking.
Even after 2 months of chemotherapy, Meriva improved the health status of cancer patients.
In the radiotherapy group, Meriva reduced inflammation of the mucosal lining of site treated such as inflammation of the mouth, throat, bowels, reduced swallowing difficulties, nausea, fatigue, weakness and also reduced dependence on medications required to control side effects of cancer treatment.
Reduction in inflammation and improvement in oxidative status in all patients was observed with Meriva therapy.
A study published in Phytotherapy Research 2014, reported that Meriva supplementation at 180mg/day for 8 weeks improves quality of life and reduces inflammation in individuals suffering from solid tumors and receiving chemotherapy.
Cancer progression as well as treatment affects the quality of life and leads to conditions like cachexia and anemia.
Researchers designed a study to combat such complications in advanced cancer patients. The study lasted for 3 months and the treatment was as follows:
• 2g of L-carnitine per day to regulate cellular energy metabolism
• 200mg of celecoxib per day to combat inflammation
• 4g of curcumin (Meriva) per day for anti-inflammatory and antioxidant property
• 200mg of lactoferrin per day to regulate iron metabolism in anemic cancer patients
Improvement in body weight, appetite, lean body mass, fatigue, and anemia was observed. A reduction in inflammatory parameters was also observed. Researchers concluded that this combination therapy helped in improving the quality of life and ameliorated cancer-related anemia.
What does this mean?
Meriva is found to have a synergistic action with anti-cancer therapy and can reverse drug resistance in cancer. Meriva is found to be moderately beneficial in Chronic Lymphocytic Leukemia.

Meriva as an adjuvant therapy is found to counteract side effects associated with cancer therapy and benefit in cancer anemia and cachexia.
6. Meriva relieves Delayed Onset Muscle Soreness
A company-sponsored study published in the Journal of International Society of Sports Nutrition, 2014 reported benefits of Meriva in alleviating delayed onset muscle soreness.
20 healthy male individuals were enrolled in the study. They received 1g Meriva twice daily (equivalent to 400mg curcumin per day). This was given 48 hours prior to the exercise and 24 hours after it as well.
Those who received curcumin reported lesser pain. Also, reduced signs of muscle damage and reduction in inflammatory parameters were observed.
Researchers concluded that curcumin is effective in alleviating pain and muscle damage.
What does this mean?
Meriva at a dose of 2g per day is beneficial in counteracting delayed onset muscle soreness.
7. Meriva delays development of Sarcopenia and maintains muscle health
Sarcopenia is age-related decline in muscle mass. Franceschi and Belcaro et.al conducted a study to assess the effect of Meriva supplementation in aging individuals.
Individuals above 65 years of age were enrolled in the study and were given either of the following treatments:
• Standard management: Exercise and balanced diet containing proteins
• Standard management and Meriva (one tablet per day)
• Standard management, Meriva (one tablet per day) and other supplementation
The study lasted for 3 months and various parameters were assessed such as hand grip, tired after cycling, walking and climbing stairs, general fitness, etc.
Significant improvement was observed in both Meriva groups but not in group 1 which involved only standard management.
After 3 months, the supplementation groups fared better than only the standard management group.
Researchers stated that Meriva in combination with a balanced diet and exercise can improve muscle mass and performance in aging individuals and ameliorate sarcopenia.
What does this mean?
Meriva supplementation with balanced diet and exercise prevents loss of muscle mass in elderly individuals.
8. Meriva is beneficial for Eye health and aids in the management of uveitis and retinopathy
Meriva is found to be beneficial in managing chronic anterior uveitis; a disorder characterized for inflammation of the eye.
In this study, patients were classified based on their disease origins such as autoimmune uveitis, herpetic uveitis and different etiologies of uveitis.
The patients were treated with 2 tablets of Meriva per day for 12 months.
Within a few weeks of treatment, 80% of the individuals experienced a reduction in discomfort of eye as well as reduction in signs and symptoms.
The treatment was well tolerated and these findings suggested that Meriva could benefit in relapsing and degenerative eye-related conditions like glaucoma, retinopathy.
A study published in Clinical Ophthalmology (Auckland,NZ), 2012 reported the therapeutic efficacy of Meriva in central serous chorioretinopathy. 12 individuals were enrolled in the study which lasted for 6 months.
After 6 months of therapy, visual acuity was maintained in all patients, 39% showed stabilization and 61% showed improvement. Further, an improvement or reduction in retinal detachment was observed in a significant proportion of patients.
A 12 month follow up study showed that Meriva is safe and effective for long term management of central serous retinopathy.
What does this mean?
Meriva is found to be effective in treating inflammatory and degenerative eye disorders like central serous retinopathy and chronic anterior uveitis.
9. Meriva maintains and benefits Prostate Health
Benign Prostatic Hyperplasia is non-cancerous enlargement of the prostate gland. 61 individuals participated in the study, who were treated with Best Standard Management or combination of Meriva and Best Standard Management for 24 weeks.
Meriva was given at a dose of 1g/day which is equivalent to 200mg curcumin per day. Overall improvements were better in the Meriva group than standard management. A reduction in urinary infections and urine blockage was also observed in the Meriva group.
Quality of life improved in both groups but was more pronounced in the Meriva group.
Researchers concluded that addition of Meriva to standard treatment can help reduce signs and symptoms of Benign Prostatic Hyperplasia.
What does this mean?
Supplementation with Meriva in addition to standard treatment reduces symptoms of benign prostatic hyperplasia.
10. Meriva attenuates Neuropathic Pain
A study published in the Journal of Pain Research, 2013 revealed the efficacy of Meriva in attenuating neuropathic pain. 141 individuals were enrolled for this 8-week study.
Individuals suffering from neuropathic pain due to lumbar sciatica, lumbar disk herniation, lumbar canal stenosis or carpal tunnel syndrome were enrolled in the study.
Treatment involved oral intake of dexibuprofen (400mg twice a day) and multi-ingredient formula, Lipicur.
Lipicur contains lipoic acid and Meriva with piperine. Lipicur reduced neuropathic pain by 66% and 40% reduction in usage of dexibuprofen was also observed.
What does this mean?
Lipicur, a supplement containing Meriva, is found to attenuate neuropathic pain by 60% or more.
11. Meriva accelerates Weight Loss outcomes
Curcumin has natural anti-obesity properties and aids in weight loss. This study demonstrated the benefits of Meriva in weight loss.
44 individuals participated in this study.
They had experienced a weight loss of around 2% after 30 days of diet and intervention lifestyle. They were further treated with curcumin complexed with phosphatidylserine (Meriva) or with pure phosphatidylserine.
Changes in body weight and size were assessed every 30 or 60 days. Curcumin increased weight loss from 1.88 to 4.91% , fat reduction was enhanced from 0.70 to 8.43% .
Hip circumference reduction improved from 0.74 to 2.51% and BMI reduction was enhanced from 2.10 to 6.43%. Phosphatidylserine alone did not show any improvement.
Curcumin as Meriva along with dietary and lifestyle intervention caused a weight loss of approximately 1 kg every 10 days.
What does this mean?
Meriva supplementation in addition to dietary and lifestyle changes can enhance weight loss outcomes in obese and overweight individuals.
12. Meriva is used in Veterinary Medicine
Note: We do not support the use of curcumin supplements in animals and we recommend the use of natural turmeric for them. Herein we are mentioning about use of Meriva for animal health only for educational purpose.
Meriva is developed as a supplement for animals called CurcuVet. It has proven to reduce inflammation in mares and foal after 15-day treatment.
Another study in dogs also found that Meriva could successfully reduce inflammation in 20 days.
Precautions associated with Meriva Use
There are no specific precautions outlined for Meriva. These are precautions applicable to every curcumin supplements.
Like any health/dietary supplements, Meriva is not regulated by the FDA.
If allergic to turmeric or ginger family, avoid curcumin supplements. In case of Meriva, if you are allergic to soy please avoid this curcumin supplement and opt for natural turmeric or other curcumin formulation. (Read 8 Popular Curcumin Supplement Types)
Starting with high doses of curcumin or taking curcumin for the first time may cause gastric discomfort such as bloating, diarrhea, etc.
This can be minimized by starting with small doses and then increasing gradually.
Also, avoid taking turmeric supplements on an empty stomach as they may trigger acid reflux like symptoms in those susceptible to it.
Turmeric and curcumin have anti-platelet property. If suffering from bleeding risks or taking blood thinners it is best to avoid turmeric supplements. (Read Is turmeric a blood thinner?)
Discontinue turmeric supplements 2 weeks prior to surgery to minimize bleeding risks.
If suffering from gallbladder obstruction or gallstones, it is advisable to avoid curcumin supplements. Curcumin can cause gallbladder contraction which may lead to pain in such a case. (Can you take turmeric if you have gallstones?)
Intake of turmeric as a spice should be limited in kidney stones and gout due to high oxalate content. If needed for therapeutic purposes, curcumin supplements are safe in this case.
Curcumin interferes in the activity of drug metabolising enzymes. Therefore it is suggested to maintain a 3-4 hour gap between taking curcumin and any medication.
If taking any medications, it is best to consult a doctor before taking curcumin supplements. If taking cancer therapy consult your health practitioner before starting curcumin.
Conclusion
Meriva offers better curcumin absorption than standard curcumin and the findings suggest that low dose Meriva in comparison to high dose unformulated curcumin may be sufficient for health benefits.
Meriva is found to be beneficial for joint health and arthritis, as well as for reducing inflammation in eye and skin in psoriasis. If you have tried Meriva, do share experience with us and leave your comments below.
Like always, our first recommendation would be using turmeric as a spice for health. However we have shortlisted these brands of turmeric/curcumin supplements for readers facing aggressive health conditions that require higher and more bioavailable forms of curcumin.

Also we suggest consulting a health practitioner before opting for curcumin supplements for any health condition.

Turmeric as a spice (powder or root) always has more to offer than any supplement based on it and we wholeheartedly recommend natural Turmeric for Health!