Psoriasis is a chronic skin disease characterized by itchy, red scaly patches of skin on various parts of the body.
More than 7.5 mn people in the US alone have Psoriasis.
The cause underlying the disease is an immune system disorder wherein skin cells grow rapidly and rise to the surface of the skin.
Generally, in normal human beings, this process takes about a month but in psoriasis, it can occur in a day leading to the accumulation of dead cells on the surface.
These changes occur as a result of the inflammatory process and inappropriate responses by immune cells.
Infection, injury to skin, stress, medications, cold weather, etc can worsen the condition.
Depending on the appearance, there are 5 types of psoriasis – inverse, plaque, guttate, erythrodermic and pustular. The most common is plaque or psoriasis vulgaris.
This looks like patches of silvery white or red skin that is scaly and thick to touch. It occurs mostly on the elbows, knees, scalp and the lower back.
Causes of psoriasis are still being studied for it is very complex.
However, even intimate contact cannot transmit psoriasis.
There is no particular group that is more vulnerable to contracting psoriasis. Both men and women of all ages can get it with family history being one cause.
General treatment includes an application of steroid creams, UV treatment, and immune suppressing agents.
Please feel free to use the Table of Contents below to jump to the relevant section in the article.
How Can Turmeric Help in Psoriasis
Curcumin can prove to be helpful in Psoriasis because it reduces inflammation and monitors cellular interactions to relieve the markers of the disease. Curcumin strengthens skin cell defences and blocks harmful agents. Curcumin and delphinidin may prevent genetic interactions leading to psoriasis. It enhances the effects of phototherapy on plaque psoriasis thus making it a useful therapeutic supplement.
Curcumin has a unique multi-targeting system that helps it monitor many different types of cellular activities. The nutrients present in it have the ability to control the rate of cell division and fix cell damage.
Let's go over a few pharmacological properties that make turmeric a potential anti-psoriatic agent.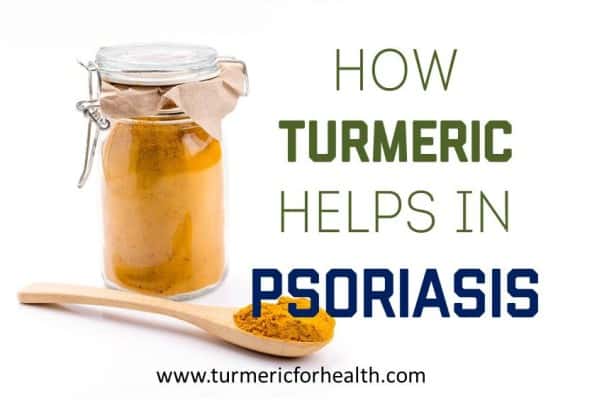 1. Curcumin is beneficial for the skin
Research has proven that curcumin can be used effectively in treating and preventing skin diseases like vitiligo, scleroderma, melanoma, etc.
Few ways by which curcumin serves to be therapeutic are:
It protects skin by scavenging oxidizing reactive species.
It controls inflammation by inhibiting nuclear factor kappa B, a group of proteins that regulate inflammation in the body.
It accelerates wound healing and has skin regenerating potential.
It influences detoxification enzymes that protect against oxidative stress.
It is used to treat itchy skin conditions like scabies.
What does this mean?  Curcumin has a potential of treating many skin related disorders such as psoriasis, vitiligo, skin cancer etc and is thought of as a potential drug in the field of dermatology.
2. It has anti-inflammatory property
Inflammation occurs when the body attempts to heal its damaged cells. It is one of the chief contributors to redness and swelling of the skin in case of psoriasis. The anti-inflammatory action of curcumin is useful in such conditions.
Researchers have conducted extensive animal model-based studies on curcumin to conclude its highly potent anti-inflammatory effects.
The evidence of such abilities was provided through the Biochemie study which showed that curcumin blocked the effects of several pro-inflammatory markers by 50%.
The key markers it blocked were the interleukin- 1 beta and IL-6 as was seen in an inflammation closely resembling that of psoriasis.
Curcumin is the principal constituent of turmeric that exhibits anti-inflammatory property. Curcumin free extracts of turmeric also possess this property.
Turmeric manipulates various biochemical pathways and proteins involved in inflammation in order to control it.
Tumor necrosis factor alpha and interleukin are important proteins involved in inflammation and spread of psoriasis.
Curcumin effectively inhibits the activity of these proteins such that inhibits the activation of other biochemical pathways that could lead to progression of the disease.
Researchers conclude that this property of curcumin could be useful in treating psoriasis.
Specific drugs are prescribed to block the activity of tumor necrosis factor in order to treat an inflammatory condition like psoriasis.
Research suggests that curcumin can be an inexpensive and safe alternative to these drugs.
What does this mean?  Psoriasis is marked by inflammation and curcumin is proven to control such a reaction.
3. It has antioxidant property
Human studies indicate that antioxidant defences are low in psoriasis patients. A decrease in antioxidant enzymes and an increase in reactive oxygen species is observed.
Turmeric's antioxidant nature is stronger than vitamin E and C. Curcumin is a non toxic antioxidant. Turmeric extracts also show significant antioxidant activity.
Turmeric exerts its antioxidant activity by destroying harmful reactive species, increasing levels of antioxidant enzyme and reducing oxidative stress (imbalance between prooxidant and antioxidant agents).
What does this mean?  Turmeric can restore the impaired antioxidant status in psoriasis patients.
4.

It is an anti-microbial agent
Individuals suffering from psoriasis are highly susceptible to developing infections which can worsen the condition. Turmeric is a natural anti-microbial agent.
Curcumin has antibacterial, antifungal and antiviral properties.
Turmeric extracts have parasiticidal activity.
Ar-tumerone, a compound obtained from turmeric oil is proven to have stronger anti-fungal activity than ketoconazole, a standard drug prescribed to treat fungal infections.
What does this mean?  Turmeric oil and curcumin can reduce risk of developing skin infections.
5. Curcumin helps battle autoimmune diseases
Psoriasis is an auto-inflammatory disease. It occurs as a result of inappropriate responses from the immune system.
Curcumin has therapeutic effects in case of autoimmune diseases.
Curcumin has immunomodulatory properties- it can control inappropriate immune responses and ameliorate the condition.
T cells are the major immune cells involved in the proliferation of psoriasis. These cells secrete proteins that stimulate the abnormal production of skin cells.
Immunosuppressants or steroids are prescribed as the first line of treatment for psoriasis.
Turmeric especially curcumin is a great alternative to steroids.
Read here: Why Turmeric Beats Many Steroidal Medications Hands Down
Curcumin demonstrates immune suppressing activity by specifically suppressing the activity of T cells and this makes it a valid drug for immunotherapy.
In fact, turmeric can also protect from side effects such as liver damage caused by immunosuppressants.
What does this mean?  Curcumin can influence the inappropriate immune responses occurring in psoriasis.
6

. Curcumin can regulate psoriasis development on a genetic level
The primary genetic cause of psoriasis is the deletion of the LCE3B and LCE3C genes. These genes are responsible for structural protein regulation. When not monitored, this leads to undifferentiated keratin cells.
An article published in the Archives of dermatological research in 2013 tested what benefits could be achieved through the use of curcumin and another plant derivative, delphinidin (an antioxidant plant pigment which imparts blue colours to viola and delphinium flowers) to correct this genetic defect.
They could upregulate the expression of the LCE genes. This resulted in higher levels of the required proteins and thus avoided the occurrence of the diseases.
What does this mean?
Through upregulation of LCE genes and protein levels, curcumin and delphinidin can prevent genetic interactions leading to psoriasis.
7.

Curcumin can enhance the effects of phototherapy
As previously mentioned, light therapy is often used to heal psoriatic lesions. Plaque psoriasis is the most common form of the disease. It is coupled with red inflamed skin.
In phase 4 clinical trial, patients suffering from plaque psoriasis were administered curcumin along with phototherapy.
Positive effects were seen in the majority of the 21 treated candidates.
Approximately 80% showed a decrease in skin lesions and all moderate and severe plaques were eliminated via the treatment.
Also, there were no harmful side effects reported from the trial.
What does this mean?
As seen from a phase 4 clinical trial, curcumin enhances the effects of phototherapy on plaque psoriasis thus making it a useful therapeutic supplement.
8.

Curcumin-based targeted therapeutics have a bright future in psoriasis treatment
Despite its excellent healing and protective properties, a common roadblock to the application of curcumin as a pharmacological agent is its low bioavailability.
Targeted therapeutics offer a solution to overcoming this hurdle as they deliver the compound in a site-specific manner.
In 2015, Esposito E and colleagues created four curcumin containing Nano lipid dispersions (NLD 1, 2, 3 and 4). A series of tests showed that these structures could inhibit cell proliferation and migration.
This phenomenon shows the potential for the treatment of hyperproliferative diseases such as psoriasis.
What does this mean?
Scientists across the world are attempting to create curcumin based novel therapeutics to heal hyperproliferation. This indicates a positive prospects for psoriasis therapy.
What does research have to say about turmeric as a remedy for psoriasis?
[su_expand]
Here are a few research studies that have tested turmeric, mainly curcumin for its anti-psoriatic effect.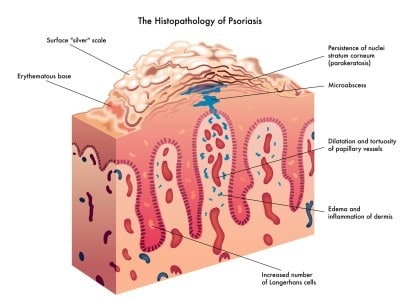 Study 1. Turmeric as a herb to treat psoriasis
Four Ayurvedic herbs were evaluated for their anti-psoriatic effect in an animal model of psoriasis. One of the tested herbs was turmeric.
Combination of the four herbal extracts significantly controlled the inflammation by lowering the concentration of pro-inflammatory chemicals.
Interestingly turmeric extract alone was also able to bring about a similar effect thus indicating its potential as a remedy for psoriasis.
In a study evaluating the anti-psoriatic effect of Thai medicinal herbs, it was observed that turmeric extract suppressed psoriasis by regulating nuclear factor-kappaB.
NF-kappaB is a group of proteins that control inflammation and the genes involved in it.
Study 2. Curcumin acts at molecular levels to control the spread of psoriasis
Phosphorylase kinase is an enzyme involved in the pathogenesis of psoriasis and scientists' hypothesize that inhibition of its activity can help treat psoriasis.
In this study , patients were treated with calcipotriol (a compound similar to vitamin D3) and curcumin.
Enzyme activity in the curcumin group was much lower than that seen in the group treated with calcipotriol.
This proved the hypothesis and also demonstrated a new technique by which curcumin can treat psoriasis.
Another mechanism by which curcumin can treat psoriasis is by inhibiting skin cell growth. Psoriasis is characterized by rapid skin cell growth.
An experimental study proves that curcumin inhibits the activity of cyclin D1, a protein involved in cell proliferation and thereby prevents growth of psoriatic skin cells.
Study 3. Curcumin is as effective as clobetasol in reducing psoriasis-like inflammation
Another animal study also validates the use of turmeric in treating psoriasis.
This study demonstrates that curcumin reduces the concentration of pro-inflammatory chemicals and thereby controls inflammation and inhibits the growth of T cells present in the skin.
Curcumin's anti-psoriatic activity was comparable to clobetasol, a topical steroidal cream used to treat skin disorders.
Study 4. Oral turmeric supplementation to cure plaque psoriasis
A study was conducted wherein individuals suffering from plaque psoriasis were given either turmeric extract with phototherapy or phototherapy alone.
Plaque psoriasis is the most common form of psoriasis in which red, raised patches of skin with a silvery layer of dead skin is observed.
The response rate was 81% in the turmeric group and 30% in the other group.
Researchers concluded that turmeric combined with phototherapy can be a safe treatment for those suffering from moderate to severe plaque psoriasis.
In another clinical trial , 12 patients suffering from chronic plaque psoriasis were given 4.5g of curcumin capsules every day for 12 weeks.
Curcumin was well tolerated and no side effects were observed.
Response rate was low, however two patients who responded to the treatment showed 83-88% improvement in 12 weeks.
Study 5. Novel formulations of curcumin as potential anti-psoriatic drugs
Different formulations of curcumin and curcuminoids are being developed for enhanced delivery of curcumin to the affected region and effective treatment of psoriasis.
Meriva is a novel formulation wherein curcumin is combined with fat like compounds to enhance its bioavailability.
A study was conducted wherein patients suffering from psoriasis vulgaris (plaque psoriasis) were given Meriva in combination with steroidal cream or steroidal cream alone.
At the end of the study, both groups showed improvement but response rate was higher in patients treated with the combination.

Results indicated that curcumin can be an effective adjuvant to regular treatment of psoriasis.
Study 6:

Curcumin and Visible Light Phototherapy for Plaque Psoriasis
A phase IV randomized, double-blind, placebo-controlled, pilot clinical trial was conducted for seventeen days.
The trial included oral administration of curcumin extracts to twenty-one patients suffering from moderate to severe psoriasis.
Along with it, real visible light phototherapy (VLRT) or stimulated Visible light Phototherapy (VLST) was given in the experimental area and UVA (ultraviolet A) treatment on the rest of the body.
Observations
After 17 days of treatment, it was noted that unlike the VLST group, the VLRT group did not show any symptoms of moderate or severe plaque.
76% of the patients showed a response in the BSA (body surface area) treated with UVA. Lesions of 81% patients in VLRT group and 30% patients in VLST group showed a positive response to the treatment.
Another positive outcome was that no adverse effects were observed and therefore no patient withdrew from the treatment.
Limitation
The published study does not give any account of the dosage of turmeric required so as to produce an effective therapeutic response.
To determine this, one may have to refer to previous study clinical trials conducted to test the effect of oral curcumin in the treatment of moderate to severe Psoriasis Vulgaris.
Conclusion
The study suggests that a combination of orally administered curcumin and real visible light phototherapy (VLRT) can be a better alternative to the existing treatments in curing moderate to severe plaque psoriasis with no adverse effects.
However, there is still a need to determine the exact therapeutic dosage that might be needed to make this light-turmeric-combo a safe and effective therapy.
[/su_expand]
Ways that Turmeric can be used for Psoriasis
Based on the experience of users and also studies conducted here are a few ways that turmeric can be used for psoriasis:
It can be included in daily diet. This is one of the best ways to get turmeric benefits. Here are some great recipes to give you some ideas
The Golden paste is another great way to take turmeric. It already has fats and black pepper to help in its absorption. Recipe here>
Make a paste of turmeric powder and water and apply on psoriasis lesions
Turmeric milk – Make a drink of turmeric powder and warm milk. Recipe here>
Any good quality turmeric powder is fine to use. if you are confused which one to buy, here is a list of our recommended turmeric brands>
Avoid turmeric supplements in case of pregnancy and lactation, prior to surgery or if suffering from gallbladder issues.
Also, avoid it if you are taking blood sugar lowering medications. Do give turmeric a shot when it comes to psoriasis and let us know your experience.
Turmeric Curcumin Dosage
A specific dosage of turmeric/curcumin has not been prescribed for psoriasis treatment.
Most research studies utilise a dose of 500-1000 mg of curcumin per day. It is best to consult a doctor for the appropriate dosage and formulation of curcumin.
The most commonly used curcumin supplements are standardized 95% curcumin extract with Bioperine.
Curcumin requires piperine or fats for absorption. (Read: How to Improve Bioavailability of curcumin?)
However, you can go through other curcumin supplement formulations here that aid in increasing bioavailability of curcumin. (Read: Best Curcumin Supplement Brands Today)
Always start with a low dosage and increase gradually over weeks. Curcumin supplements are best taken after meals and avoid taking them at the same time as any other medication. Maintain a 3-4 hour gap.
Precautions
Turmeric in the diet is safe and most studies have demonstrated that curcumin, even at high dosages, is safe. However, a few precautions must be noted
Read: Possible Side effects & Precautions with Curcumin
Rule out any allergies with turmeric and curcumin.
Avoid taking curcumin supplements on an empty stomach as they may trigger acid reflux in susceptible individuals.
Gastric discomfort is possible with the sudden introduction of curcumin, especially at high doses.
Start with small dosages and increase gradually over weeks to recommended dosages to minimize gastric side effects. In case of serious gastric side effects, discontinue use of curcumin.
Curcumin interferes with drug metabolism.
Hence it is advised to avoid taking curcumin supplements at the same time as taking other medicines. Maintain a 3-4 hour gap. Also, consult a health practitioner with regards to this to avoid any drug interactions.
Curcumin has blood thinning activity. If taking blood thinners or suffering from a bleeding /clotting disorder it is advisable to avoid curcumin supplements in this case.
Read : Is turmeric a blood thinner?
Consult a health practitioner with regards to this.
Discontinue curcumin supplements 2 weeks prior to surgical procedures to avoid bleeding risk.
If suffering from gallstones or bile duct obstructions, avoid curcumin supplements.
Read : Is turmeric safe in gallstones?
Avoid turmeric supplements during pregnancy and lactation.
Ensure that you opt for good quality curcumin supplements that are free from toxicity, heavy metal contamination, fillers or additives.
It is best to take curcumin supplements with Bioperine or other agents that increase its bioavailability.
Consult a health practitioner before taking curcumin supplements.
Summary
Psoriasis is a disease governed by genetic factors and immune responses, so there is no cure for it but symptomatic and regular treatment can ameliorate the condition.
Research supports the idea of utilizing turmeric and most importantly curcumin as a treatment for psoriasis.
To start off, you can include turmeric in your diet. You can also take curcumin supplements or apply turmeric paste locally on the affected area.