Since we published our article on "turmeric for dog arthritis" (read here) we have been flooded with queries on how much turmeric one should give to dogs and how.
So here is a short article on turmeric dosage for dogs.
I have structured this article based on common questions asked regarding turmeric dosage for dogs.
Hope this helps in solving your queries.
Turmeric dosage for dogs?
Here is the dosage as recommended by Karen Rosenfeld.
Karen has been involved with dogs and cats for over 30 years and has developed this table based on her experience. Her own dog pack is comprised of eleven (11) dogs!
Do check out her blog its full of great info on pet care – www.ottawavalleydogwhisperer.blogspot.in
While we have mentioned capsules, we recommend you use good quality powder ONLY and make a golden paste or other things such a dog treats from it.
Also – always start slow and small. Give just 1/3rd of the max quantity or even less to start with. If all goes well for a few days increase the dosage.
If you need a hand in identifying a good brand, here is our list of recommended brands.
1. Does turmeric dosage vary based on disorder?
Well if we go by how humans are advised to take turmeric – it should not.
This makes sense too. As turmeric is not like modern medicine at all.
But yes, one can change the dosage a bit based on the severity of the problem.
For example, if you are giving turmeric to your perfectly health dog, the below mentioned dosage works very well.
It would even work in case of minor issues.
But, for example, if your dog is in severe pain a high dosage for a few days is also fine.
Exactly the same principle is also applicable for humans.
2. Does turmeric dosage vary based on weight?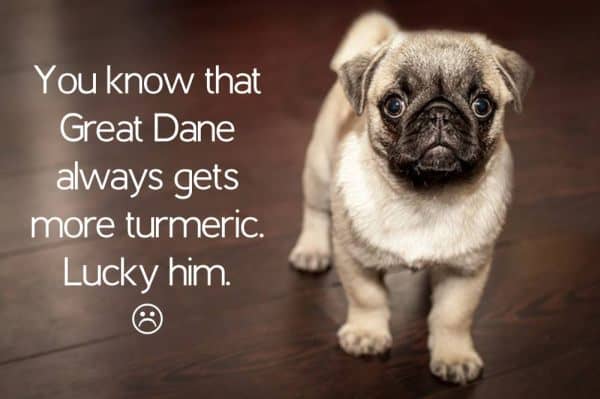 The opinion varies on this one. Some say yes, some say no.
We do follow and recommend a weight based turmeric dosage.
You will wonder, then why we do not follow a weight-based dosage for humans, why for dogs then?
This is a good question and here is a logical explanation –
Weight of an adult human does not vary a lot from person to person (unless one is obese or extremely underweight). For example average weight for 5 feet 6 inches adult is 65 kgs while that of 6 feet is 74 kgs. Basically, a 13% difference between the two.
But that is not the case with dogs – an adult Pug weighs much less (13-18 lbs) than adult Great Dane (110-180 lbs). Thus a Great den is 10 times larger!! Similarly, a Poodle (11-17 lbs) will always be much smaller as compared to a German Shepherd Dog (75-95 lbs) which is 7 times larger.
Thus, it may be wrong to give the same dosage of turmeric to an adult pug and adult great den.
That's why we believe a weight-based dosage for dogs is a better method.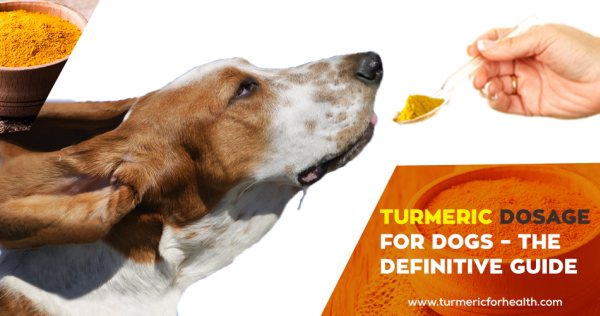 3. Don't we need black pepper and fats for absorption?
As we know turmeric is poorly absorbed in the human body. The same is the case with dogs too.
Thus, black pepper or fats should be used for dogs too.
One way is to make golden paste (recipe here) and give it directly or add it to their feed.
4.

Should I give turmeric dose once or multiple times?
Multiple times a day seems better. It has several benefits:
If you have added turmeric to treats, a small quantity will almost go unnoticed to them and not change the taste.
Secondly, if you are just introducing turmeric to your dog, starting slow will help to gauge their reaction to turmeric and avoid side effects if any.
5. My dog has a sensitive stomach, should I give turmeric?
Yes, you can, just make sure you start slow. Give say 1/5th of the recommended dosage and then go from there.
Also according to Karen use fats instead of black pepper in such cases as black pepper can irritate dog's digestive system.
My dog hates turmeric what to do?
Forget about dogs, even most humans can't stand taste of turmeric 🙂
In such cases turmeric can be added to make dog treats of various types – some examples are given here:
Golden paste
Dana Scott, Editor-in-Chief of Dogs Naturally Magazine and owner of Labrador Retrievers also recommends turmeric. She firmly supports use of natural remedies for pets as well as humans.
Add ½ cup of turmeric powder and one cup of water to a pan and stir gently over low flame to form a paste. This can take around 7-10 minutes. Add more water if required. Add 1 ½ teaspoons freshly ground pepper and 70 ml coconut or olive oil.
It can be stored in the refrigerator for 2 weeks. Small doses (based on the table above) of this paste daily will benefit your pet.
Turmeric gravy
Add a teaspoon or less of turmeric powder, a dash of ground pepper and 1-2 tablespoon of olive or coconut oil to a cup.
Add hot boiling water to this till the content is 1/3 of the cup volume. Top your dog food with this gravy once a day (based on his weight)
Turmeric treats
Add turmeric powder to your dog treats while baking them.
Ascertain the dose of turmeric to suit your dog's weight. Use the table above to find out how much you can add and then give to your dog.
This is a great way especially if your dog does not like the taste of plain turmeric.
In the end..
Turmeric is great for dogs too as it is for humans. Do start turmeric for your dog(s) today!
Do let us know what do you think? Please share your experience with us by commenting below or through an email.