Rice is one of the most common dish across the world. So here is great easy to cook and tasty "freestyle rice" by Jill Moore.
What all you need?
This is what all you need –
Turmeric paste (do not know how to make turmeric paste? no issues, find it here)
2 cups cooked Basmati rice
coconut oil (virgin coconut oil)
1 tablespoon lemon juice
1/2 teaspoon brown sugar
fish sauce – to taste
1 chicken stock cube
2 eggs, beaten
1 red or brown onion, chopped
2 cloves garlic, chopped or crushed
1 medium carrot, sliced into sticks
1/2 cup broccoli, chopped
1/2 green or red capsicum (bell pepper), chopped
1/4 cup corn niblets
1/4 cup peas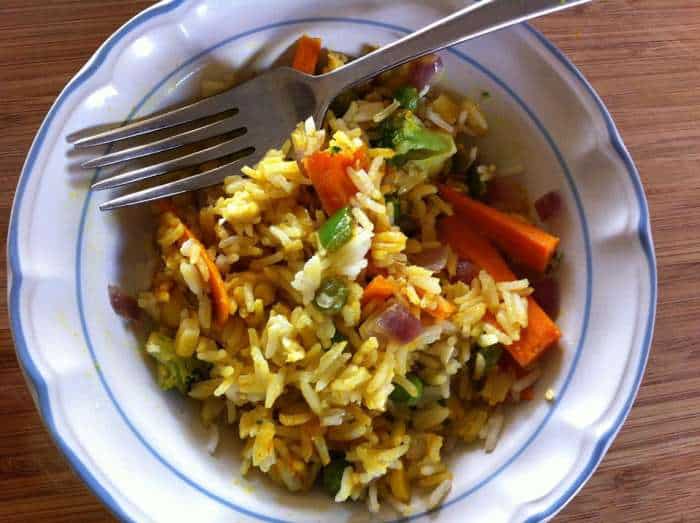 How to cook it?
Heat oil in wok and beaten egg, stir over medium heat until just cooked and remove to dish and set aside. Add a little more oil to wok if needed, then add onion, garlic and carrot, stir fry over low heat until softened. Add remaining veg and stir thru, adding juice, fish sauce, sugar and stock cube, stir over medium heat another minute or so then add rice and egg. Stir to mix well in wok and break up egg, until rice is heated through.
Spoon into bowls, then add desired amount of turmeric paste to each bowl, and add fresh ground pepper.