Facial masks are available in various styles and types.
You get peel-off masks, clay or cream masks.
Face masks are applied to cleaned and dried skin and left for a few minutes until it completely dries off before rinsing it.
There are commercially available masks with diverse ingredients and meant for different types of skin.
You can also make your own face masks using ingredients found at home. Home facial masks are often better for you to know exactly what ingredients go into them.
Common ingredients that work well for home facial masks are turmeric, honey, avocado, eggs, yogurt, and milk.
The advantage of home facial masks is that you can try various combinations of ingredients before settling on one that suits your skin the best. This can be done without wasting a lot of money on commercial masks.
Turmeric has long been known in the west as a spice that adds flavor and color to Indian dishes or as an Ayurveda or Chinese medicine.
Refer here for a long list of proven turmeric / curcumin benefits>
The popularity of turmeric is now spreading in the West too as a good way to improve skin health and for many other health problems.
In many parts of India, turmeric is an essential part of any beauty treatment. When applied to the skin as a paste or a face mask, it can help in treating acne, eczema, rosacea, and aids in skin rejuvenation.
The anti-inflammatory and anti-oxidant properties that turmeric possesses are both important in treating these skin conditions. In acne, using facial masks can soothe skin blemishes and heal acne scars.
For patients with eczema, applying a facial mask can reduce inflammation and redness. When rosacea patients use turmeric masks, it can reduce the tiny pimples and redness that this skin condition causes.
Turmeric face masks are used to rejuvenate skin. Regular use of turmeric with various combinations of ingredients can soften the appearance of wrinkles and fine lines.
Please feel free to use the Table of Contents below to jump to the relevant section in the article.

Turmeric Masks you can try at home
Some simple tips to follow before using any facial mask
Before applying a facial mask, your skin must be clean and fresh and free of all cosmetics,
lotions, etc.
Hence, start with a nice hot shower or steam bath.
Use a mild shower gel or non-medicated and non-abrasive soaps. This will open up pores nicely and make the mask more effective.
Once you prepare your turmeric mask and applied it, lie down and close your eyes.
This is a time to relax and rejuvenate your skin and mind. To add to the relaxing experience, you can place a couple of chamomile tea bags (after use and cooled down), 2 cucumber slices or 2 cotton balls soaked in lavender or rose water on your eyes.
Relax for at least 20 minutes, giving your face mask sufficient time to dry and stiffen. Now, you can rinse with warm water, making sure to gently remove all remnants of your mask. Finally, splash some cold water on your face and pat dry.
The following are some face masks using turmeric that can be used for different types of skin.
Basic turmeric mask
To make this basic turmeric mask, combine some honey, yogurt or milk with a few tablespoons of turmeric in a bowl. Mix this until it forms a smooth paste and applies on freshly washed skin. Leave this mask on for at least 20 minutes before washing off.
Turmeric face mask for beautiful skin
Brides in India use a turmeric mask before the ceremony. This is sometimes part of the religious festivities in many Indian homes.
For this beauty mask, combine 2 teaspoons sandalwood powder, 2 teaspoons turmeric powder, ½ cup chickpea flour with a little almond oil or ghee. To this add water and make a paste.
Apply this mask and leave it until it dries and then washes off with water.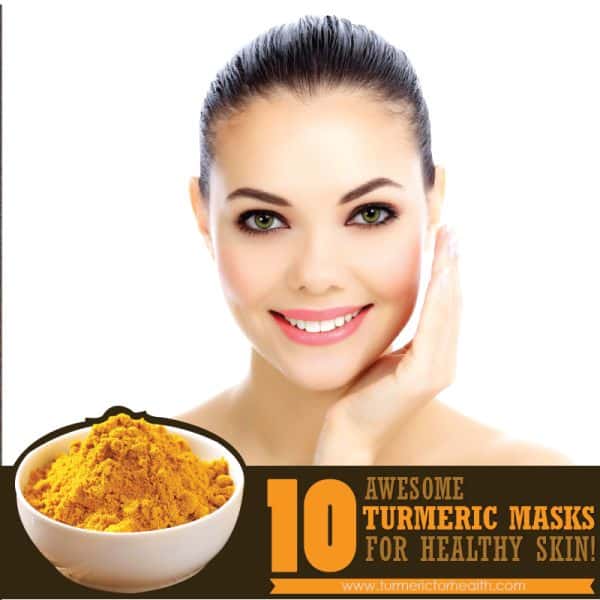 More turmeric masks
For dry skin:
Combine 1 teaspoon turmeric, 1 tablespoon milk powder with water.
Apply for 10-15 min and then wash nicely.
Acne skin:
2 tablespoons curd, ½ teaspoon turmeric, and ½ teaspoon sandalwood powder must be mixed to form a smooth paste.
Keep for 10-15 min and then wash nicely
Benefits: In Ayurveda milk and curd are considered very good for the skin.
Sandalwood is known to benefit skin in many ways – it softens the skin and provides a glow.
Not only this sandalwood also helps in acne breakouts. But make sure you use pure sandalwood as there is no dearth of fake sandalwood in the market.
Turmeric mask for oily skin:
¼ teaspoon turmeric powder to be combined with coconut oil to form a smooth paste.
Apply and keep for at least 10 min and then wash thoroughly
Benefits: Coconut oil is well known to provide benefits to the skin. It is an important constituent of several body creams and lotions too. Coconut oil is one of the best natural moisturizing agents.
It also protects skin from harmful microbes. Using coconut oil also helps in the removal of acne and other scar spots on the skin.
General skin types:
2 tbsp unflavored, plain yogurt, ½ tsp turmeric powder, and 1 tbsp mustard oil can be mixed until there are no lumps.
Benefits: This face mask contains mustard oil that is full of vitamins and minerals and has anti-fungal and anti-bacterial properties too.
This turmeric mask is not meant for sensitive skin. Mustard oil is very commonly used as a massage oil in India for all these benefits.
Turmeric and Fuller's Earth:
This mask contains 1 tbsp Multani Mitti (Fuller's Earth), ¼ tsp turmeric powder and fresh water.
Keep for 10-15 min and the wash
Benefits: There is a long list of benefits Fuller's earth provides to your skin. It is a great antiseptic and thus helps in killing harmful microbes over the skin.
It enhances blood circulation which makes skin healthy and glowing. Applying fuller's earth gives a very cool and relaxed feeling of great relief especially in hot climates.
Oatmeal turmeric masks:
Combine 1tbsp each oatmeal and lentil powder with ½ tsp turmeric powder and water to form a paste.
Benefits: Oatmeal is an excellent exfoliating agent.
Oatmeal is also considered to be a great natural remedy for acne. Oatmeal also provides relief from sunburn, poison ivy, and other skin irritations.
Oatmeal is a great natural moisturizer too.
Ghee (clarified butter) and turmeric mask:
 It is very simple to make – add clarified butter and pure turmeric and apply to skin (it can be applied to any part of the body). Let it dry, after 15 min scratch off the dry powder by hand and take a bath.
This is one of the most common masks used in India. It is also part of Hindu tradition and is applied to the couple before the wedding so that their skin looks attractive (of course now we have beauty saloons for it).
Turmeric and Gram flour masks:
For this mask, use 2 tbsp gram flour, ¼ tsp turmeric, organic honey, and milk. A variant to this mask – add ¼ tsp sandalwood powder and ½ tsp almond oil in place of milk and honey.
All-in-one turmeric mask:
This turmeric mask combines a host of incredible ingredients. Using this will give you a rejuvenated and glowing face.
Take 1 tsp each of aloe vera gel, curd, rose water and glycerin, 2 tbsp carrot juice, 1 tbsp radish juice, 2 tsp organic honey, ¼ tsp turmeric powder, ½ tsp each lemon juice and almond oil and 2 strips saffron.
Combine all these ingredients to form a smooth paste and apply.


Turmeric mask for inflammation
Turmeric has amazing anti-inflammatory properties and therefore turmeric mask (it is more of a paste) works very well in case of skin inflammation. There are so many ways to prepare this paste, here are just a few popular ones:
Mix pure turmeric with organic / pure almond oil and apply on affected areas of your face. Keep for some time (10 min.) and then wash with water. Almond oil is known to be great for skin health. Almond oil along with anti-inflammatory turmeric will help tackle skin infections and also make skin look young and fresh.
The above mask can also be made using organic honey. Just mix honey and turmeric and apply on your face. Wash after 10 min.
Another way of making this simple paste is by adding sesame oil with turmeric. Sesame oil is a great antioxidant like turmeric and is easily absorbed by the skin. Another great thing about using sesame oil is that it is well known to treat dry skin conditions such as chronic dry skin, including psoriasis and eczema. So if you have dry skin, try this mask once and see the difference.
Will turmeric stain your face?
Turmeric is well known to stain clothes. While the stains eventually fade away but they do stay for a long time before doing so. So what about your face then?
I received a truckload of queries regarding this – what if I get a yellow face after turmeric mask? Imagine taking leave from office because you applied turmeric mask a day before!
Just kidding, to end this I would like to tell you (with confidence and pleasure) that turmeric DOES NOT stain your face, there may be slight yellowish for some time though.
But after multiple washes, it goes. This can also be easily overcome by wiping the affected areas using a few drops of a mild facial toner on a cotton ball.
A lot depends upon the quality of turmeric used, low-quality turmeric which has synthetic colors may leave stains and can even harm skin.
Turmeric has been used in India for ages as face masks, would it have survived this long if people got "yellow faces" after applying it!!
So do not worry and do not be afraid to apply turmeric masks and be sure it will not leave its color on your face :).
Precautions with turmeric masks
Always do a patch test before using. This is a must.
Turmeric on the skin usually does not produce any side effects. However, turmeric does stain clothes. Hence, wear old clothes when using a turmeric mask. if you do stain clothes, here are some easy ways to tackle them>
In some cases turmeric may make your skin look slightly yellowish for some time, multiple time washing will remove that.
As an added precaution, people who are prone to different skin conditions should consult their dermatologist before using a home facial masks using turmeric.
If you have used turmeric based masks before, do share your experience through comments and email!