Ever since we wrote about turmeric masks, we were receiving requests on how one can use turmeric for acne.
This post covers the same.
Acne is a major worry for teenagers and adults alike.
It can prove a serious impediment in social, work and personal life.
The more society places emphasis on having blemish-free skin, the greater the tension that people feel when they are affected by that ignominious zit at the most inappropriate moment.
Many home remedies are available, which can be used to effectively treat acne at home.
You need not to waste money on expensive OTC products or prescription medications if the acne outbreak is mild.
Herbal products like turmeric, mint juice, basil, and nutmeg can be made into a paste and applied on the skin to reduce inflammation.
Home remedies to treat acne scars are beneficial when the infection has spread because the patient has squeezed the pimples.
Turmeric for treating skin disorders has been used for centuries in Eastern and Asian countries.
Benefits of turmeric for acne
Turmeric made into a paste and applied to acne-prone areas can destroy the P.acnes bacteria that cause inflammation and remove excess oil from the skin.
Turmeric possesses anti-oxidant and anti-inflammatory properties, which are both beneficial in treating acne.
Acne recipes / remedies using turmeric
Below are some herbal remedies involving turmeric which can prove helpful in acne treatment and management.
1. Basic Recipe of turmeric for acne

Take 4 tablespoons turmeric powder and to this add 1 tablespoon milk and 4 tablespoons, raw honey.
Stir this mix in a clean bowel until it becomes a smooth paste.
Keep this mix in the refrigerator to cool.
An alternate set of ingredients are – 8 tablespoons turmeric powder mixed with 5 tablespoons olive oil or sesame oil. Mix these in a clean bowl until a smooth and creamy paste is formed.
The rest of the treatment steps are the same for both types of turmeric acne pastes.
Take a long hot shower to soften your skin using mild shower gel or bath soap. Avoid all medicated, glycerin and antibacterial products that can dry out the skin.
While in the shower, take a washcloth and dip it in very hot water (as much as your hands can stand). Apply the hot washcloth directly on affected areas for at least 5 minutes.
This will help to bring pus in inflamed acne lesions to the surface. Now pat your skin dry.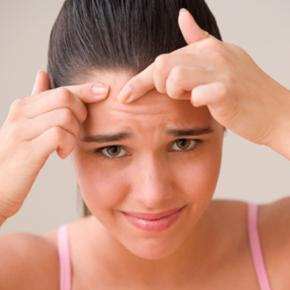 Use your fingers and apply the turmeric paste to the dry, soft skin, using gentle massaging motion. Massage for at least 10 minutes. Leave this to dry overnight.
The turmeric will dry and become stiff like a mask. This action will reduce acne size.
Rinse the dried paste in the morning. Turmeric will stain clothes.
So use old clothes and bed sheets when following this treatment. Turmeric will also leave a yellowish tinge on the skin. To clear this, wipe these areas with a cotton ball dipped in a few drops of a mild facial toner.
2. Turmeric and yogurt

For this turmeric acne mask, take 2 teaspoons of yogurt and combine this with ½ teaspoon turmeric powder and a small quantity of honey.
Yogurt that is rich in lactic acid acts as a gentle exfoliator. Apply this mask on the face for ½ hour and rinse off after this.
3. Organic facial mask with turmeric

This is a good mask for acne-prone skin. Take ½ teaspoon sandalwood powder and ¼ teaspoon turmeric powder. Combine these two powders with 2 tablespoons curd until you get a smooth paste.
Apply this gently on pimples and lie down for at least 20 minutes. Wash this off with warm water.
Finally splash on some cold water, dry your skin and apply a suitable moisturizer.
Always clean the affected areas or take a steam bath or warm shower to open up clogged pores.
Relax with your mask for the required time. Place cooled down chamomile teabags, cotton pads dipped in lavender or rose water or cucumber slices on your eyes to give a wonderful relaxing feeling.
4. Turmeric and oatmeal mask

Oatmeal is a great exfoliator. Combine 1 tablespoon each of oatmeal flour and lentil powder and ½ teaspoon turmeric.
Mix these in fresh water, make a smooth paste and apply on the skin. Leave for 20 minutes and wash off as before.
A few words of caution while using turmeric for acne

While there are a few side effects when taking turmeric capsules or supplements, there are not too many side effects when using turmeric on the skin. In rare cases, people can develop a skin rash.
Otherwise, the only side effect is that turmeric will leave a yellow tinge on the skin that can be cleared using a cotton swab and facial toner.
Summary
Turmeric is a useful herbal remedy to fight acne. Using these simple home turmeric masks, you can enjoy your own natural spa at home and clear acne.
These facial masks are affordable, simple to make and most ingredients are available in your own kitchen or are easily procured.
But make sure 1) you do a patch test before you start using it extensively and 2) use genuine turmeric for best results.
If you have used turmeric for acne, do share your experience! In case you used turmeric in some other way please provide the details for everyone else's benefit