In 1 cup of turmeric tea (240-250 ml) you can put 1 tsp turmeric powder or an inch long piece of turmeric root.
Please note, there is no defined dosage of turmeric in tea. The exact dosage of turmeric depends primarily on your medical condition and the purpose of use. Ideally, 2-4g can be taken on a daily basis, which means around 1-2 tsp of turmeric can be added to the tea. One can also add one tsp of turmeric in tea and consume it twice or thrice a day.
Read: Long List of Benefits of Turmeric
Read: How much Turmeric you can take in a Day
For therapeutic effects, more significant amounts may be required, and one may do so by consulting with a doctor.
Let us know about these facts.
Turmeric Tea – Best Way to Take Turmeric? How Much?
Turmeric can be taken in many ways. One popular way to include turmeric in life is by turmeric tea. In fact, we have a detailed article on how to make turmeric tea (read here). While turmeric tea is an easy and delicious way to include turmeric some aspects have to be kept in mind to ensure maximum benefits.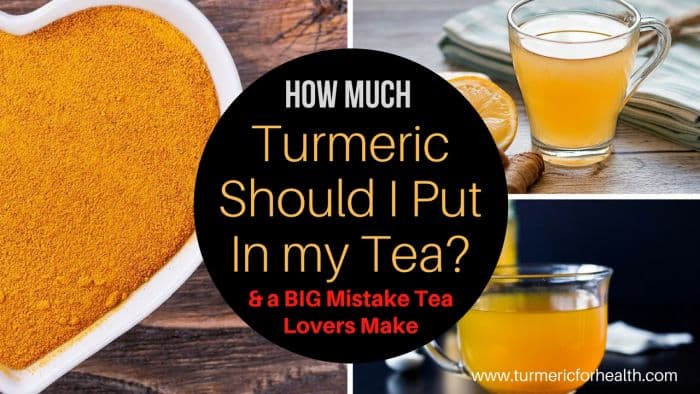 Not Addressing Low Absorption of Turmeric – BIG Mistake
Turmeric is poorly absorbed in the body. It means if you are putting it in tea and drinking it just like that, you are not likely to benefit at all from it. This is a BIG mistake turmeric lovers make. We receive so many emails and messages saying turmeric had no benefit at all when taken with tea. In most cases, this is the reason.
So, what to do?
Black pepper and fats are known to increase absorption of turmeric in the body. They need to included in the tea somehow. So, we suggest mixing ground black pepper in tea as it might be difficult to add oils to it.
You can also add other healthy items to your tea to make it even better, ginger, cinnamon, lemon, etc.
Amount of turmeric that can be safely consumed per day
The amount of turmeric to be consumed depends on the purpose. One may consume turmeric for the following reasons:
Preventive use: If you are using it for maintaining general well-being to prevent the occurrence of diseases, you may need turmeric in smaller amounts.
Therapeutic use: If you are using turmeric to benefit in a particular health condition, you may require turmeric in more substantial amounts. However, in this case, it is better to ascertain the dose by consulting with your physician.
As most of the benefits and effects of turmeric are primarily due to its curcumin content, it is vital to note down the accepted limits of curcumin.
Turmeric contains about 4-5% curcumin, and thus. One can take about 2-4g of turmeric powder with the tea, which makes up to 1-2 tsp. However, if one is consuming turmeric in other foods, this amount has to be balanced accordingly.
However, there is no single dosage that can suit everyone. Thus, start with small doses of ¼ tsp daily and if you do not experience any side effects, gradually increase the dose by ¼ tsp daily for up to 1-2 tsp daily.
Moreover, turmeric does contain some other nutrients and components. Here is their content in 1 tsp (2g) of turmeric with the percentage of daily required amounts:
Protein: 0.2g
Calories: 29.7 kJ
Carbohydrates: 1.3g
Fiber: 0.4g
Total fat: 0.2g
Vitamin: A 0g
Vitamin C: 0.5mg
Vitamin D: 0g
Vitamin E: 0.1mg
Vitamin K: 0.3 mcg
Vitamin B12: 0mg
Sodium: 0.8mg
Phosphorous: 5.5mg
Potassium: 50.5mg
Calcium: 3.7mg
Iron: 0.8mg
Zinc: 0.1mg
Oxalates: 5.4 mg
These statistics show that the concentration of nutrients in 1 tsp of turmeric is unlikely to cause any unwanted effects or toxicity. Thus, consuming 2-3g turmeric in the diet is entirely safe.
However, these values are noteworthy for individuals who need to limit certain nutrients due to their health condition.
Very High doses of turmeric can have unwanted effects in some people
Dietary intake of turmeric is considered very safe. However, high doses may cause gastrointestinal problems such as diarrhoea and gastroesophageal reflux in some individuals.
High doses of turmeric should be avoided in following cases:
Turmeric prevents blood clotting and thus may strengthen the effect of anti-coagulating or blood thinning drugs.
Turmeric increases contractions in the gallbladder which may be harmful and cause more pain in people with gallstones.
Turmeric contains oxalates, which in high amounts increases secretion of urinary oxalates and increases the risk of kidney stone formation in susceptible individuals.
Turmeric increases production of stomach acids and may interfere with the working of drugs used for reducing stomach acids.
Turmeric is not suitable for people who have undergone surgery or planning to do so due to its blood-thinning effects.
Pregnancy and lactation.
High dose turmeric may interact with other medications if taken concomitantly.
If you have a serious health condition or are on medications, it is recommended to determine what amount of turmeric you can use by consulting a medical practitioner.
Read: Possible side effects of turmeric
Bottomline
Turmeric tea is a great way to take turmeric, but only when you take care of the low absorption issue related to it by including oils or black pepper. Further, it is best to start with low quantity, say 1/3 tsp and then slowly increase it to 1-2 tsp.
It is important to get good quality of turmeric powder to include in the tea. If you are confused, here are some good suggestions from our side. 
Do you drink turmeric tea? If yes, share your experience with all of us by commenting below. Also, share your own turmeric tea recipes with everyone!