Let's understand in general what are urinary disorders. Any disease or disorder affecting the functioning of ureters, kidneys, urinary bladder or the urethra are termed as urinary disorders.
Some of the commonly observed urinary disorders include incontinence, interstitial cystitis, kidney failure, urinary tract infections and cancers of urinary tract. Urinary disorders are very common and can arise due to various reasons including lack of hygine.
There are various ways to treat these urinary disorders, but, use of natural remedies like turmeric for urinary disorders aid in treating the disorders without the risk of side effects.
Use of turmeric for a variety of urinary disorders
Curcumin is the active ingredient in turmeric that is responsible for its medicinal value. The antioxidant, anti-inflammatory and anti-carcinogenic effect of curcumin treats various disorders.
Turmeric for urinary tract infections: The strong antibacterial action of curcumin eliminates the disease causing bacteria and treats the urinary tract infection. The antioxidant property of curcumin boosts the activity of the immune system. This in turn fastens the healing process as well as prevents the recurring infections.
Turmeric for kidney disease: The antioxidant property of curcumin eliminates the free radicals from the body and prevents damage to the kidneys.
It also improves the concentration of kidney glutathione and activity of the enzyme glutathione peroxidase that aid in removal of free radicals within the body. It reduces the extent of free radical generation by curbing the lipid peroxidation process in kidney microsomes and mitochondria.
Urinary System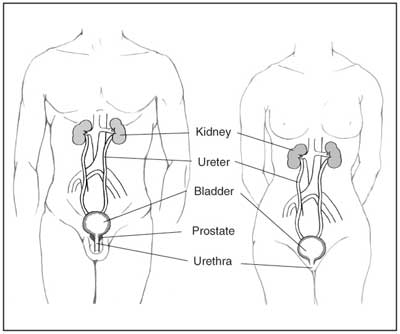 Turmeric for urinary tract cancer: the anti-angiogensis effect of curcumin suppresses the proliferation of cancer cells. Turmeric also initiates the apoptosis (cell death) process in the cancer cells and supports the chemotherapy process offering faster relief from cancer.
Turmeric in treatment of nephrosis: The ability of curcumin in alleviating the concentration of glutathione and glutathione peroxidase in kidney cells is found promising in the treatment of nephrosis. By increasing the concentration of glutathione it eliminates the free radicals and reduces the oxidative stress. This in turn aids in treatment of nephrosis.
Treating watery urination with excessive discharge and foul smell (ayurvedic name Udaka meha): Take one gram each of turmeric and sesame and 2 grams of jaggery. Take this with boiled and then cooled water in morning and evening for a few days.
Urinary disorders related associated with phlegmatic component
There are three types of urinary disorders related to Kapha. According to Ayurveda, three elemental energies are important for body health – Vāyu / vāta (air & space – "wind"), pitta (fire & water – "bile") and kapha (water & earth – "phlegm"). When they are balanced, they body is healthy else disorder arises.
Thus, according to ayurveda, turmeric can be used to cure urinary disorders caused due to Kahpa component. These disorders are:
Thick and dense urine
Colored, fouls smelling as if its mixed with flour
Urine discharge accompanies with semen
To threat the above disorders, a decoctation of turmeric and Amla (Indian gooseberry is used). Decoction is a method of extraction, by boiling, of dissolved chemicals, or herbal or plant material, which may include stems, roots, bark and rhizomes.
Users Say!

Hi K ,this is my personal experience with curcume ,maybe it will help someone . at 70 ,getting up at night isn't rare ,but once i realize i have to go pee 10 times every night it was way too much .

the urologist will send me invitation for biopsy ,but i didn't want to go on like this ,feeling very tired every day .so happened i read on curcume and started using it . i looked for a comfortable way of using it and made a spicy paste ,that on bread made it simple to use .

it's maybe 2 weeks now and i get to pee maybe 1-2 times a night . i feel this paste isn't perfect yet and being very careful I know by now that there is no problem for me in using maybe 2-4 spoon of the paste daily .

i Cook it with coconut oil ,salt ,black pepper ,garlic and vinegar .if anyone can improve on it 'lets hear ,thanks mos
Simple ideas for including turmeric in diet
One important question which after knowing benefits of turmeric is how one can include this magical herb in daily diet to remain healthy.
Some of my favorites are – turmeric milk and golden paste. There are many more recipes which I have mentioned in this section.
Whfoods – a leading health website suggests a few ways in which you cna do this. I have mentioned them below:
Adding it to egg salad to make it even more yellowish and delicious.
Can be added to any dish to make it extra spicy.
Include it in salads to improve their taste as well as appearance.
Taking ground turmeric along with honey and goat's milk twice a day treats urinary disorders.
If you have used turmeric for treating urinary disorders, please share your experience here! 
Turmeric dosage
Turmeric is very safe when used as a spice. But still very high usage for a very long time can cause issues. So one needs to be careful.
You can look detailed article on safe turmeric dosage based on the types (powder, extract, etc.) in this article.
Also if you are taking turmeric as powder / spice, include black pepper in your diet too. That really helps in its absorption.
Possible Side effects of using turmeric
Who should not use turmeric?
People suffering with blood clotting disorders.
Those who are on diabetes medications or drugs to regulate the production of stomach acid.
Increased dosage of turmeric results in certain side effects.
Stomach upset.
Diarrhea.
Bleeding.
Contraction of gall bladder.
Lowered blood pressure.
Lowered blood sugar levels.
Drug interactions mainly blood thinners such as aspirin and antacids.
To avoid the risk of side effects consult the physician before using turmeric for urinary disorders. If you notice any of these side effects while using turmeric seek medical attention immediately to prevent complications.