Headaches are part of our fast moving life today.
Some are minor but others such as A migraine are severe and badly disturb our lives.
According to stats 6 mnAmericans suffer from a migraine and in every 10 seconds, there is one person going into an emergency room because of a migraine. Migraine is more common in women than in men.
A migraine is moderate to a severe headache which affects one side of the head. The migraine pain occurs suddenly and has a throbbing or pounding sensation.
The pain may be accompanied by nausea and vomiting.
Before an event of migraine, people often experience flashing lights, blurs or momentary loss of vision. Migraine also causes increased sensitivity to light and sound.
Some people suffer from occasional migraines while others may suffer for several days at a time every month. The pain may last from hours to days, if not treated.
This disease has greatly affected daily routine. The sufferer may find it difficult to get through chores and other works.
The cause of migraine is not very clear. It is thought to be a result of an impaired sensory system in the nervous system. Also, narrowing of the blood vessels in the brain is thought to be a cause of this disease.
There are many factors that trigger the migraine.
Stress and depression are the most common ones. The other factors include hormonal changes (in women), anxiety, irregular sleeping or eating, certain food products, and food additives.
The genetic reasons may also be behind migraine.
Women are much more prone to migraine than men. The hormonal changes make the young women to be at greater risk of getting a migraine.
The treatment of migraine pain is particularly done through pain-killers. The medications like paracetamol or NSAIDs (such as Aspirin, Ibuprofen etc) are most commonly used.
Dietary changes, exercise, and psychological therapy have also opted as a treatment method. Also, modifying various risk factors can be useful in the prevention of migraine occurrence.
The use of medication for migraine may itself lead to chronic headaches. The other side effects like gastrointestinal problems etc may also be observed.
Since the side-effects of migraine medication are many and can be severe, the alternative natural treatment for this disease is sought after.
Turmeric is such an alternative natural product which can be exploited for the treatment of migraine.
What is turmeric?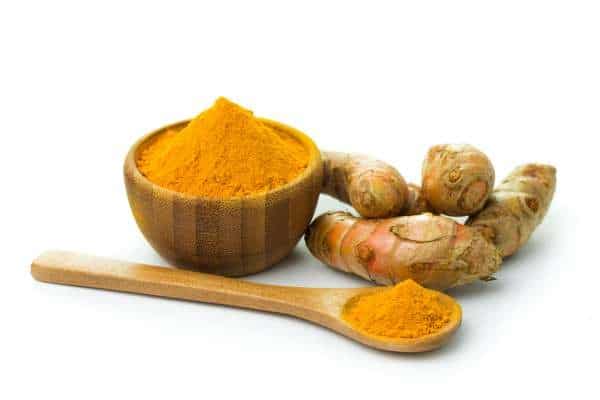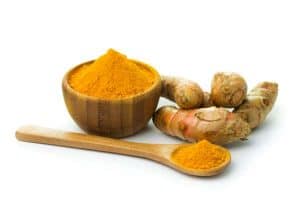 Turmeric is a rhizomatous stem of the plant Curcuma longa which belongs to the family Zingiberaceae.
It is a popular old world spice used for its colour and flavour in various cuisines.
Turmeric has also been used in traditional medicines. It has been a valuable substance used for pain relief and wound healing.
It is known for various biological properties such as antimicrobial, anti-inflammatory, antioxidant, analgesic and immune-modulatory.
These properties are imparted to turmeric by the virtue of the presence of several compounds. These compounds include curcuminoids, Vitamins (B&C), Potassium, Iron, Sodium, proteins, volatile oils, α-linolenic acid and so on.
5 Benefits of Turmeric for Migraine
There are not enough studies done on the efficacy of turmeric in the treatment of migraine. However, the diversity of the biological properties can be explored to find the use of turmeric in this disease.
The pain-relieving effect of turmeric can be beneficial against migraine pain. Its other activities can contribute to lower the risk factors that cause migraine.
1. Turmeric can relieve migraine pain
Pain is the attribute of a migraine.
An unbearable headache to the one side is significant and causes a high inconvenience to the patients.
The migraine pain is a result of a disturbance in the cortical sensory modulation system, i.e. the coordination between various signaling mechanisms is impaired.
The role of inflammation in the sensory neurons is central to the migraine pain. The release of certain neuropeptides causes activation of nociceptive sensory nerves that eventually leads to the pain.
Turmeric is known for its pain-relieving action for a long time. Studies have confirmed this activity.
Turmeric is known to decrease sensitivity to the pain stimuli, thus relieving the pain.
The essential oils of turmeric have been found to exert anti-nociceptive (pain relieving) effect. Their antioxidant and anti-inflammatory action act against the inflammation that leads to pain stimuli production.
A curcuminoid is known as isolated from turmeric also has a pain-killing effect. It modulates a protein called TRPV1 (involved in pain stimuli) to reduce the pain and thus acts as an analgesic.
As there is a number of turmeric constituents involved in pain-relieving and pain-killing activities, it can prove to be an effective measure against migraine pain.
What does it mean?
It means consumption of turmeric can be useful to relieve the migraine pain. The activity of its constituents is able to decrease the sensitivity to the pain stimuli as well as modulate pathways of pain stimuli production.
2. Turmeric can reduce stress and depression
One of the most significant triggers for a migraine attack is stress and depression. The level of anxiety and stress regarding work or aspects of life is linked to migraine patients.
The similarities in the biological aspects of migraine and depression are also observed. Both the conditions are associated with low levels of a molecule, known as 5-hydroxytryptamine or serotonin.
Some of the bioactive components of turmeric are known to act against depression.
Studies have found curcumin to possess antidepressant action. It increases the levels of serotonin and dopamine that leads to the reduction of depression.
It has been found to be effective even in patients with major depression.
Another turmeric constituent, turmerone has also been observed to have antidepressant activity. It reduces depression by increasing serotonin and decreasing corticosterone levels.
What does it mean?
It means turmeric intake can reduce stress and depression. Since stress and depression often trigger migraine, this can be useful in preventing the occurrence of migraine.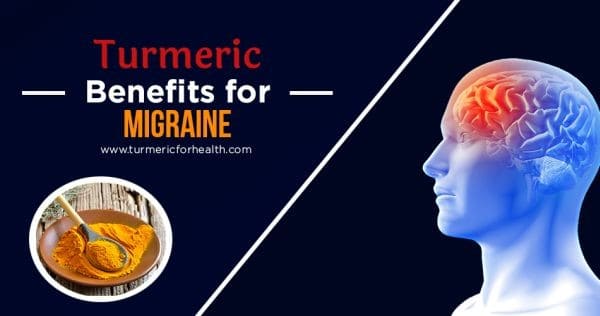 3. Turmeric can prevent hormonal imbalance
The prevalence of migraine in women is largely associated with the hormonal changes and imbalance throughout their life, particularly of estrogen (female sex hormone).
Estrogen affects the central nervous system and causes neuronal activation, resulting in migraine.
The lowering or increasing of estrogen, both can trigger a migraine.
Turmeric has been found to increase the serum estrogen levels in cases where estrogen levels fall.
In cases of diseases such as endometriosis which is caused by high estrogen levels, curcumin is known to reduce estradiol (an estrogen) production.
This suggests turmeric has a potential of promoting hormonal balance in women.
What does it mean?
It means use of turmeric can promote hormonal balance, especially of estrogen. This can be helpful in preventing the migraine triggered by estrogen imbalance in women.
4. Turmeric can protect against effects of food allergens and additives
A migraine may be triggered by dietary products as well. A number of food products such as coffee, fruits, beans, alcohol etc, can induce migraine pain due to allergic reactions.
Some food additives, for example, monosodium glutamate (MSG), benzoate, sulphites etc also have a potential to set off the migraine.
Turmeric has the potential to act against allergies as well as toxicity posed by the food additives.
Turmeric has anti-allergic action. This action is carried out by the immunomodulatory mechanism of curcumin, i.e. it modulates the immune response to prevent allergic reactions.
Curcumin is also found to protect against neurotoxicity caused by monosodium glutamate (MSG).
The neuroprotective activity of curcumin is also seen against sulphite toxicity.
What does it mean?
It means turmeric intake in diet can prevent the allergic reactions and toxicity caused by various food additives. This can be helpful against the set off of migraine by these factors.
5. Turmeric can protect against side effect of NSAIDs
Non-steroidal anti-inflammatory drugs or NSAIDs are commonly used medication for the treatment of migraine. However, these drugs pose a risk of serious side-effects.
The NSAIDs cause gastrointestinal and cardiovascular disorders. These include gastric ulcers, diarrhea, nausea, hypertension etc.
Some of these side-effects may even be life-threatening.
Turmeric is able to protect the body against these side effects. Its anti-inflammatory and antioxidant action protects against gastrointestinal disorders.
Curcumin is known to prevent the gastric damages caused by NSAIDs in animal models.
What does it mean?
It means turmeric consumption can be helpful in preventing the side-effects induced by the migraine medication, i.e. NSAIDs. Turmeric can protect against the damages caused by these drugs to the stomach and intestines.
Dosage of turmeric for a migraine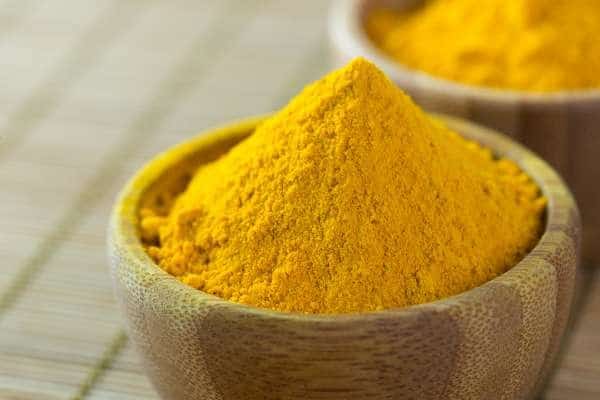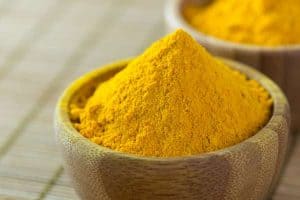 There are no specifications as such known for the dosage of turmeric for migraine.
Turmeric is a safe food product for dietary use and is consumed without much apprehension.
A matter of concern regarding turmeric use is that it is poorly absorbed by the body. (Read How to improve turmeric's bioavailability?)
The absorption of turmeric in the body can be improved by taking it in the form of Golden Paste (it has black pepper and other healthy oils along with turmeric).
The recipe for Golden Paste made from turmeric powder can be found here. The recipe using fresh turmeric root can be found here.
Turmeric intake should be initiated with a quarter or half a tablespoon every day for a week. If gastric problems are not encountered, then the intake can be gradually raised by a quarter or half a tablespoon per week.
1 to 2 teaspoon, 2 or 3 times a day is most recommendable (accurately 1 teaspoon 3 times per day).
Turmeric consumption should be avoided if the stomach is empty. (Read Does Turmeric cause acid reflux?)
It is not suitable to take turmeric at the same time of taking medicines. Turmeric intake and medicine intake should be 3-4 hours apart. (Read Black pepper in GP: Does it cause drug interaction?)
The dose of turmeric cannot be specifically the same for every individual. It varies from one person to another depending on what dosage can be tolerated by one's stomach.
Turmeric milk and Turmeric tea are some delicious preparations of turmeric.
Check out our recommendation on best organic turmeric brands, if you are looking for good organic turmeric brands.
Turmeric supplements are another viable option for turmeric use, but the advice of a medical expert is important to avoid any adverse effects.
Precautions
Dietary consumption of turmeric is generally very safe. Turmeric is used regularly in a number of cuisines. The dietary amounts of turmeric pose no adversity and can be used every day.
When using turmeric supplements, some precautions must be kept in mind. (Read Side effects of Turmeric)
Turmeric can cause acid reflux if taken on an empty stomach in sensitive individuals. (Read Does turmeric cause acid reflux?)
A general precaution is outlined that turmeric may have drug interactions with stomach acid reducing medication, antidepressants, blood sugar reducing drugs etc.
Curcumin found in turmeric is known to interfere in drug metabolism. Hence it is advised not to take curcumin supplements concomitantly with any other medicine.
Turmeric supplements should be taken with caution if suffering from a bleeding disorder.
Turmeric has blood thinning action, therefore, the advice of an expert is important before using these supplements. Turmeric consumption is, however, safe in dietary amounts. (Read Is turmeric a blood thinner?)
Limited use of turmeric is advised for people at risk of gout and kidney stones.
Overuse of turmeric can elevate the risk of developing kidney stones and can worsen gout condition. (Read Is turmeric safe in gout? Does turmeric cause kidney stones?)
Turmeric increases the bile flow. Those who are suffering from gallstones, this can lead to obstruction of the bile duct. This can be painful.(Read Is turmeric safe in gallstones?)
Turmeric causes blood thinning which may hinder the process of blood clotting after surgery. Therefore, turmeric consumption (supplements) should be discontinued around 2 weeks before the schedule of surgery.
Pregnant and lactating women should avoid turmeric supplements.
Conclusion
There are no direct evidence available for the use of turmeric in migraine. However, there are several studies that cover efficacy of turmeric in various aspects of migraine.
The biological activities of turmeric constituents can be beneficial in the treatment of migraine pain. Moreover, turmeric can also act against various major migraine triggering factors.
Additionally, turmeric can also be employed to protect the body against the side-effects of the drugs used for migraine treatment.
Overall, it can be concluded that turmeric certainly has an enormous potential in treatment as well as in preventing the set-off of migraine due to various factors.
Save
Save
Save