Many readers ask us if it is good to take raw turmeric or it is essential to take powder.
We have always been in favor of using raw turmeric.
It is great to use raw turmeric if it's available and not too much of hassle for one to use it.
Of course, there are a few limitations while using raw turmeric but there are so many advantages too.
Why we all should love raw turmeric
Here are some quick reasons why raw turmeric is just awesome:
Unique constituents, unique benefits: Raw turmeric has several health benefits which turmeric powder will not have.
For example turmeric oil is one constituents which is lost when you process turmeric. There are several other constituents too which are lost in processing. All these have a role to play to make what turmeric is.
Loss of curcumin: Curcumin, the key active ingredient is lost (to an extent, not fully) while processing. Yes, that's correct.
Based on what process is used to make powder turmeric from raw turmeric – curcumin is lost.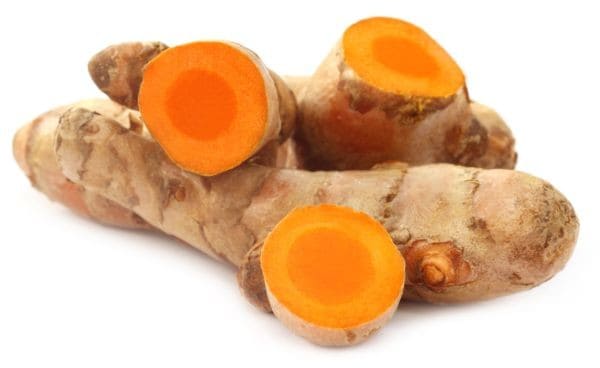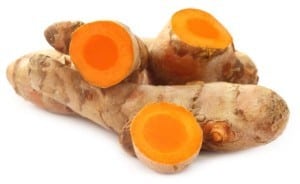 Therefore, you may have noticed that the dosage of raw and powder turmeric is not too much different.
The reason maybe the fact that curcumin %  is significantly higher in raw turmeric. That offsets the moisture weight in raw turmeric.
Problem of bioavailability solved: You do not actually need anything to absorb curcumin if you are using whole turmeric. What? Yes!
The reason is mother nature has already included an oil in it – "turmeric oil". Isn't it great?
Turmeric oil is around 6-9% of raw turmeric.
According to Dr. Bharat B Aggarwal (who is pioneer in turmeric and curcumin research) if you take raw turmeric, you need not take any other thing at all. How great is that!
Quality control: You have more control over quality as additives / fillers and colours are added to turmeric during its processing. If we eliminate this process we eliminate a potential area of adulteration.
Economical: It is much cheaper to buy raw turmeric then powder. If you love raw turmeric – you can get same benefits at much cheaper price.
Great aroma: Raw turmeric has great aroma as compared to powdered one. This is because of the oils present in it. This can add a distinct taste to your food.
Grow and consume: Lastly, you can grow raw turmeric in your back yard. Once you grown one batch the bulb can be sued again to grow more. You can thus control the quality of turmeric too.
How to use raw turmeric?
Okay, so how you can use raw turmeric?
The usage is not very different from powder at all. You can use raw turmeric to:
Make golden paste (recipe here)
Make golden milk (after grating) (recipe here)
Add to curies
Add to smoothies
Make turmeric pickle (recipe here)
Add to salads .. and so on ..
The list is endless and just limited by your imagination.
How much raw turmeric to take?
If you want to include raw turmeric as part of your diet on a daily basis then 6-7 gms or about 1/2 to 1 inch piece of the root.
This in grated form turns out to be around 1.5 tsp. There should be no harm even if you take 2 tsp.
All the standard precautions we take with turmeric powder apply here too e.g. – stop 2 weeks before surgeries, do not take too much during pregnancy, consult doctor in case of confusion, etc. etc.
Lastly, start low and increase gradually.
In the end..
While turmeric powder is easier to use, store and does contain curcumin, it is raw turmeric, Mother Nature's "natural gift" which seems to have many more health benefits.
What do you think?