When you are pregnant, the most important aspect to remember is to lead a healthy lifestyle.
Eat a balanced diet, get plenty of exercises and avoid alcohol, smoking, drugs, etc.
A good pregnancy diet must consist of the right portions of fruits and vegetables, proteins, carbohydrates, dairy products and healthy snacks.
A special diet is not required. Rather, the right diet that includes a variety of foods is essential. This will ensure you get a range of nutrients important for you and your baby's health.
Vitamins and supplements are indispensable during pregnancy. In the same way, there are certain foods that need to be avoided – especially raw seafood (opt for cooked ones), unpasteurized milk (boil if this is the only type available), certain fish (shark, swordfish or marlin), undercooked or raw meat, peanuts (if you are allergic), high doses of supplements with vitamin A (this can cause too much of Vitamin A) etc.
Turmeric and Pregnancy
Most pregnant women are advised not to take herbal supplements for their effect on pregnancy has not been examined. A pregnant woman must be especially careful since eating some foods may harm the fetus.
There are many turmeric supplements available in the market.
Always check with your gynecologist if these are safe for you to consume.
In fact, it has been suggested that taking oral turmeric supplements during pregnancy may be unsafe since it could stimulate the uterus and cause a menstrual period.
If the uterus gets stimulated before the pregnancy reaches full term, there are chances that a woman may experience a miscarriage. It is also possible that certain abnormalities may develop in the fetus.
This could cause an early miscarriage, putting your pregnancy at risk.
However, usage of turmeric as a spice in food is generally considered safe even for pregnant women.
Pregnant women in countries like India never remove turmeric from their diet as a spice irrespective of the pregnancy stage.
This speaks volumes about its safety. But remember, no supplements!
Turmeric helps to make the skin supple and smooth. During pregnancy, you just need to look in your kitchen shelves rather than spending a lot on expensive beauty treatments that may not work.
Mix turmeric and curd or malai (cream) into a paste and apply it on your stomach 15 minutes before a bath.
A regular routine of this will prevent those ugly stretch marks – the bane of all pregnant women.
You can even use this malai and turmeric mixture on your stomach after a bath, leave for a few minutes and wipe off with a warm, moist towel.
Extra melanin causes pigmentation to form on the skin. Hyper-pigmentation is a medical condition that causes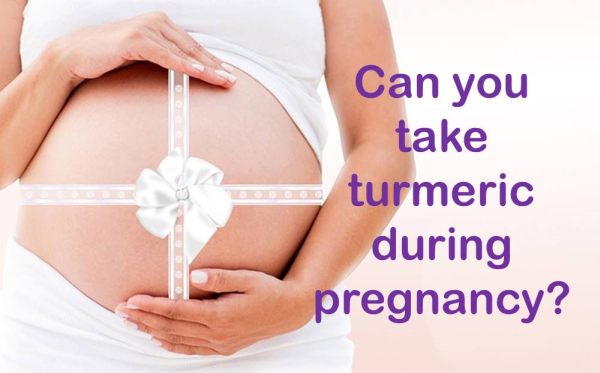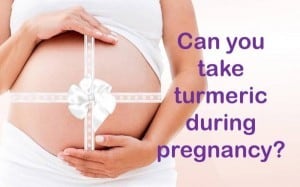 abnormal black patches and spots to form on the skin due to high levels of melanin production.
One cause of hyperpigmentation is pregnancy. There are many treatments to avoid this pigmentation such as turmeric, OTC products, laser treatment etc.
During a pregnancy you need to be careful as to what treatment to use for some of them could prove dangerous for your pregnancy.
Herbal products like turmeric are safe to use externally.
Now you can try a cucumber and turmeric mask that could reduce this pigmentation during pregnancy. Blend a cucumber in a food processor, take the pulp and squeeze out the juice.
Combine 3 tablespoons of this extracted juice along with 3 tablespoons of lime juice and add enough turmeric powder to make a paste.
Apply this on the dark patches and leave it for about 20 minutes before washing it off. Turmeric can inhibit melanin production and lighten the skin.
Hormonal changes during pregnancy often cause outbreaks of acne which makes the skin unsightly rather than the often expected 'glow of pregnancy'.
Even women who have never suffered from acne during their teen years can develop pregnancy acne. Most doctors do not prescribe oral medications for pregnancy acne. Certain OTC creams and ointments to help.
However, herbal remedies using turmeric, chickpea, oatmeal powders, etc are considered safer options.
Turmeric has powerful antiseptic and anti-inflammatory properties that can help treat acne. Apply a paste of turmeric and water on your acne.
Leave this for at least 20 minutes and wash off. Turmeric often leaves a yellow tinge that can be removed by rubbing fresh lemon juice.
If you can, try to leave the turmeric paste on overnight for better effect on the pimples. Drinking turmeric with warm milk and honey can also cleanse the system of impurities and give a clear complexion.
Further, what if you get cold and cough during your pregnancy, will you rather take a medicine or go for turmeric milk? I think the choice is very obvious here! 
In the end – the most important thing is using a good quality turmeric powder and taking it as a spice and not a supplement. 
Precautions
Since there have not been studies about the efficacy of turmeric supplements on a pregnancy, doctors usually advise their patients to avoid it for this period.
I also advice the same – stay away from supplements during pregnancy. Turmeric used in food as spice and externally could provide some benefits during a pregnancy.
Those with gallbladder problems or diabetes must avoid turmeric supplements.
Stop turmeric supplements 2 weeks before a surgery for it can slow down blood clotting. Large doses of turmeric cause indigestion, nausea or diarrhea.