Best Turmeric Essential Oils
Turmeric Oil by Edens Garden
Turmeric Essential Oil by Healing Solutions
Plant Guru Turmeric Essential Oil
Artizen Turmeric Essential Oil
---
Turmeric has been known for thousands for years for its amazing health-promoting properties. There are various ways one can use turmeric, using turmeric essential oil (obtained from turmeric root) is one of them.
Extraction pulls out all oil-friendly compounds from turmeric root.
Turmeric essential oil then can be used in various ways to provide benefits against inflammation, muscle pains, etc.
Turmeric oil is very powerful and packed with rare compounds as it is extracted from such a powerful healer herb. When analyzed turmeric oil may show the presence of 400-500 different kinds of molecules.
What is even more amazing is that many of these molecules have receptor sites in our neuroendocrine systems too.
Constituents of Turmeric Essential Oil
As already discussed turmeric essential oil contains hundreds of molecules, but its main constituents are:
Sesquiterpene alcohol – 50%
Zingeriberene and other Sesquiterpene hydrocarbons – 30%
d-a-phellandrene – 4%
Cineol – 3%
d-sabinene – 2%
d-borneol – 2.5%
Valeric acid – 0.1%
The constitution varies based on turmeric used and also method.
If you are want to know more about Turmeric Essential oil, use the Table of Content below to jump to relevant sections-
Best Turmeric Essential Oil Brands
Benefits and Uses of Turmeric Oil
Turmeric oil can be taken orally or applied externally. Here are some uses of turmeric essential oil.
Anti-inflammatory: Some turmeric oils are 60-65% alpha-curcumene (a Sesquiterpene hydrocarbon). This is also the main constituent in turmeric root which gives turmeric its anti-inflammatory properties.
Turmeric oil has been used with other essential oil such as Frankincense, Plai, etc. for preparing anti-inflammatory and pain relieving formulas.
Arthritis and joint problems: Turmeric oil has been found useful for arthritis and joint care. It also helps in muscle pain.
Industrial usage: Turmeric oil is used as a spice in the food industry. It is also used in the pharma industry where it is used in making anti-inflammatory, pain relieving, anti-microbial, anti-fungal, antiseptic (and more) drugs/ointments.
Digestion related: Zingeriberene and 6-gingerol are main compounds present in turmeric oil which help in bringing the digestive system in order and also stops the formation of gas in the gastrointestinal tract.
Benefits to the liver: Ar-turmerone, a compound present in turmeric oil is known to support the liver and keep it healthy.
Anticancer: Turmeric and turmeric oil both are now known to have anti-cancer properties.
Skin and hair: turmeric oil is also known to help in preventing hair loss, especially male pattern baldness. This action is also attributed to its anti-oxidation and anti-inflammatory properties.
Turmeric oil is also used in many skin care formulas to make skin look younger.
Other health-promoting properties of turmeric oil: As with turmeric, turmeric oil is also anti-allergic, antibacterial, antimicrobial, antifungal, antiparasitic, antiviral and antiworm. It is also considered to be good antivenom.
Turmeric Essential Oil – A Brief Buying Guide
As discussed, turmeric essential oil has multifold properties that can be exploited by us all, in exchange for health benefits.
For those people that are looking at buying and experiencing these benefits of turmeric essential oil, the following shall aid them as a brief buying guide.
In the earlier times, high-quality essential oils were only available in well-renowned health centers but, today it is easier to find these products online on websites like amazon, etc.
There are two types of turmeric essential oils available today, them being the organic and inorganic versions of the oil.
One could go ahead and purchase the inorganic version of the essential oil in case they do not have any allergies in general. For those that have very sensitive skin, it is advisable that they purchase the organic essential oil.
Legitimate organic essential oil making companies possess a certificate that claims that the oil has been extracted organically.
Once the oil has been purchased, one could look at buying suitable carrier oil for their essential oil. The purpose of usage could also help one select the right kind of carrier oil.
Since, essential oils can be used for different purposes like facial skin treatment, body massage, aromatherapy etc., one could choose the most suitable kind of carrier oil with the help of this parameter.
List of Oils that Turmeric Essential Oil Blends With
Essential oils in general, need to be diluted with the help of "carrier oils".
This does not affect the strength of the essential oil.
The intention of doing so is to avoid the loss of precious essential oil ingredients due to over-application, which happens when essential oils are dealt with in their concentrated form.
Carrier oils are a group of vegetable oils that have the capability to blend with the essential oil and assist in its application or usage.
Such oils do not have a scent of their own. They are also present to ensure that the essential oils applied are comfortable to the skin.
The following is a list of few compatible carrier oils.
Olive Oil
Coconut Oil
Grape-seed Oil
Jojoba Oil
Sweet Almond Oil
Argan Oil
Avocado Oil
Castor Oil
Black-Seed Oil
Neem Oil
Rosehip Oil
Flaxseed Oil
Moringa Oil
Apricot Kernel Oil
Evening Primrose Oil
Hemp Seed Oil
Wheat Germ Oil
There are more carrier oils available, that are developed commercially too.
However, one must note that butter, margarine, petroleum derivatives or vegetable shortening must not be used as carrier oils.
What is Organic Turmeric Essential Oil?
Essential oil by definition is the oil extracted from a plant or other source through distillation and has the characteristic odor of the source.
It is a concentrated version of the natural oils present in plants.
Organic essential oil is the oil extracted from plants that have been grown without the use of harmful chemicals or pesticides.
This type of farming is well-known as Organic Farming. If one is looking at buying a completely organic essential oil from the market, they must look for sellers that possess a certificate that states so.
In order to keep up with the growing demand for essential oils, farmers have taken to feeding their plants with chemicals that boost their growth.
Oils that are extracted and obtained from such farms are called inorganic essential oils.
There has been no scientific proof that states that organic essential oils are better than their inorganic counterparts.
This is also because of the minute amount of pesticide that one would possibly find in the inorganic oils.
Organic oils are preferred, however, due to the reduced amount of harmful risks and side-effects that they pose in general when pitted against inorganic oils.
How to use Turmeric Essential Oil for Skin Issues?
Turmeric oil is known to have a good number of positive effects on the skin, to the extent that it is used to treat dermatologic diseases.
Skin diseases like acne, vitiligo and atopic dermatitis have found their prevention and cures in turmeric based products.
However, one must remember to dilute the essential oil with carrier oils before application on bare skin.
Acne
Turmeric oil is an antiseptic, has the ability to dry out pimples and prevent any further acne breakouts.
Heels
Cracked heels on the feet can be treated by applying turmeric oil all over the cracked skin. It helps to heal the cracked skin and make the area smooth.
Marks on the skin
Marks and blemishes on the skin can be gotten rid of by simply applying turmeric oil on the blemishes and spots. Turmeric often features in creams that serve the same purpose.
Dandruff
Dandruff and other scalp related issues like fungal infection and itchiness can be treated with the help of regular turmeric oil application over the problem areas. A good oil massage done regularly with turmeric oil is the solution.
Inflammation relief
Turmeric contains Curcumin which is a natural inflammatory compound. This by default is present even in the turmeric essential oil, which upon application on the injured area can bring a lot of relief.
Facial masks
Turmeric oil has anti-bacterial properties which can be of help in face masks. There is no known side effect of turmeric oil constituting face mask.
Rejuvenation of skin
When diluted and massaged on one's face before sleeping, turmeric helps to bring about a healthy glow to one's skin.
Turmeric is rich in antioxidants and can hence help diminish wrinkles present on one's skin. Hence, it also finds its use as an anti-aging agent.
Precautions while taking Turmeric oil
As with all essential oils, basic precautions should be taken with usage if turmeric oil too. This is a very highly concentrated form and thus excess can cause problems.
It is VERY important to consult a specialist before taking turmeric essential oil orally.
Do not take more than 5 drops of turmeric oil orally. It is best taken with water / tea/ honey.
In case you plan to use turmeric oil on your skin, do a patch test first and see if there are any reactions.
Turmeric oil makes your skin more sensitive to UV light, thus use in small concentrations (less than 1%) if you plan to go out in the sun within 48 hrs of application.
Pregnant women should altogether avoid, or only use turmeric oil (or in fact any essential oil) after due consultation with their doctor.
Quick Review of Popular Essential Oil Brands
Here are quick reviews of popular essential oil brands available in the market –
Therapeutic Grade Essential Oil by Healing Solutions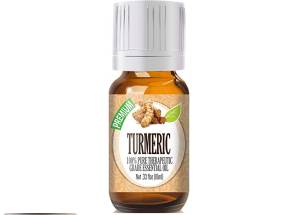 The product being discussed here is manufactured and sold by a company named Healing Solutions.
The company offers a wide range of essential oils that are sold as a part of a package as well as individually.
It was one of the first companies to offer essential oil products. Their goal is to provide higher quality essential oils to the consumer and also give them a wide range of options.
There are over 170 different essential oils to choose from.
Their distillation facility is GMP, ISO 9001 and Kosher certified, FDA Registered
For readers from the US, buy from Amazon.com here>
Turmeric Essential Oil by Plant Guru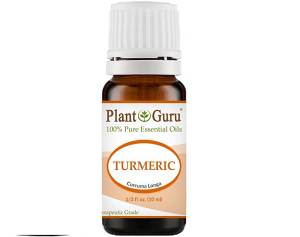 The turmeric oil being discussed here is manufactured and sold by Plant Guru.
They are passionate about essentials and the major factor in the formation of the company was the ridiculous pricing by the multinational companies for small products.
They sell over 140 different essential oils. Some of the key features of this product are listed below.
The company claims that their products are 100% pure and have natural therapeutic grade ingredients..
For readers from the US, buy from Amazon.com here>
Artizen Turmeric Essential Oil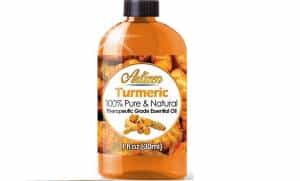 This product offering is available in 1 oz. and 4 oz. variants.
It has multiple uses and can be used for aromatherapy, skin therapy and relaxation. Some of the key features of the product are listed below.
The company claims that its products are unadulterated and Routinely tested for purity. They also provide a Lifetime warranty and guarantee on the product
For readers from the US, buy from Amazon.com here>
Edens Garden Turmeric Essential Oil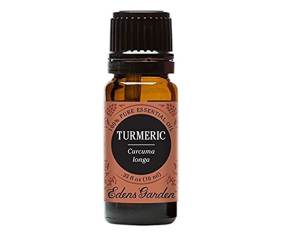 This turmeric essential oil is offered by Edens Garden.
The company offers over 140 different essential oils. The product discussed here is their turmeric essential oil that comes in 5ml, 10ml, 30ml, and 4 oz. value pack.
Some of the key features include – GC/MS certified, produced using cold pressed / steam distilled process.