In case you have read our article Turmeric/Curcumin Dosage For Cancer, you must be aware of the fact that when it comes to cancer you need to consume high doses of curcumin for therapeutic efficacy.
And in most diseases too, we mostly talk about taking turmeric orally and increase its bioavailability in the body. Interestingly topical application of turmeric/ cancer as therapy is gaining importance.
And this topical application is not limited to the skin. Various cancers can also be treated with topical curcumin. If you think that cancers can only be internal, then that's not the case.
Even something like breast cancer which is usually described as a lump in the breast can present with an external ulcerated lesion.
Similarly oral cancer, skin cancer, cancer of the vulva, head and neck cancer, etc. present with external lesions. These lesions are characterized by itching, oozing, offensive odors, and ulceration.
It's amazing to know that something simple like turmeric paste can help with cancerous or precancerous lesions.
Please feel free to use the Table of Contents below to jump to the relevant section in the article.

How can topical turmeric formulation aid in cancer?
Few studies have investigated the role of topical turmeric in relation to cancer and have demonstrated positive results.
1

. Turmeric as a whole has anti-cancer properties
When we think of turmeric as an anti-cancer agent, we assume that only taking it orally can help in cancer. And the anti-cancer property is always associated with curcumin.
Indeed curcumin manipulates a number of biochemical targets to get rid of cancer:
It influences the activity of proteins that regulate cell growth.
It induces cell death in cancerous cells.
It cuts down blood supply to tumors.
It interferes with the cell cycle of cancerous cells
It prevents the spread of cancer to other parts of the body.
Interestingly research shows that even turmeric oil has anti-cancer and cancer-preventing property. Mutation is a hallmark of cancer development.
Carcinogens or substances that cause cancer can initiate mutation in normal cells. Turmeric oil has an anti-carcinogenic and anti-mutagenic capacity.
This suggests that application or even consumption of whole turmeric extract could possibly be a more potent formula against cancer than curcumin alone.
Also, topical formulations of curcumin are found to be excellent anti-inflammatory agents and this property is of relevance in cancer treatment.
In fact, topical application of a compound derived from curcumin is found to be as effective as or better than aspirin in controlling skin tumor-induced inflammation.
What does this mean?
Curcumin's anti-cancer activity is well documented; turmeric oil also exerts anti-cancer activity. Therefore application of turmeric paste can provide you with pharmacological properties of both curcumin and turmeric oil.
2. 

Turmeric works as a topical anti-cancer agent for external lesions
The idea of using turmeric topically draws attention to the paper 'Turmeric and curcumin as topical agents in cancer therapy' by Kuttan et al.
In this study patient enrolled had an external cancerous lesion which was ulcerated and did not respond to treatment. The cancers were of breast, skin, mouth, vulva, etc. such that topical application was possible in these cases.
Turmeric tincture (alcohol extract of turmeric) was mixed with petroleum jelly. The patients had to apply this topical preparation thrice a day on the cancer lesions.
90% of the cases experienced a reduction in itching. The lesions dried up in 70% of the cases. The Severe itching was reduced in most cases.
10% of the participants experienced a reduction in lesion size and pain.
These results were marvelous since the lesions were resistant to treatment and showed improvement with the application of the paste of curry spice.
What does this mean?
Topical turmeric paste applied thrice a day is found to reduce external cancerous lesions and its symptoms in case of cancer of breast, mouth, vulva, skin etc.
3. 

Topical curcumin works as a chemopreventive agent
Topical application of curcumin is proven to inhibit the progression of precancerous lesions into cancer.
An animal study demonstrates that topical application of curcumin can prevent skin tumor initiation or growth caused by exposure to carcinogens (chemicals that cause cancer).
It reduces the inflammation and swelling occurring in skin cancer.
Among the curcuminoids, curcumin and demethoxycurcumin are found to be potent in terms of preventing skin tumors.
Topical application of curcumin prevents activation of oncogenes (cancer-causing genes) in skin tumor.   In addition to preventing the formation of skin tumor, topical curcumin at low doses inhibits cancer induced DNA damage.
Topical curcumin paste is proven to be effective in suppressing the growth of head and neck cancer.  An animal study demonstrates that topical application of curcumin and boswellic acid can prevent tumor formation in the mouth occurring as a result of exposure to carcinogens (cancer-causing agents).
Oral submucos fibrosis is a condition characterized by inflammation and growth of excessive fibrous tissue in the mouth. This prevents the individual from opening the mouth and affects chewing, swallowing and related functions.
Rarely but it is quite possible that oral submucos fibrosis may progress into precancerous lesions. Research shows that curcumin lozenges can reduce the severity of oral submucosal fibrosis better than conventional treatment.
Human Papilloma Virus infection can serve as a risk factor for developing cervical cancer.
Application of a polyherbal vaginal cream containing curcumin as well as curcumin capsules is found to be effective in clearing HPV infection and thus reducing the risk of developing cervical cancer.
What does this mean?
Topical application of turmeric is proven to prevent progression of skin tumors, oral cancers, head and neck cancer and HPV infection in to malignant state.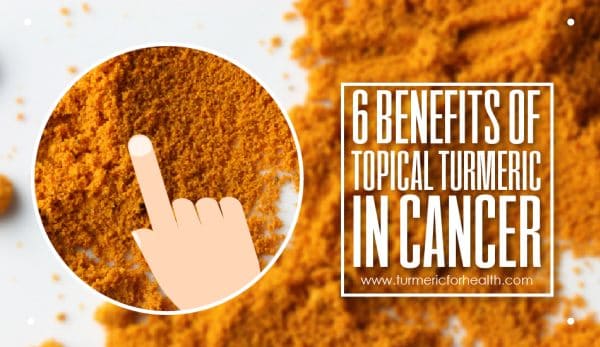 4. 

Topical curcumin is equivalent to dietary curcumin in skin cancer
Phillips et. al conducted an animal study wherein oral or topical curcumin was administered to animals and its effect against UV radiation-induced skin cancer was observed.
Topical and oral curcumin delayed the development of tumors and the number of tumors was less in the curcumin-treated group compared to the control group.
Also, an average number of tumors per mouse was the same in both oral and topical curcumin group suggesting that both ways are equipotent in preventing skin cancer.
Sonavane et al conducted an animal study wherein they compared the effect of oral curcumin and topical curcumin on skin cancer.  Around 15 mg of curcumin was given orally or mixed with a vanishing cream paste and applied topically.
The paste was formulated in a way that it would penetrate the human skin, but the since the study was on mice, the cream easily penetrated their skin and the cancer cells were efficiently exposed to curcumin.
Both oral and topical curcumin was effective in reducing tumor growth and proliferation. However, the anti-inflammatory effects of curcumin were more pronounced in the topically treated group compared to the oral group.
Researchers concluded that topical curcumin is as efficacious as oral curcumin when it comes to chemoprevention of skin cancer.
What does this mean?
Research shows that topical curcumin is as effective as oral curcumin in preventing skin cancer.
5. 

It helps with radiotherapy-induced skin inflammation
Around 50% of the cancer cases are prescribed radiotherapy during the course of the treatment. One of the most common side effects of radiation therapy is dermatitis or skin inflammation.
The severity of radiation dermatitis ranges from moderate to severe and can involve dryness, itching, burning sensation, reddening of the skin and moist peeling off.
A study was conducted wherein individuals receiving radiation therapy for head and neck cancer were given either proprietary baby oil or cream containing turmeric and sandalwood oil for topical application.
The topical cream and oil were applied (5 times a day) 1 day prior to the treatment, throughout the treatment and 2 weeks post completion of radiation therapy.
Radiation dermatitis increased in both groups around week 7; however, it was observed that there was a gradual reduction in radiation dermatitis during the treatment in the group using turmeric topically and this reduction was persistent in follow up phase.
What does this mean?
Radiation dermatitis is inflammation of the skin occurring as a side effect of radiation therapy for cancer. Topical application of turmeric reduces the severity of radiation dermatitis thereby increasing the tolerance of patients to radiation therapy.
6.

It can reduce oral inflammation caused by cancer treatment
The mouth and the upper respiratory tract or throat is lined with a delicate lining of cells called mucosal lining.
A number of bacteria reside in this region and they are good bacteria which serve as a defense against pathogens that enter via the mouth.
Cancer chemotherapy and radiation therapy can cause DNA damage which leads to activation of a protein called nuclear factor- kappaB in this oral mucosal lining.
Nuclear factor-kappa B controls the inflammatory process and its activation leads to the production of inflammatory chemicals which disturbs the bacterial population in the throat.
This disturbance leads to bacterial infection and inflammation of the oral lining- cancer induced oral mucositis.
A study was conducted wherein the effect of the application of topical curcumin on cells that mimicked cancer induced oral mucositis was studied.
It was observed that curcumin killed bacteria at high concentrations and suppressed inflammation by inhibiting the activity of inflammatory chemical-interleukin-8.
Researchers concluded that curcumin as a topical agent can have an anti-bacterial effect and can prevent inflammation in the upper respiratory tract, which occurs in cancer patients due to cancer therapy.
Topical application of turmeric powder and honey is found to reduce oral mucositis (inflammation of the mouth )in patients undergoing cancer therapy.
Curcumin, when applied as daily mouthwashes, can be helpful in reducing bacterial infection and suppressing inflammation in oral mucositis.
Curcumin mouthwash is found to be effective in reducing the severity of oral mucositis in pediatric patients.  Similar results have been proven in adult cancer patients.
Curcumin mouthrinse is found to be as effective as chlorhexidine mouthwash in terms of wound healing and reduction of inflammation in case cancer therapy-induced oral mucositis.
What does this mean?
Topical application of curcumin or even curcumin mouthwash is beneficial in treatment of oral mucositis- inflammation of the mouth that can occur as a side effect of cancer treatment.
How to use turmeric topically for cancer?
The studies mentioned above have made a paste of curcumin in petroleum jelly or vanishing cream as a base and this formulation is applied 3-5 times a day.
I would suggest applying a paste of good organic turmeric powder with healthy fats.
Olive and coconut oil are proven to be effective in promoting the penetration of therapeutic agents in the skin.
Additionally, they also have anti-carcinogenic (protection from cancer-causing agents) and anti-mutagenic (prevention of mutation or alteration of genes) properties.
Depending upon the size of the lesion take about a quarter to ½ teaspoon of turmeric powder and mix it with less than 1 tablespoon of coconut or olive oil to form a paste.
Apply this daily 3-5 times.
I have also heard of individuals using curcumin from capsules as a paste, but organic turmeric powder will give benefits of other therapeutic components of turmeric.
If you are worried about turmeric stains then read 14 Ways To Take Care Of Turmeric Stains. For oral dosage of curcumin for cancer read Turmeric/Curcumin Dosage For Cancer.
If you need help choosing good quality turmeric powder or supplements, then check this link.
Precautions
It is advisable to do a patch test before applying turmeric paste to rule out allergic reactions. In case the lesion shows excessive bleeding please discontinue turmeric application.
Mild itching and irritation are possible upon first application of turmeric paste and it should disappear eventually. In case it persists or worsens discontinue turmeric application.
Oral turmeric supplements should be avoided in case of:
Pregnancy and lactation
Prior to surgery
If consuming anti-diabetic medications, blood thinning drugs, and some antidepressants
If suffering from gallbladder issues
However, turmeric in the diet is absolutely safe and should not pose any side effects.
Conclusion
Topical application of turmeric can serve as an add-on therapy for cancer treatment. It can help with the symptoms of external cancerous lesions like itching, offensive odor, and ulceration.
Topical turmeric can also regress precancerous lesions and reduce cancer therapy-induced inflammation of skin and mouth.
It sounds pretty unbelievable that application of curry spice can help in cancer. But it's been scientifically proven and it is time to put it into practice.