Quick Answer: Can You Safely Take Turmeric / Curcumin with Xarelto?
Turmeric is well known for its blood-thinning properties. Xarelto is a blood-thinning drug used to prevent the formation of blood clots. Therefore, it has been suggested that taking turmeric with Xarelto may increase the therapeutic activity. However, taking Xarelto with high amounts of turmeric is not recommended as turmeric may aggravate the drug's blood-thinning effects. Therefore, it is best to consult a doctor before taking turmeric with Xarelto.
Dietary consumption of turmeric is safe with Xarelto, but turmeric in high doses is not recommended along with regular Xarelto therapy.
Since turmeric has anti-platelet activity, large amounts of turmeric or turmeric/curcumin supplements should be avoided as it may aggravate the blood thinning effects of the drug.
It is important that you please consult a health practitioner before taking turmeric/curcumin supplements or turmeric powder in large quantities along with Xarelto.
Can you Take Turmeric with Xarelto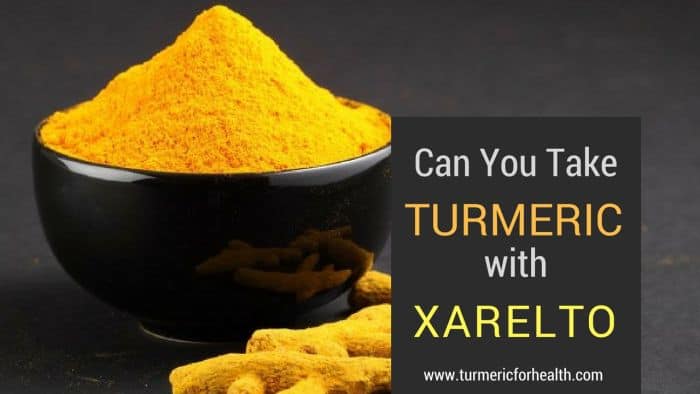 As per available studies, turmeric consumption with Xarelto may be of concern in two ways.
1. It may elevate the blood-thinning effect of the drug
Xarelto or rivaroxaban, is a blood-thinning medicine used to prevent the coagulation of blood and the formation of blood clots. It is commonly used for treating thrombosis and related disorders.
It works by inhibiting the enzyme Factor Xa responsible for bringing about coagulation. [1] [2]
Turmeric and its active compound curcumin are known for their cardioprotective properties.
Read: Turmeric benefits to Heart
They are strong anticoagulants, due to which they have proved to be beneficial in treating disorders like deep vein thrombosis, stroke, and arterial fibrillation. [3] [4] [5]
Studies have shown that turmeric has the same mechanism of action as Xarelto.
Turmeric also carries out its blood-thinning effects by suppressing the same enzyme Factor Xa. [6][7]
As both Xarelto and turmeric have similar action, taking them together may increase the therapeutic activity.
Studies have shown the possible interaction of turmeric with anti-coagulants and antiplatelet agents. This interaction is synergistic in nature, which means that combined, they have an increased effect. [8]
However, this may also aggravate the side effects of Xarelto in some individuals which include severe internal bleeding or bleeding in the gastrointestinal tract.
If one is planning on taking turmeric or curcumin supplements for a particular health condition, together with Xarelto, it is recommended to consult a healthcare practitioner.
This will help in preventing any unwanted effects on health.
2. Turmeric may affect metabolism of Xarelto in the body
Turmeric has low bioavailability due to which it is often used with black pepper in the golden paste.
Read: How to increase absorption of turmeric?
The active component of black pepper, piperine is a bioenhancer and increases absorption of turmeric, curcumin and also some drugs.[9] [10]
Thus, it is essential to consider the effect of piperine, turmeric, and curcumin on drug pharmacokinetics.
Preliminary studies have hinted at the fact that Curcumin from turmeric and Piperine in black pepper can affect the process of drug metabolism and absorption.
Curcumin and piperine inhibit enzyme Cytochrome P450 3A4 and P-glycoprotein, both of which play a vital role in drug metabolism. [11] [12] [13]
Moreover, the drug Xarelto is a substrate of CYP3A4 and P-glycoprotein and is metabolised by these enzymes. Hence, according to scientists, it should not be used concomitantly with substances that inhibit both these proteins.[14]
Based on these studies, it can be said that turmeric may lower drug metabolism which further reduces the therapeutic action.
It also makes the drug remain in the body for an extended period which may result in increased side effects, if any.
However, these are laboratory results, and there is very low possibility of occurrence of the same effect in humans.
Also, further research and more extensive trials are required to ascertain these facts in human patients.[15]
Bottomline
It is clear that problems when taking turmeric alongside Xarelto may happen when either supplements are taken or a large amount of powder.
Dietary intake (as a spice) of turmeric is safe with the drug as it contains curcumin in low amounts, which is unlikely to have significant effects.
While taking turmeric it is advised to maintain a gap of 3-4 hours to avoid possible interaction.
Taking the drug 3-4 hours before taking turmeric will ensure that most of the drug is already metabolised before the inhibitory action of turmeric takes place.
Despite providing these precautionary measures, we strongly advise consulting a suitable health practitioner before taking turmeric/curcumin supplements with any blood-thinning medicines including Xarelto.
If you are blood-thinning medications and have taken turmeric along with it, do share your feedback to help others.
Frequently Asked Questions
Does turmeric have anticoagulant properties?
A study showed that curcumin and its derivative, bisdemethoxycurcumin (BDMC), possessed antithrombotic activities. It prolonged activated partial thromboplastin time and prothrombin time. It inhibited thrombin and FXa activities. Therefore, the daily consumption of turmeric may help maintain anticoagulant status.
Can turmeric be had with anticoagulant/ antiplatelet drugs?
Turmeric may slow down blood clotting. Anticoagulant drugs, including aspirin, clopidogrel, diclofenac, are medications that may slow blood clotting. Therefore taking turmeric along with antiplatelets may have an added effect increasing the chances of bruising and bleeding.
Name some medicines and supplements that affect rivaroxaban or Xarelto?
Few medicines and supplements may affect rivaroxaban. It includes any anticoagulants, drugs to treat fungal or bacterial infections, drugs to treat HIV, drugs to treat epilepsy and NSAIDs. It is recommended not to take St John's wort (herbal remedy for depression), turmeric while taking Xarelto.