YES, turmeric in the diet is perfectly safe to consume along with diabetes medications. However, turmeric supplements should be taken with care and at a gap of about 3-4 hours with diabetes medicines.
Curcumin, an active ingredient of turmeric assists in treatment, management, and prevention of diabetes.
Studies have shown that curcumin, when taken with diabetes drugs has no adverse interactions. On the contrary, it gives better results and can inhibit the side effects of these medicines.
Care should be taken when taking turmeric with the medicines, as high dosage could lower blood glucose and result in hypoglycemia.
Let us take a look at what scientists have to say about these effects.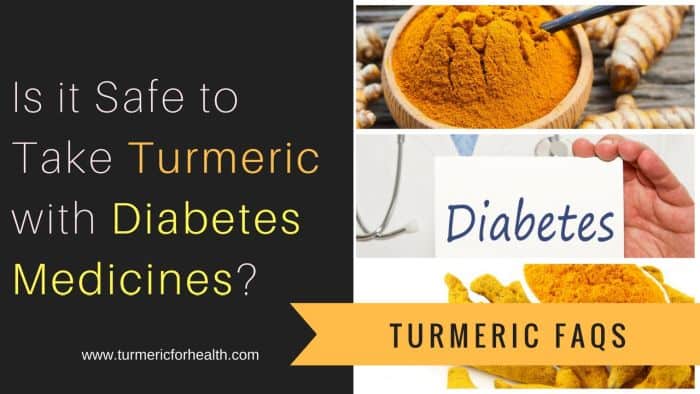 Turmeric is good for Diabetes
Curcumin found in turmeric can lower blood glucose levels and insulin resistance. It can also enhance the functioning of pancreatic cells which produce insulin. [1] [2]
The working mechanism of turmeric and anti-diabetic medicines is quite similar.
Curcuminoids and metformin, both target the AMP-activated protein kinase pathway which results in lowered blood glucose levels. [3] [4]
Curcumin improves insulin sensitivity and lipid parameters by inhibiting Tumor Necrosis Factor-alpha (TNF-α) and reducing plasma free fatty acids. The drug rosiglitazone works in the same manner  [5]
It assists in the regulation of lipid levels, blood pressure, and body weight, which decreases the risk of developing diabetes. [6] [7] [8]
Turmeric is also beneficial in the prevention and treatment of several other health complications which occur as a result of diabetes such as neuropathic pain, nephropathy, retinopathy, diabetic wounds, non-alcoholic fatty liver disease, and cardiovascular ailments. [9] [10] [11] [12] [13]
Turmeric does not Interact with Diabetes Drugs
Studies have shown that turmeric or curcumin, when taken with some frequently prescribed anti-diabetic medicines do not interfere with the working of the drug.
In one such study, when curcumin capsules were given along with glyburide (a drug used for lowering lipid levels in diabetes) were given to diabetic patients, positive results were obtained with improved lipid and sugar profiles. No case of hypoglycemia (low blood glucose) was detected. [14]
The interaction of curcumin with the action of drugs may depend on the dosage. As seen in another study, curcumin at low doses did not affect the activity of the drug gliclazide (used for the treatment of type 2 diabetes). However, in high doses, it leads to a higher reduction in glucose levels. [15]
Read: Can Turmeric Lower my Blood Sugar
Therefore, it is advised to limit the intake of supplemental doses of turmeric and curcumin with diabetes medications to reduce the risk of hypoglycemia.
Turmeric is taken with black pepper to improve its bioavailability. Black pepper contains piperine which is a bioenhancer and is known to interfere with drug metabolism. [16] [17]
Therefore, it is recommended to maintain a gap of 3-4 hours between taking golden paste and diabetes drugs.
Turmeric along with Drugs Gives Better Results in Diabetes
Scientists consider turmeric as an effective adjuvant in anti-diabetic therapy. When metformin, a widely used anti-diabetic drug was given along with turmeric to diabetic patients, it resulted in decreased glucose and lipid levels and an enhanced antioxidant status. [18]
Similarly, curcumin capsules given with another diabetes drug glyburide resulted in better glycemic control. [19]
Curcumin along with gliclazide medicine can also have a more profound analgesic effect and protect against the development of diabetic neuropathy. [20]
Piperine, a bioenhancer which increases the absorption of turmeric can improve the therapeutic effect of the drug metformin. [21]
Thus, intake of turmeric or golden paste can help one lower the doses of anti-diabetic drugs and their side effects.
Turmeric may alleviate the side effects of metformin
Metformin, widely used the drug for treatment of diabetes can have adverse effects such as oxidative stress, mitochondrial damage and cell injury. It also increases one's risk of developing Alzheimer's disease.
Anti-oxidants like curcumin can reverse these side effects of metformin and protect the body from damage and disorders. [22]
If you want to know more about benefits of turmeric for diabetes, here is the comprehensive article on Turmeric and Diabetes 
How to Take Turmeric?
There are two popular ways one can take turmeric – one in powder form and another in supplement form. One can tale turmeric in raw form too but it is difficult to get raw turmeric and also storage is also an issue. But, as such raw turmeric can prove to be better than powder, read for more details.
Using powder turmeric
One of the best ways to use powdered turmeric is to make the golden paste (recipe here). Golden paste not only is easy to use but also takes care of the absorption issues associated with turmeric.
As far as buying turmeric is concerned, any good brand is fine. If you are confused, you can use our recommended list of brands here>
It is important that you do not take too much of turmeric (though it's not going to cause any serious issue), start with 1/2 tsp and then increase to 1-1.5 tsp . Here is more detailed article on dosage>
Turmeric supplements
If you do not want to take turmeric powder because of its taste etc. another option is taking turmeric/curcumin supplements. There are several types of supplements available in the market. Here is a detailed list of types of supplements and brands>
Be careful with the dosage when you take the supplements.
If you have tried turmeric or turmeric supplements with diabetes medication, share your feedback on how you took it and how it went. It will be a great help for our readers!