YES, turmeric can lower blood sugar levels in case of hyperglycemia.
Studies have shown that it decreases blood sugar only in diabetes patients but not in healthy individuals.
Turmeric and its active ingredient curcumin assist in maintaining glucose concentrations within optimum levels and thus, have been identified as potential anti-diabetic agents which could aid in the treatment and prevention of diabetes mellitus or type 2 diabetes.
Also, it is safe to take turmeric in the diet by non-diabetic individuals and by diabetic persons on medications, without the risk of hypoglycemia.
Read : Most comprehensive list of turmeric benefits>
Let us study these effects in detail with scientific evidence.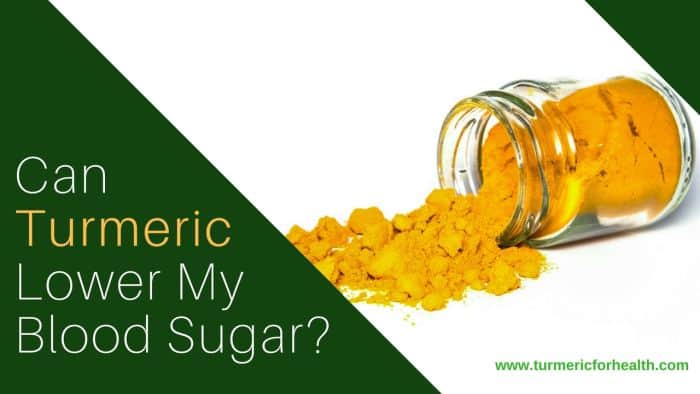 Turmeric lowers Sugar Levels in Diabetes
Numerous studies have reported the hypoglycemic (sugar lowering) effect of turmeric. [1] [2]
Turmeric targets various organs, cells, genes, enzymes and processes and regulates glucose levels in multiple ways:
All these effects result in an improved glucose profile and make turmeric a potential candidate for therapeutic outcomes in type 2 diabetes. [14]
Turmeric has low bioavailability and thus is consumed with black pepper. Piperine in black pepper is known to enhance turmeric absorption. [15] Turmeric demonstrates much better glucose lowering effects when co-administered with piperine. [16]
Turmeric does not lower blood sugar in non-diabetics or cause hypoglycemia
Studies have shown that the blood sugar lowering effects of turmeric are seen only in individuals with dysglycemia or abnormal glucose levels. [17]
Turmeric does not lower glucose levels in non-diabetic individuals or cause hypoglycemia in healthy individuals. [18] [19]
Arizona State University conducted a study to determine the effects of turmeric in healthy non-diabetic individuals and found no significant changes in blood glucose and insulin levels after three weeks of taking 500mg turmeric powder daily. [20]
In another study, it was found that taking about 3g turmeric does not alter blood glucose levels in healthy and non-diabetic individuals, who may be consuming it for other health benefits. [21]
Turmeric in the diet is also unlikely to lower blood sugar levels beyond reasonable limits in individuals taking diabetes medicines.
The University of Maryland Medical Center states that turmeric in high doses taken with diabetes medications may have an additive effect and increase the risk of hypoglycemia. [22]
However, a study conducted by Neerati et. Al in 2014 found that curcumin taken with a commonly used diabetic drug, glyburide gave much better glucose lowering effects without causing hypoglycemia. [23]
This has to be ascertained by conducting more studies.
What should you do?
One should be cautious while taking supplemental doses of turmeric and diabetes medication; please consult a health practitioner and maintain a 3-4 hour gap between taking the two.
Nonetheless, consumption of turmeric in the diet regularly maintains optimum glucose levels and prevents the occurrence of metabolic disorders and related diseases in both older and younger individuals. [24]
How to include Turmeric / Curcumin in your Life?
Here are some quick methods to include turmeric (powder) in your diet –
Tumeric / Golden Paste – One of the best ways to take turmeric as it also has fats and black pepper to take care of the absorption issue associated with turmeric. Recipe here>
Turmeric milk – a great way to include turmeric if you are a milk lover. Recipe here>
You can but turmeric from your local store or any other reliable brand. If you need a helping hand in deciding, here is a quick list of recommended brands>
If you plan to take turmeric supplements/curcumin supplements, here is a quick article which lists the best type of supplements available on the market today and some good brands.