Many of our readers have asked us the difference between Curcumin and C3 complex.
Before going ahead with the answer, if you are not aware of the context, here is little background.
If you browse through website like amazon for turmeric / curcumin supplements you will see several products mentioning that they have "c3 complex" in them. While others just say turmeric extract or curcumin.
Obviously, this causes confusion – what is it and is it better to choose it over say just curcumin?
Here is the answer.
What is C3 complex
One of the most exciting constituents of turmeric (Curcuma Longa) are curcuminoids.
They constitute around 2-6% of Turmeric. The percentage varies a lot based on factors such as where it is grown, climate, etc.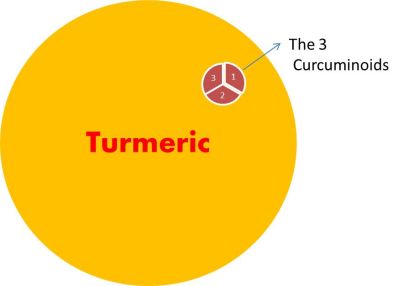 The three curcuminoids present (in terms of weight) are:
Curcumin (around 50-60%) – Most of the research is done on curcumin in terms of health benefits provided by turmeric.
Demethoxycurcumin (around 20-25%)
Bis- Demethoxycurcumin (around 20-25%)
So when a supplement brand says they are selling C3 complex they are referring to a combination of the above 3 in some proportion and maybe along with other ingredients such as bioperene.
In most of the case there will be no indication of the % of curcumin in the complex.
Several firms seem to be selling patented C3 complex too. We have to dig in to find out what exactly in patented – the process or the proportion mix.
Curcumin supplements? – What about them?
First of all there is lots of misinformation in the market.
Most supplements marketed today just buy white label products and then just brand them on their own.
This means – many have no idea what they are selling. For example many say they selling – "Turmeric Curcumin". But there is nothing like that.
When you look at ingredient list you find – they are selling turmeric powder. This is same like selling a lemon by calling it as "Lemon Vitamin C" 🙂 Does not make sense right?
So, when a brand says they have curcumin, you never know they may actually be talking about curcuminoids and not specifically "curcumin". Talk to the supplier if you need to.
In the end..
So do not be confused by C3 complex it is just a combination of all the 3 curcuminoids present including curcumin.
If you are not sure you are getting curcumin or all 3 curcuminoids, do ask the brand about it.