One of the most common question readers ask me is "how to use turmeric in diet".
I do refer to them to recipe section and tell them that turmeric can be used with almost everything.
But it is difficult to believe for people who have just started using turmeric, that infact it can be used with almost anything. So here are some recipes to prove the same.
Realizing that cooking is not my forte, I searched for some great and innovative recipes online.
Here they are. I have kept their original names. The recipe owner's name are provided along with the recipe.
1.

Superfreak Breakfast Bars
Recipe courtesy – Lilly Banhidy (Facebook TUG member)
The moment I saw the pic of this one I was flattered.
We all know breakfast is the most important meal of a day and what better way than starting it with Turmeric!
Not only Turmeric, this recipe has some other awesome ingredients too.
Here is what you need:
10 – 12 Medjool dates (seeds removed) – rich in several vitamins, minerals, phytonutrients and fiber.
Goji berries – Great anti-oxidant!
Nuts of your choice, I prefer walnuts
Golden paste – One of the best ways to take turmeric, if you do not know how to make it here is the recipe
Raw Cacao – great anti-oxidant
Coconut flakes and Coconut oil (organic and virgin is best) – increases energy, anti-bacterial, anti-fungal, good for hair, heart and many more.
The recipe is very simple.
Put dates, golden paste, cacao, oil in blender and make a paste.
In that paste mix the nuts, coconut flakes, goji berries etc.
Mix thoroughly to ensure somewhat even distribution.
Squash into a silicone mold. Refrigerate. Cut up into desired squares!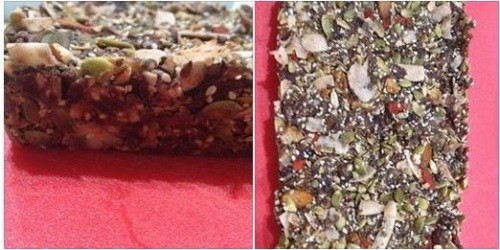 2.

Yeehah Smoothie (Interesting name :))
Recipe courtesy – Dennis Richardson (Facebook TUG member)
Most of us think that turmeric may not get well in smoothies, but that's far from truth. In fact, it tastes cool.
Here is an interesting smoothie recipe. This smoothie, with all the basic ingredients and fruit, is just delicious.
In your bullet or any other blender (large mug) put 3 ice cubes, 150ml coconut water, tspn cinnamon, tspn flax seed, tspn turmeric, 1/2 tspn cracked black pepper.
Blend for a bit till the mixture looks smooth.
Then add fruits of your choice to fill the mug. In the current recipe
1/2 banana
Slice of watermelon flesh only
Inside of one passion fruit
1/2 pear and half an orange (flesh only),
Lastly a cheek of mango,
Add a tablespoon of coconut oil, whizz it up and pour over some ice in a long glass.
Add more turmeric if you like. Add other fruits if you like.



3.

Turmeric Chocolates (yes, you read it right!)
Recipe courtesy – Zoe Pezzack (Facebook TUG member)
I was surprised to read it and I am sure you would also have been 🙂 
Here is what you need:
Coconut oil (virgin organic coconut oil is best)
100% raw organic cacao
Organic raw honey (manuka honey is best, if available)
Organic vanilla
Turmeric
Ginger
Fresh ground black pepper (yes, in chocolate!)
A simple process to make chocolate at home can be found here — https://www.youtube.com/watch?v=fEEcOiINKCc
Pop a piece of fruit on top if the moment feels right! BOOM!



4.

Turmeric Idli
Idli is a very popular Indian dish. It is very healthy and light and makes a great breakfast or any other light meal. If you have not tried, it do that today. It is easy to prepare too.
I will not describe the making of idli here as there are sever websites doing that already. I found this video great — https://www.youtube.com/watch?v=ViOUJvYmuIE
My wife added a twist to the usual white idli by using turmeric.
Since that time, we have idli every Sunday in breakfast with coconut chutney.
Steps:
Cut fresh idlies into small pieces (approx. 1 cm length). They should not be too small or too big
Put some oil (olive / mustard / coconut ) in a pan and heat a bit
Put the idlies and sprinkle 1-2 tsp of turmeric powder, some salt (based on taste), red chilli powder (based on taste)
Also add 1 tsp brown mustard seeds – they add awesome taste to the idlies
Mix the idlies and till you are sure the spices have uniformly mixed on the idlies. This can take 1-2 min based on the quality. You will love the color!
You are done. Serve hot with coriander or coconut chutney.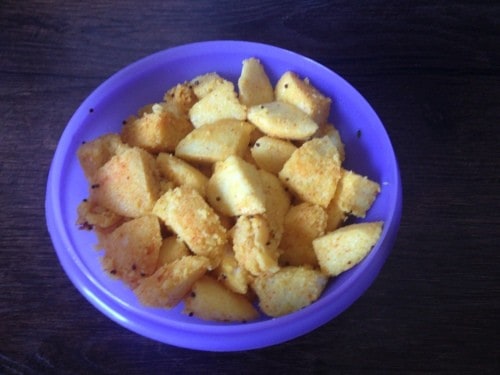 These were the recipes, what do you think about them?
Try them today and tell me how it went!
Please send me with details and a pic. I will publish them with due credit for benefit of readers! Please do it today!!