YES, it is perfectly safe to consume turmeric by persons who have undergone cholecystectomy or surgery for gallbladder removal.
Research has shown that curcumin, an active ingredient of turmeric can help in treating pain and fatigue experienced by persons who have undergone cholecystectomy.
It may also assist one in delaying or preventing gallbladder removal surgery by treating several gallbladder disorders and improving liver functioning.
However, the consumption of turmeric is not advised for people who already have gallstones.
Let us know more about these benefits and understand the scientific evidence behind the effect of turmeric on gallstones and gallbladder.
Turmeric and Gallbladder Removal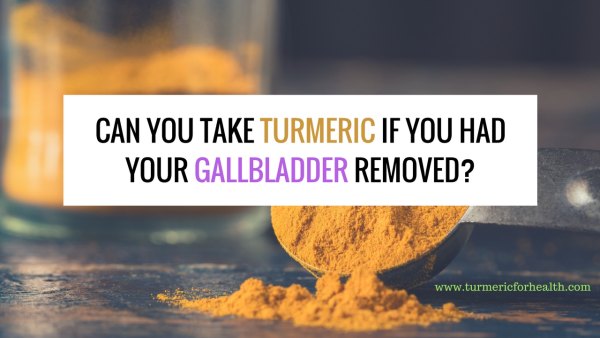 1. Turmeric alleviates pain and fatigue after the gallbladder removal surgery
Several patients report pain and fatigue after surgery for gallbladder removal.
Curcumin has anti-inflammatory and anti-oxidant properties, due to which it is often used for the treatment of pain and wound healing.
Agarwal et al. conducted a study in 2011 on 50 patients who had undergone cholecystectomy, and it was reported that curcumin in turmeric had an analgesic effect and was beneficial in alleviating pain and fatigue.
Thus, turmeric consumed by patients after surgery for gallbladder removal is not only safe but also advantageous for post-operative pain and fatigue.
Curcumin can help to recover from cholecystitis complications after gallbladder removal
In cholecystitis (inflammation of the gallbladder) patients, the serum levels of bile acids are found to be higher.
After the gallbladder removal, patients who previously had cholecystitis have an increased risk of developing infections. Curcumin can help in such cases.
In studies, Danning tablet, a Chinese medicine preparation consisting of curcumin as a vital ingredient was given to patients who have undergone cholecystectomy. Intake of the tablet contributed to a significant decrease in the levels of serum bile acids and better health parameters related to healthy individuals.
It also assisted in reducing the inflammatory responses in patients and prevented obstruction in bile flow (cholestasis). This ensured proper bile flow from the liver to the intestines in the absence of a gallbladder.
2. Turmeric is beneficial in several gallbladder disorders
Turmeric can prevent and treat many gallbladder disorders, which could help a person delay or avoid gallbladder removal surgery.
Gallstones, inflammation of the gallbladder, gallbladder cancer are some of the main reasons which could lead to gallbladder removal surgery.
Curcumin can lower cholesterol levels in bile and reduce the incidence of gallstone formation by about 26%.
It can also treat inflammation of the gallbladder and protect one from developing cholecystitis.
Moreover, curcumin inhibits the proliferation of cancerous cells in the gallbladder and can be used in the treatment of gallbladder cancer
Additionally, it induces contractions in the gallbladder which increases the flow of bile. It also ensures the proper flow of bile from the liver and biliary tract, which could prevent conditions like cholestasis, biliary dyskinesia, and liver injury.
Please refer to the detailed article on Turmeric Benefits to Gallbladder
How to take turmeric?
If you plan to take turmeric, there are so many options. The only important thing to keep in mind is to include black pepper or fats (oils) or both while taking it. The reason is that turmeric is poorly absorbed in the body and this two help.
Read: How to Improve Turmeric's Absorption
One of the best ways to include turmeric is in the form of powder. The powder is easy to get, easy to store and use. You can make the golden paste or can include it in curries etc.
You can also make the golden paste using raw turmeric, here is how>
While it is very had to overdose turmeric powder (Read: Can you overdose turmeric powder) but it is better to start slow and increase slowly. Here are some tips on turmeric dosage.
It is also important to take care of precautions while taking turmeric supplements or powder in large quantities. Here is a detailed article on turmeric precautions>
Turmeric is known to help in a large number of disorders (Read: 100 Benefits of Turmeric) and also helpful in just keeping the body healthy! So, start including in your diet today!
Do let us know in case you have any queries or share your experience of turmeric with us!