Quick Review: Thorne Research Meriva 500-SF Curcumin Review
Meriva-SF is a sustained release curcumin formula with greater absorption using a unique patented phytosome technology from a respected supplement manufacturer. It unleashes the complete anti-oxidant and anti-inflammatory effects of curcumin without the rapid metabolism and elimination. A perfect clinically researched supplement for general wellness and pain relief with a 100% satisfaction guarantee.
About the Company
Thorne Research is committed to providing the highest quality supplements from extensive clinical research and medical literature with the cleanest manufacturing process to lead a healthier life.
Thorne Research guarantees that most of their nutritional supplements are being tested in clinical trials worldwide, including Mayo Clinic, University of Minnesota.
It promises to use non-GMO ingredients from suppliers who emphasize quality, science, and responsibility.
The products come with four rounds of testing, including raw materials & components, in-process testing, finished product testing, and stability testing with sustainable thinking.
Thorne Research has cGMP certification for complying with the good manufacturing practice, NSF, which gives athletes confidence, and Australia's TGA (Therapeutic Goods Administration) GMP certificates.
Thorne Research products come with a 60-day money-back guarantee for a full refund or a store credit, which allows the customer to make a risk-free purchase.
The customer service team can be reached at 1-800-228-1966, Mon-Fri 9 AM-7 PM. They also have an online query form.
The contact address of Thorne Research is
620 Omni Industrial Boulevard
Summerville South Carolina 29486
We are satisfied with the brand's transparency in providing the contact details, phone number, certifications, manufacturing practices, and shipping policies.
Team Behind Throne Research
Thorne Research was founded in Seattle, Washington, in 1984 by Al Czap and then relocated to Sandpoint, Idaho, in 1990.
It was started to earn nutritional supplements the respect they deserve and offer products healthcare practitioners, and their patients could trust.
It again relocated to South Carolina in 2018.
Paul Jackson became CEO in 2010 after Thorne Research merged with Diversified Natural Products.
Today, it has grown with science to selling nutritional supplements, diagnostic health, and wellness tests.
We appreciate Thorne Research's efforts in mentioning their history, inspiration, and developments on their websites.
Key Specification of Meriva-SF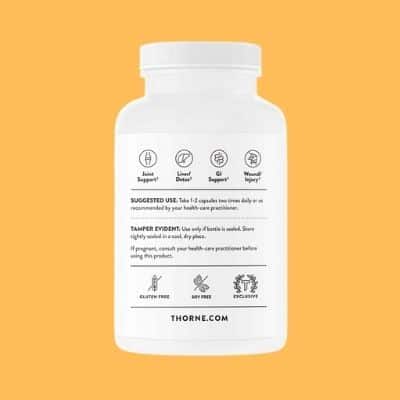 Thorne Research offers 120 counts Meriva-Soy Free.
It is recommended to take 1-2 capsules every day or as directed by the physician.
These capsules are gluten-free, dairy-free, and soy-free without natural colors and favors.
Meriva-SF is the sustained-release, well-absorbed curcumin formula capsules with 250mg of curcumin phytosome complex per capsule.
It makes Indena's proprietary phytosome technology with 29 times greater absorption than ordinary curcumin.
Meriva-SF helps maintain a healthy inflammatory response throughout the body and provides relief from occasional aches, stiffness of joints, and muscle soreness.
It is suitable for joint support, liver detoxification, and GI support.
Meriva-SF can be purchased directly from their website and several online platforms, including Amazon, iHerbs.
Key ingredients and supplemental facts of Meriva-SF
| | |
| --- | --- |
| Key Ingredients | Amount per servings |
| Curcumin Phytosome (Curcuma longa extract/ Phospholipid complex from Sunflower) | 500 mg |
Thorne Research also offers Meriva 500-SF capsules (120 counts), providing a higher concentration, 500mg of curcumin phytosome per capsule.
USPs of Meriva-SF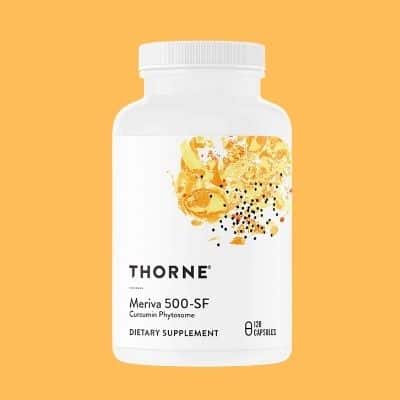 Thorne Research is compliant with current good manufacturing practices, NSF, and Therapeutic Goods Administration (TGA) certifications, ensuring excellence in manufacturing practices.
For Meriva, Thorne Research uses a process that requires 16 hours of cleaning for every 4 hours of production to make it free from fillers.
Meriva-SF is made of a unique formula using patented phytosome technology (Indena SpA) where curcumin extract (three curcuminoids) is dispersed to a phospholipid matrix, obtained from the sunflower oil, which is readily absorbed.
Meriva-SF causes a higher plasma concentration of curcumin from a smaller amount than with ordinary curcumin and therefore is readily absorbed.
So, more curcumin is reaching the body's cells resulting in a long-lasting beneficial effect.
A clinical study showed that Meriva-SF was effective in reducing pain scores in patients with osteoarthritis.
Another clinical study also showed pain-relieving properties of Meriva.
We are satisfied with the certifications and efforts of Thorne Research in maintaining the products' quality.
Different clinical studies support the safety and potency of Meriva-SF.
User Review Analysis of Meriva-SF
Many users have posted positive reviews about the product on their website.
There are over 800 reviews with a rating of 4.7 stars on 5 in Amazon and iHerb.
What Customers Liked?
Works great for soreness and stiffness
The customers have mentioned that it worked well for joint pain, stiffness, muscle soreness, and reduced swelling after an injury. Their doctors have recommended them to take it after researching.
Time-released formula
As Meriva-SF makes use of the time-released formula, it works for a longer time. It is an excellent natural remedy.
No major side-effects
Many customers did not feel heartburn or significant side effects after taking Meriva-SF tablets, unlike other tablets.
What Can Be Improved?
A few customers felt that the price was a bit on the higher side than the standard turmeric supplements available on the market.
Our Recommendation
Are you looking for a curcumin supplement that is very effective with optimal absorption?
We recommend Thorne Research's Meriva-SF based on our TQF (Trust, Quality, and Customer Feedback) analysis.

With proprietary phytosome technology, long-lasting effects, excellent customer reviews, 60-days money-back guarantee from a trustworthy brand, Thorne Research's Meriva-SF is worth trying.
It is recommended to consult a physician before taking Meriva-SF if pregnant, nursing, or allergic to any ingredients.
Highly recommended
Check out the best price and Buy on Amazon>