Quick Review: Smarter Nutrition Curcumin
Smarter Nutrition Curcumin comprises the most active form of curcuminoids enriched with black cumin seed oil, a patented herbal complex, and other supportive herbal ingredients. Enhanced bioavailability, all-natural ingredients, a 60-day money-back guarantee, excellent customer feedback, and transparency make Smarter Nutrition Curcumin an ideal holistic product for overall wellness.
About the Company
Smarter Nutrition is a California based company formulating supplements by the top nutritionists and scientists in a GMP certified facility.
They care about having 100% natural standardized extracts with 25 years of manufacturing experience and Natural Product Association certification.
They guarantee they do no use any generic powders and cheap synthetics.
This shows their commitment to providing a quality product.
They have recently added 50$ million to the manufacturing facility to incorporate the industry's latest encapsulation and production technologies.
The contact information of Smarter Nutrition is
Smarter Nutrition, Inc.17870
Newhope St Ste 104 #480 Fountain
Valley, CA 92708
https://smarternutrition.com/
[email protected]
1-800-976-6118
They also have an online chat option for immediate assistance.
Smarter Nutrition's dedicated About us page on their website has all the information about their certifications and manufacturing process.
We are satisfied with the transparency of the company.
Team Behind Smarter Nutrition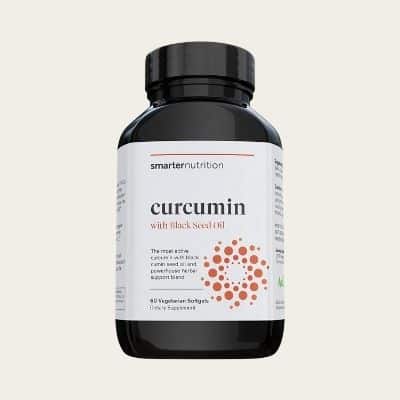 We could not find any information about their founders on their website.
But when we contacted them through chat, they promptly provided us with the information.
Bob Krause founded Smarter Nutrition along with a couple of his friends.
Their experience in the supplements industry observed that many companies manipulate customers and sell products with cheap and ineffective ingredients.
They wanted to provide natural supplements optimized for better bioavailability and sell them more smartly, which motivated them to start Smarter Nutrition.
We are satisfied with the information transparency of Smarter Nutrition.
The team was very prompt on the chat too.
Key Specifications of Smarter Curcumin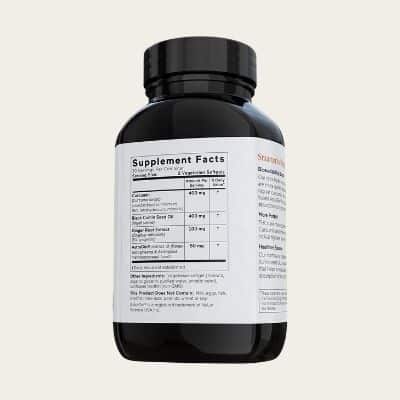 Smarter nutrition offers a pack of 60 vegetarian curcumin softgels with a serving size of two softgels per day or directed by the physician. It contains the curcumin C3 reduct, which offers the most potent curcumin form, called 95% tetra-hydro curcuminoids.
Since curcumin is fat-soluble, Smarter Nutrition Curcumin comes with Black seed oil and herbal support blend to enhance its bioavailability.
Smarter Curcumin softgels help support healthy joints, promote cardio health, improve digestion, help cognitive function, scavenge free radicals, support liver health, encourage glowing health, and maintain a healthy immune balance.
It also has AstraGin that helps with nutrient absorption, and ginger for extra digestive support.
Smarter Curcumin comes in different quantities, including one bottle($39.95), three bottles($89.95), and six bottles($149.75).
It has a 60-day money-back guarantee with free shipping for orders over $100, and their products can be purchased directly from their website, Facebook, Amazon, and Google shopping.
Key Ingredients and Supplemental Facts of Smarter Curcumin
| | |
| --- | --- |
| Key Ingredients | Amount per softgel |
| Curcumin C3 Reduct (Curcuma longa, standardized to minimum 95% tetrahydro curcuminoids) | 200 mg |
| Black cumin seed oil (Nigella sativa) | 200 mg |
| Ginger root extract (Zingiber officinale,5% gingerols) | 50 mg |
| AstraGin (Panax notoginseng and Astragalus membranaceus extract) | 25 mg |
USPs of Smarter Curcumin
Smarter Nutrition products have Natural Products Association (NPA) and UL (formerly known as Underwriters Laboratories, independent testing laboratory) certifications as they use plant-based and natural ingredients.
All of their supplements are manufactured in GMP certified facility.
The brand avoids chemical coatings, fillers, or synthetic binders and focuses on quality, safety, potency, value, and efficacy.
Smarter Curcumin has Curcumin C3 reduct, which is the trademark of Sabinsa. It starts with the most active form of curcumin (% 95 tetrahydro curcuminoids) found in the turmeric root.
The manufacturers claim that this active form of curcumin is pre-converted to most bioavailable forms to start working immediately in the body.
Smarter Curcumin is co-formulated with herbs and bio-enhancers so that the active ingredients can be easily absorbed and used by the body.
The AstraGin, a patented herbal complex, is a registered trademark of NuLiv Science and increases curcumin absorption by 92%.
We are satisfied with NPA and UL certifications, ensuring that the Smarter Curcumin is truly natural with minimal contamination risk.
They also maintain transparency with where they source their ingredients.
User Review Analysis of Smarter Curcumin
There are many success stories, testimonials, and feedback for Smarter Curcumin posted as a video on their official website.
There are over 4500 global reviews with a rating of 4.5 out of 5 stars on Amazon.
What Customers Liked?
Use of plant-based, natural ingredients
Smarter Curcumin is made of natural, plant-based standardized extracts so that the potency of the supplements remains the same from bottle to bottle. It is free of artificial ingredients, chemicals, and fillers. It is suitable for vegetarians.
Easy to consume
Smarter Curcumin softgels are easy to consume. It has many positive reviews for being easier on the stomach, relieving pain, and enhancing mental clarity.
Return policy and multiple discounts
The customers appreciate their 60-day money-back guarantee, which helps build trust in the quality of the brand. They also offer a 15 % discount for military personnel and other multiple discounts on their website.
What Can Be Improved?
Based on the reviews, this product has minimal cons.
A few customers felt that the price was high
A few customers complained of its availability only online and not in stores
Our Recommendation
We recommend Smarter Curcumin to our readers based on our TQF (Trust, Quality, and Customer Feedback) analysis.

With increased bioavailability, beneficial plant-based ingredients, money-back guarantee, exclusive discounts, Smarter Curcumin is worth trying for overall wellness.
Smarter Nutrition is transparent with their contact details, facilities, and the team, which is very reassuring.
As with any supplements, please consult a physician for advice before taking Smarter Curcumin, especially pregnant, or have any medical condition.
Highly Recommended!
Check out the best price and Buy on Amazon>