The following info has been collected directly from the company.
Certifications and testing mentioned by the company (wherever specified) have been verified by us using the relevant documents sent to use as proofs. Wherever certification is present, we have mentioned that info.
About the Company
Ownership, brand, address and contact details of the company are as follows:
Company's full name: Saz Products Limited
Brand name: Saz Products
Owner/director: Phil & Sarah (Saz)
Years in business: 2+ with turmeric business [as of 2017], 20+ years as a business overall
Product website: https://www.sazproducts.com/
Address: 1812 N Columbia Blvd, Suite C15-509823, Portland, Oregon, 97217
Country: United States
Customer care email: [email protected]

Customer care phone number: NA
The Story behind Saz Products – Founder Speaks
The founders are committed to bringing you the highest quality products available at the lowest prices.
Saz Products started in the supplement market with their star product Black Cohosh, a menopausal aid, and have expanded on this theme with the aim of offering good quality supplements that can help with personal health issues and increase longevity.
Why did they start with a menopausal aid? This was due to the personal experience of Sarah Saz. Having some serious issues with going through the menopause and not being aware of the help that's available through natural supplements and support groups. Suffering from endless hot flashes, night sweats, sleeplessness, violent mood swings and serious depression left her on the edge of suicide, feeling very alone and on anti-depressants.
She recalls" At times I would turn on my partner for no real reason and have no recollection of the event later which put enormous pressure on our relationship. Some of the things I said and did are not repeatable here and it must have seemed really weird for my partner as one minute I seemed normal then I'd bite his head off then talk normally again without knowing I'd done it, a real Jekyll and Hyde."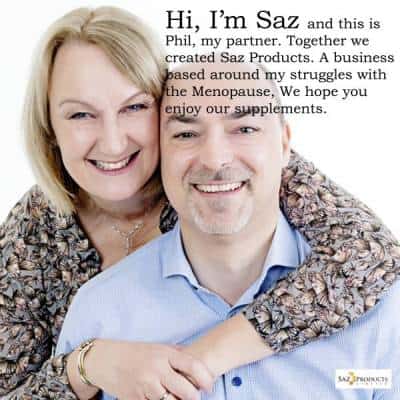 Saz Products Founders – Sarah and Phil
Saz mentions "Fortunately my two daughters were older teenagers and didn't really see the worst of it but were on the back end of some aggressive behavior. Fortunately, I was blessed with a patient and understanding partner who helped hold everything together. Without him, I think I may have lost the plot completely as well as my family."
After getting through the worst of this with my families support, Sarah decided to research the menopause and find out what help was available and if there are any natural products on the market that could help alleviate any of the symptoms.
Black Cohosh came up time and time again, so she tested what was available on the open market and found that most of the Black Cohosh available was of the Extract kind. These were a bit like taking a painkiller, it worked for a number of hours but then she had to take another to maintain the relief.
Black Cohosh Whole Root worked differently and was completely natural as no harmful chemicals were used in its production, unlike an extract that would use Isopropyl or Ethanol to extract the active elements. Although you didn't get the instant hit as with an extract, over time your body changed, became more balanced and 'normal' and you only needed one tablet a day to maintain that balance which was far more convenient.
Noticing that there were few products available that contained the whole root as opposed to the extract I decided to source, supply and market my own brand hence Saz Products.
Details of the product
The turmeric powder is sold as Turmeric Curcumin with Bioperine (capsule form)
Here are more details on their product. Every capsule (505 mg) has –
350 mg Turmeric
150 mg Turmeric Extract 95% curcuminoids
5 mg Bioperine to

enhance absorption of turmeric 



Certified Organic: Yes [document proof provided for verification]
Quantity per pack: 120 capsules
List of additives: 0%
Tested for lead, arsenic and other harmful metals: Yes. [Document proof provided for verification]
Origin of turmeric: India. 
Packaging facility: United States
Gluten free: Yes
Dairy free: Yes
GMO free: Yes
Vegan: Yes
Mold, Yeast, E.coli, Coliform Tested: Yes [Document proof provided]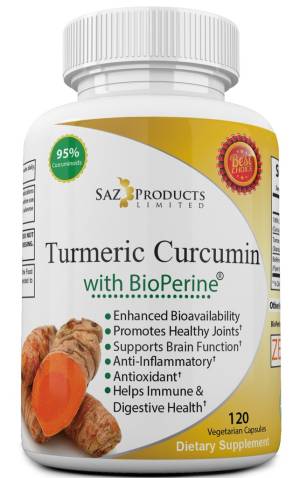 Why buy?
Saz Products Turmeric Curcumin has been produced to include natural Turmeric along with a Standardized Curcumin Extract giving you the best of both in one capsule.
To increase absorption the product has added Bioperine® which is a Black Pepper extract known to increase the bioavailability of Turmeric Curcumin.
Prices, Shipping, and Offers
Details of pricing and offers:
Shipping to: USA only
Shipping time:
Standard Shipping: up to 10 days FREE

Expedited Shipping: up to 3 days $5.00

Priority Shipping: Next Day $11.27
Warranties: Lifetime money back guarantee (check with supplier for more details)
Offers:
Where can you buy:
You can buy from these two websites: