No, taking turmeric in diet usually does not cause indigestion.
Research has proven the beneficial effects of turmeric in treating many gastrointestinal problems including indigestion. It aids in the process of digestion and prevents digestive disorders.
Dietary intake of turmeric is entirely safe.
However, its tolerability varies from person to person and consumption in high doses may cause gastrointestinal discomfort in some individuals.
Let us know more about these effects.
Can Turmeric Cause Indigestion?
Let us evaluate this possibility in some more detail using scientific research –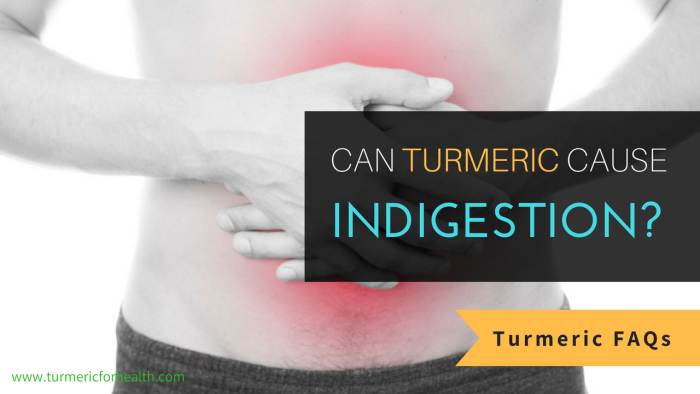 Turmeric benefits in digestive problems
Indigestion, dyspepsia or stomach upset refers to discomfort in the stomach resulting in bloating, nausea or a feeling of fullness. It is quite common and sometimes may be a symptom of an underlying condition.
Turmeric has been used for ages to treat gastrointestinal problems.
Numerous studies have shown its beneficial effects in managing and improving the symptoms of dyspepsia.
It is recommended to take 1.3-3g of turmeric root for treating dyspepsia without any adverse effects.
Turmeric also aids in the process of digestion in the following ways:
It enhances the activities of various digestive enzymes.
It increases bile flow and secretion of bile acids. This enables proper fat digestion, which otherwise may cause indigestion.
It increases the production of gastric acids and juices.
Read: Why Turmeric is Great for Stomach Health
Turmeric can effectively strengthen a weak digestive system. It is beneficial for constipation, gas and bloating.
Thus, turmeric is highly efficient in preventing indigestion and treating the symptoms of dyspepsia.
Tolerability of turmeric varies from person to person
Turmeric is considered entirely safe for consumption in the diet.
No toxic or untoward effects have been reported as a result of turmeric intake, even at high doses of about 8g per day.
The FDA has listed turmeric and curcumin as Generally Regarded As Safe.
However, minor side effects in the form of gastrointestinal discomfort may be reported in some individuals which may include nausea and diarrhoea.
However, these are not general effects. The effects are individual-specific and depend significantly on the tolerability, quality of turmeric, and health condition of the person.
Turmeric is regularly used in Asian cuisines in the diet at average doses of 0.5 to 1.5 g per day per person, without any complications.
Thus, dietary intake of turmeric is unlikely to cause indigestion.
In people who are not used to taking turmeric, initial use (high dose) may result in stomach discomfort. This is also true for persons who begin taking turmeric in high doses or in the form of supplements.
It is equally important to take a good quality organic turmeric or curcumin supplement.
Different individuals have varying levels of tolerability. Thus, one should start by taking small doses and increase the dose gradually, if no adverse effects are noticed.
How to take Turmeric?
Turmeric has a long list of benefits (Read: 100 Health Benefits to Turmeric) and it is easy to include it in your routine too.
Three most popular ways to take turmeric are –
Raw Turmeric -Raw turmeric is fantastic and can be added to curries, smoothies and so no. The key problem is that it's not available easily and all across the year. Read: Raw or Powder – Which Turmeric is Better?
Turmeric Powder – This is the most popular way and also convenient. You can put turmeric spice powder in curries, food, etc. One of the best ways to take turmeric powder is by making turmeric paste (recipe here)
Turmeric supplements / curcumin supplements – One can opt for supplements when the dosage of curcumin required is large, for example in extreme pain, inflammation, aggressive disorders such as cancer. Read: Best Turmeric Supplements Today
Do you take turmeric? How and what's your experience? Do comment and share with us!