Turmeric can be used to make tea, turmeric milk, smoothies, soups, and drinks.
Adding turmeric in these foods will help you incorporate it into your diet on a daily basis. These drinking options are not only very healthy but also quite delicious.
Turmeric and its constituent curcumin have anti-inflammatory, anti-oxidant, anti-microbial and anti-cancer properties.
Taking it on a regular basis may help in the prevention and treatment of several disorders, infections and assist in eradicating toxins from the body.
Turmeric can be easily included in a variety of other foods like curries, salads and rice dishes. Due to its poor bioavailability, turmeric is often consumed with black pepper and / or  healthy fats to enhance its absorption.
Therefore, do not forget to add at least one ingredient (black pepper, coconut oil, olive oil or milk) in your drink which stimulates turmeric absorption.
Here, we list five very delicious turmeric drinks.
There are many options to make exciting drink combinations. The optional ingredients, if added, provide you with an enhanced flavour and numerous health benefits.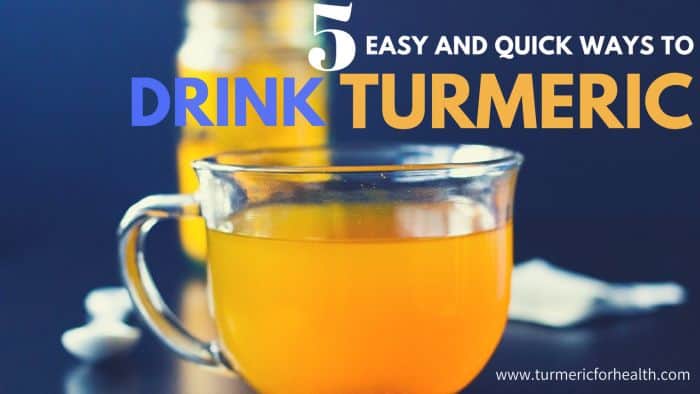 Turmeric Milk
Turmeric milk has been used in the Ayurvedic system of medicine since ages to cure many ailments. To know more about the benefits of turmeric milk and its recipes, read Amazing benefits of Turmeric milk + 3 ways to make it.
Here is a basic turmeric milk recipe.
Ingredients:
1 cup milk (cow milk/low-fat milk/coconut milk/almond milk/soy milk)
1 tsp turmeric powder or ½ to 1-inch piece of turmeric root
Method:
Heat milk with turmeric powder or turmeric root until it is almost boiling. Simmer for 5 minutes while mixing thoroughly. Strain and allow it to cool a little before drinking.
Turmeric Tea
A cup of turmeric tea in the morning soothes your body and stimulates your senses. Read about the many benefits of turmeric, turmeric tea and its recipes in the article How to make super healthy turmeric tea!
Here's a simple method to make this tea.
Ingredients:
4 cups water
1 tsp turmeric powder or 1 ½ tsp grated turmeric root
¼ tsp lemon juice (optional)
1 tsp honey (optional, to add flavor)
¼ tsp ginger/cinnamon powder (optional)
Method:
Boil water and add turmeric. Reduce heat and let it simmer for 10 minutes.
Add the other ingredients, mix well and strain before consuming.
You can also allow it to cool in a refrigerator and enjoy lemon ginger turmeric iced tea.
Turmeric Fruit Smoothie
Combine the benefits of turmeric with those of seasonal fruits in creamy and healthy smoothies.
Ingredients:
1 cup almond/coconut milk
½ cup fruit of your choice banana/mango/strawberry/watermelon/peaches/pineapple
1 tsp turmeric powder or 1 ½ tsp grated turmeric root
¼ tsp black pepper
1 tsp coconut oil
½ tsp cinnamon/ginger powder (optional)
1 tsp honey (optional)
1 tsp chia seeds (optional)
1 tsp vanilla extract (optional)
3 large ice cubes
Method:
Blend all the ingredients in a blender for 30 seconds till smooth.
Pour into a glass, and relish.
Turmeric Juice
The goodness of fresh turmeric and fruits combines in this refreshing drink.
Ingredients:
3-4 knobs of fresh turmeric root
¼ tsp black pepper powder
¼ cup water
¼ tsp black salt/sea salt
1 cup coconut water
1 tsp honey (optional)
½ tsp grated ginger
½ cup fruit juice of your choice orange/ pineapple/mango/watermelon/lemon/carrot/beetroot (optional)
3 large ice cubes
Method:
Add turmeric roots, fruits, water, and ginger in a blender or juicer and blend for 20-30 seconds.
Strain the juice and add black pepper, coconut water, honey and ice cubes. The juice is ready.
Turmeric tomato soup
Ingredients:
2 tomatoes
½ cup vegetable or chicken stock
1 small onion, finely chopped
2 grated garlic cloves
1tsp turmeric powder
1 tsp coconut oil/olive oil
½ tsp black salt/sea salt
½ tsp black pepper powder
1 tsp dried herbs basil/coriander/oregano/thyme/cilantro
Method:
Heat oil in a pan. Fry onions and garlic for a minute.
Add tomatoes and cook till soft. Add stock and bring to a boil. Let it cool and transfer to a blender to obtain a creamy liquid.
Add the remaining ingredients and mix well. The soup is ready.
You can also add turmeric to any other vegetable or chicken soup.
In the end..
You can include turmeric in almost anything under the sun. So, what is needed is your imagination.
Just take care that turmeric needs to taken with black pepper or fats to ensure its full benefits. Thu,s make sure both or atleast one of these are present in the recipe.
Over to you now, how do you drink or take turmeric? Share your recipes!