The following info has been collected directly from the company.
The certifications and testing mentioned by the company have been verified by us using the relevant documents sent to use as proofs.
About the Company
Ownership, brand, address and contact details of the company are as follows:
Company's full name: Quality Produced LLC
Brand name: Pulp Story
Owner / director: Mitchel Dreier; owner operator.
Years in business: 3+ [as of 2017]
Product website: www.PulpStoryJuice.com
Address: 11693 San Vicente Blvd #286 Los Angeles, CA 90049
Country: United States
Customer care email: [email protected]

Customer care phone number: +1 800-817-0850
Owner's Profile
Mitchel received HACCP training and certification at Cornell University.
Details of the product
Pulp Story has come up with an innovative way to consume turmeric, through a 100% juice shots! This is a great news for turmeric lovers who want to consume turmeric but do not like turmeric powder's taste.
Here are more details on their product:
The quantity of key ingredients:
2-ounce single serve portions, 16 servings included.
100% juice with minimum 20% turmeric juice (by volume). No water added.
Other fruit juices based on flavors (cherry, pomegranate, pineapple, etc.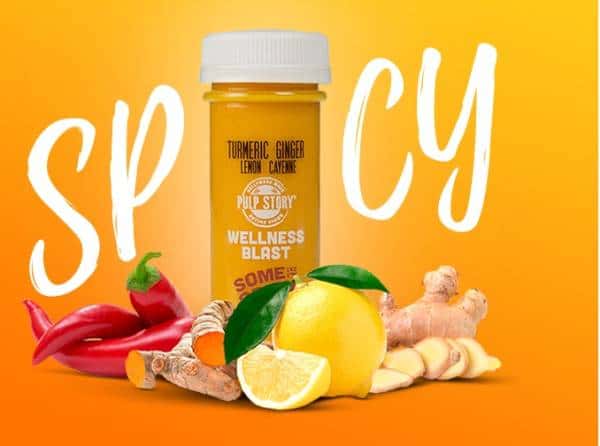 List of additives: None
Origin of turmeric: Fiji and Hawaii
Production facility: United States
Why buy Pulp Story Turmeric Juice?
Here is what the company has to say about their USP:
The reasoning here is pretty simple: We believe turmeric shots can be the kick in the pants you need to live the life you want.
Turmeric is a bright yellow-orange spice native to South Asia. It is a member of the ginger family, which accounts for its pungent and slightly spicy flavor, and is best known for giving curry that vibrant yellow hue. Most of us are used to seeing turmeric in powdered form, but this flavorful spice actually grows as a root.
That root is loaded with antioxidants and delivers an array of anti-inflammatory compounds – more than two dozen, believe it or not! It can help find inflammation, reduce feelings of pain and increase joint mobility, helping those with arthritis and other inflammatory conditions.
That's not the only secret this unassuming root has in store for you, though. The active ingredient in turmeric – curcumin – has been shown to put your immune system in high gear and enhance antibody responses, indicating its effectiveness in fighting "allergy, asthma, atherosclerosis, heart disease, Alzheimer's disease, diabetes, and cancer."
Moreover, probably by dint of its powerful antioxidant properties, turmeric has a potent effect on mood. It can alleviate depression and modulate emotions. Studies also show it can be effective against the progression of Alzheimer's and the symptoms of epilepsy.
What does all this have to do with shots, you're wondering? Simple: Wellness shots are the absolute best way to get more turmeric in your life, and therefore the best way to energize your body, boost your immune system and keep you feeling good.
Our shots are made exclusively from fresh turmeric root. Unlike other products of a similar nature, we never use the powdered form of the spice, which denatures many of the active ingredients. Plus, we pack every shot with the maximum amount of cold-pressed turmeric goodness, using more root by volume than any other company we know.
Because our shots contain all the enzymes present in fresh produce, they're extremely bioavailable – meaning, your body can absorb and use them right away, giving you those immune-fighting and mood-boosting benefits without the wait.
PROTECT YOUR BODY
Turmeric helps to fight infection at the root, and defend you against cancer and other major diseases.
BOOST YOUR IMMUNE SYSTEM
It's loaded with antioxidants and delivers an array of anti-inflammatory compounds to keep you energized and well.
KEEP YOU FEELING GOOD
It can help reduce sensations of pain, increase mobility and reduce inflammatory responses to allergens and toxins in the environment.
Prices, Shipping, and Offers
Details of pricing and offers:
Shipping: All across US 
Warranty: 30 day money back guarantee
Shipping time: Orders ship within 48 hours of receiving the order, weekdays only. Arrives cold to your door.
Where can you buy: You can buy from Amazon.com, the links of the Amazon listing are available on the company website: