Quick Review: Simply Organic Ground Turmeric Root
Simply Organic Ground Turmeric Root powder is the dried and ground rhizome of the Curcuma longa plant with a minimum of 4% curcumin. This versatile yellow golden color spice is kosher, non-GMO, and used to enhance the flavor. The potent, certified organic, medicinal spice from a respected brand for overall wellness support.
About the Company
Simply Organic is dedicated to offering spices and herbs using certified organic ingredients with strong flavor intensity to do good for people and the planet.
They also provide time-saving seasoning blends and simmer sauces to make spice-centric meals convenient.
Simply Organic guarantees that their products are certified organic, non-GMO by third-party organic certifier Quality Assurance International (QAI) and don't allow irradiation to ensure they do not contain any unwanted preservatives fillers.
The products also have Kosher Supervision of America certification and are free of MSG, GMOs, aspartame, high fructose syrup, and many harmful ingredients.
They share a variety of recipes on their website.
Simply Organic works closely with farmers to help them grow the most aromatic and wholesome spices every year.
They give back to millions of food insecure in the United States and Canada through the Simply Organic Giving Fund.
The contact information of Simply Organic is
Frontier CO-OP
P.O Box 229 3021 78th St.
Norway, IA 52318
https://www.simplyorganic.com/
The team could be contacted at [email protected] or called at 1-800-669-3275 or through an online query form.
Simply Organic is transparent and shares its contact details, certifications, and commitment to quality.
Team Behind Simply Organic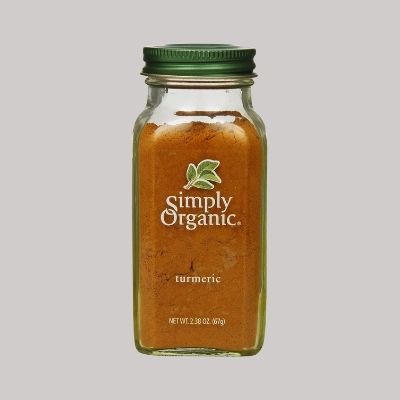 Based in Norway, Lowa, Frontier Co-op is the co-operatively owned wholesaler founded in 1976 by Rick Stewart and Colleen Greenhawn.
It was started to provide the highest-quality organic and natural products while supporting and promoting environmental responsibility.
Simply Organic is the Frontier Co-op brand started in 2001 to provide a line of certified organic foods.
Since then, it has grown to offer a wide range of non-GMO products.
We are satisfied that the company shares their inspiration and story to start Simply Organic.
Key Specification of Simply Organic Ground Turmeric Root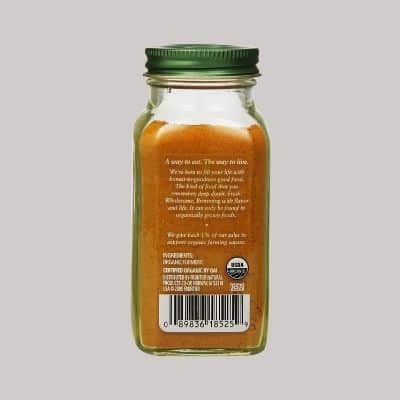 Simply Organic provides 2.8 oz (67g) Organic ground Turmeric Root with a minimum of 4% curcumin. It is also available in a 0.53 oz size container.
It is an organic, non-ETO, non-irradiated, and Kosher product.
Simply Organic ground Turmeric root is made by grinding turmeric root (Curcumin longa) sourced from India, Guatemala, and Nicaragua into a fine powder.
It has a deep golden-yellow root with a distinctive pungent odor. It can be used for mustards, dressings, eggs, and rice dishes.
It has a flavor that resembles both ginger and pepper.
Simply Organic provides 1% sales to support organic farming causes.
It can be purchased directly from its website and several other online platforms, including Amazon, iHerb, and Walmart.
Simply Organic Ground Turmeric Root does not have nutritional information on the website as it doesn't have any reportable nutrients other than turmeric.
According to FDA regulations, nutrient listings of foods that contain insignificant amounts of all of the nutrients can be exempted.
Specification of Simply Organic Ground Turmeric Root
| | |
| --- | --- |
| Origin of Turmeric root | India/Guatemala/Nicaragua |
| Botanical name of Turmeric root | Curcuma longa (L.) |
USPs of Simply Organic Ground Turmeric Root
Simply Organic Ground Turmeric root is made using organic and non-irradiation methods.
It is free from GMOs, artificial additives, and chemicals at any stage of manufacturing and growing.
Simply Organic Ground Turmeric is certified organic by the third-party organic certified, Quality Assurance International (QAI), and Kosher by Kosher Supervision of America.
Simply Organic Ground Turmeric is highly potent, containing a minimum of 4% curcumin.
It does not contain ETO, a substance considered carcinogenic by the EPA.
The rigorous standards of Simply Organic ensure us that we know precisely what we are getting and from where.
User Review Analysis of Simply Organic Ground Turmeric Root
Simply Organic Ground Turmeric Root has several customer feedback and positive reviews posted online on several platforms.
It received a rating of 4.8 stars on 5 with over 1000 global reviews on Amazon.
It scored for features, including freshness, thickness, and packaging.
What Customers Liked?
Use of organic ingredients
The customers liked the use of organic ingredients without any artificial ingredients. Therefore, it had good flavor.
Good potency
Unlike many brands, Simply Organics Ground Turmeric Root offers good potency with a minimum of 4% curcuminoids.
Easy to take
It can be easily added to the diet and provides great anti-inflammatory relief. Many customers felt that it is good value for quality turmeric.
What Can Be Improved?
There were not many cons for this product from customers.
However, a few customers felt that it was bitter and stained the hands after use.
Our Recommendation
Are you looking for reasonably priced, organic turmeric to be used in cooking and cosmetic preparations for its anti-inflammatory properties?
Then, we recommend Simply Organic Turmeric based on our TQF (Trust, Quality, and Customer Feedback) analysis.

Organic certifications, potency, quality testing, positive customer reviews, and trustworthy brand make Simply Organic Ground Turmeric Root stand apart from its competitors.
Recommended!
Check out the best price and Buy on Amazon>