Since we started this portal around 3 years back, a lot has been written about turmeric and its benefits.
There is a tremendous buzz around using turmeric for various disorders – which is also a great thing. After all turmeric is known to have so many benefits!
But another not so good, rather unfortunate aspect of this is – rampant unethical marketing tricks to sell turmeric products.
As you already know we have just posted our first list of "recommended" turmeric brands (check them here if you have not). As you can see the list is really short.
Trust me it does not in anyway give the indication of the hours we have spent in researching and finding these brands!
I feel we were doing more of elimination exercise rather than selection.
But we learnt a lot about turmeric selling tricks while researching on the products. I want to share some great ones with you.
This can help you in avoiding spurious brands which can cause more harm than good.
Dirty Marketing Tricks Used for Selling Turmeric Powder
Here they are: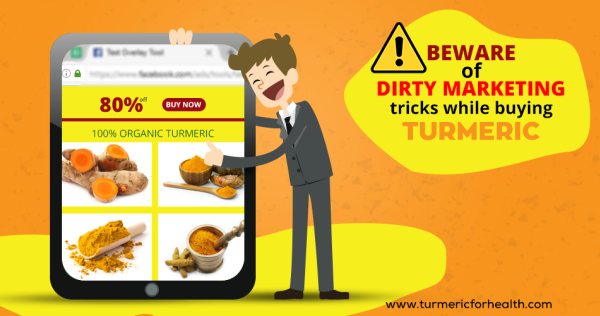 1. My products is 100% pure and organic
You may have seen this on various turmeric powder brands – 100% pure. 100% organic.
While researching to find out some great turmeric brands to recommend to our readers we emailed lots of product manufacturers which claimed that their product is 100% pure and organic.
This is what we asked them – copy of organic certificate by an independent agency.
You will be surprised to know the response.
Most of them never replied but even worse some got angry with our queries!
They clearly mentioned that they DO NOT give any proofs of their product quality to anyone, but can assure what they say is true. How absurd is that.
Thus one has to be very careful while buying turmeric – trust buyers which have a good track record, have great customer reviews, can furnish proofs, etc.
2. Patent pending
A few days ago I received an email from a turmeric supplement manufacturer asking us to promote their "patent pending" curcumin extract.
Now, while we do not promote supplements, the word "patent pending" for sure excited us and at the same time raised an alarm.
So we asked for more details about the product including which patent office the patent has been filed and any official receipt (we never asked the details of patent etc.) or a reference number they can give us.
We have received no reply from them since then. No point in guessing what was going on there.
In many countries there is lack of monitoring for food / supplement products and thus a normal buyer can easily be misguided by such sellers.
So be aware.
3. High curcumin myth
This is good one.
Another great way to lure first time turmeric buyers.
You may have seen this on packages – "high curcumin % assured" "highest curcumin %" " best curcumin %".
If you see such claims – you should immediately start thinking.
While we were evaluating turmeric brands, we had 2 brands which mentioned "high curcumin %" on their packaging.  We emailed them to ask the average curcumin % which they can prove using an independent lab certificate.
One did not reply and the other sent certificate of 2.1%.
Okay, so of course the latter is better (atleast they replied) but 2.1% curcumin does not qualify to be called as "high" at all. This is average % curcumin turmeric will have.
When we asked the same query to Justingredients.co.uk (a recommended) supplier – they sent a certificate of the same with 4.7% curcumin. Now this is what we call a high % curcumin powder.
So, do not go just by marketing. In case of doubt please ask the hard questions about the percentage.
But do not make curcumin % as deciding criteria as most brands will have 2-3% only, which is very fine.
So what to do to avoid these traps?
This is not hard, you just have to know these tricks and then you can easily spot most low quality brands. Of course this will require some work and in some cases trial from your side.
If you do not want to make that effort, there is always our country based recommendation list to help you.
What is your experience with turmeric products? Have you been tricked? How?
Let me know in the comments below!