The following info has been collected directly from the company.
Certifications and testing mentioned by the company (wherever specified) have been verified by us using the relevant documents sent to use as proofs. Wherever certification is present, we have mentioned that info.
About the Company
Ownership, brand, address and contact details of the company are as follows:
Company's full name: New Naturals LLC
Brand name: New Naturals
Owner/director: Helene Wallis.
Years in business: 10 [as of 2017]
Product website: http://www.newnaturalsonline.com
Address: 112 Darwin Lane, Stuart VA 24171
Country: United States
Customer care email: [email protected]

Customer care phone number: +1 276-694-5166
Details of the product
The turmeric powder is sold as New Naturals Organic Turmeric.
Here are more details on their product:
100% turmeric powder

% curcumin: 2.5-5% (varies from batch to batch)
Quantity per pack: Available in one pound and half pound resealable standup lightproof pouches
List of additives: 0%
Certified Organic: Certification is under process. Certification authority – Pennsylvania Certified Organic, the certifying authority that covers our location in Virginia.  
Tested for lead, arsenic and other harmful metals: Yes. [Document proof provided]
Origin of turmeric: India. Also speaking to suppliers at Haiti and Puerto Rico
Packaging facility: United States
Gluten free: Yes
Dairy free: Yes
GMO free: Yes
Vegan: Yes
Mold, Yeast, E.coli, Coliform Tested: Yes [Document proof provided]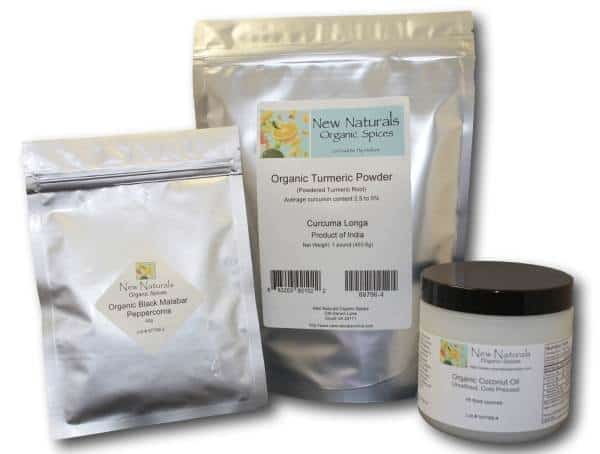 Why buy ?
Here is what the company has to say about their USP:
Our turmeric is tested for heavy metals in addition to the usual testing for pathogens. It's shipped in an easy-open resealable standup pouch—air, light and moisture proof. Takes less space on the pantry shelf than a jar and is easy to seal and keep fresh.
We also sell convenient kits to make one batch of golden paste or six batches in the larger economy size. The kits include all the ingredients required, along with a color illustrated instruction sheet.
Prices, Shipping, and Offers
Details of pricing and offers:
Shipping to: All North, Central and South American countries, plus the UK, Australia and New Zealand.
Shipping time: Shipped same day if the order arrives in time. We also ship on Saturdays!
Warranties: 30-day return, purchase price refunded but not shipping
Where can you buy: You can buy from these two websites: