The following info has been collected directly from the company.
The certifications and testing mentioned by the company have been verified by us using the relevant documents sent to use as proofs.
About the Company
Ownership, brand, address and contact details of the company are as follows:
Company's full name: Bondi Morning
Brand name: Bondi Morning
Owner / director: Jeff Falkoff
Years in business: 8 
Product website: www.bondimorning.com
Facebook Page: www.facebook.com/bondimorning
Address: 306 Angela House, 30-36 Bay Street, Double Bay, Sydney NSW 2028. Australia
Country : Australia
Customer care email: [email protected]

Customer care phone number: +61 293 283 487
Details of the product
Bondi Morning has come up with turmeric supplement capsules with Bioperine (for better absorption).
Here are more details on their product:
Key ingredients per capsule:
No of capsules in a bottle: Pack of 60 or 120
List of additives: None
Tested for lead, arsenic and other harmful metals: Yes. [Document proof provided]
Origin of turmeric: India
Production facility: USA, GMP certified [Document proof provided]
Gluten free: Yes
Dairy free: Yes
GMO free: Yes
Vegan: Yes
Antibiotice Free: Yes [Document proof provided]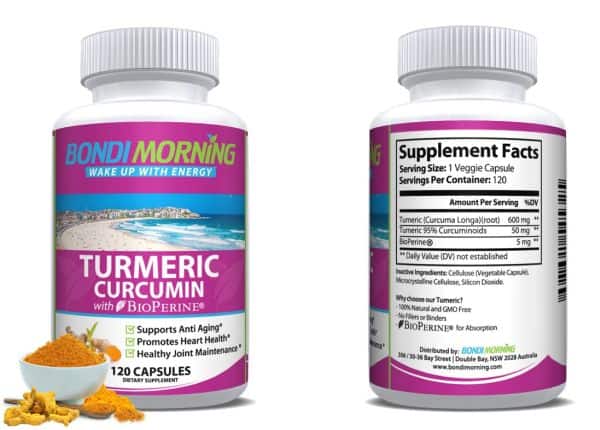 Why buy this product?
Here is what the company has to say about their USP:
100% Natural and GMO Free, NoFillers or Binders, Bioprene for Absorption.
Bondi Morning – Wake Up With Energy Every Single Morning!
When it comes to your health and your family's wellbeing, make sure you buy a supplement brand you can trust.
Obtaining all the beneficial ingredients and nutrients for your food can be really hard, especially due to your hectic lifestyle and long work hours.
That's why Bondi Morning is here to bring fun back into health and nutrition, with a line of supplements and vitamins that make mornings something to look forward to.
So get out of bed and embrace the day – Bondi Morning's carefully selected dietary supplements help you wake up with energy!
Prices, Shipping, and Offers
Details of pricing and offers:
Ships worldwide: Yes [Check product page for details]
Special quantity discounts on request.
Shipping time: US 2 Days, Otherwise 3-10 business days
Return Policy: 30 day return
Where can you buy: You can buy from these websites: