Quick Review: 1MD CurcuminMD Plus
CurcuminMD plus is the physician formulated optimal supplement to enjoy turmeric benefits with clinically researched ingredients, high-potency vegan formula, and a 90-day money-back guarantee. With the new Longvida Optimized Curcumin formula and added Boswellia serrata, CurcuminMD Plus presents the most bioavailable curcumin for a cognitive and antioxidant boost.
About the Company
1MD is a health advocate platform of Scalemedia dedicated to providing innovative health supplements and the latest research news to help people live longer and healthier lives through the powerful integration of advanced science and nature.
1MD claims to source its ingredients from the purest, clinically-researched raw materials from the supply partners using their five-star test.
1MD manufactures its products 100% compliant with good manufacturing practices, NSF certification, and safety testing with the motto cheaper is not better.
It promises to avoid using fillers, binders, and artificial ingredients.
1MD also has a comprehensive health guide of symptoms and disorders, helpful ingredients, and very informative recipes.
1MD offers a 90-day unconditional guarantee, which is very reassuring that they stand behind their supplements.
They also offer free shipping within the US on orders above $97.
We are satisfied with the brand transparency of 1MD.
They sell innovative supplements and provide many informative educative materials for the consumers to achieve their health goals.
Team Behind 1MD
Ben Flohr and Ziv Haklili started Scalemedia in 2013 to develop several popular consumer brands, including 1MD from concept to scale, efficiently.
Their Scientific advisory board consists of a panel of doctors, including Dr. Adam Krietenberg (Rheumatology), Dr. David Kahana (Gastroenterology, Dr.Brian Greenberg (Allergy and Immunology), and Dr.Daniel Brison (Urology), who stand by their formula.
We are satisfied that the company provides the information about the team, unlike most other companies.
They also provide details about their scientific advisory board.
Key Specification of CurcuminMD Plus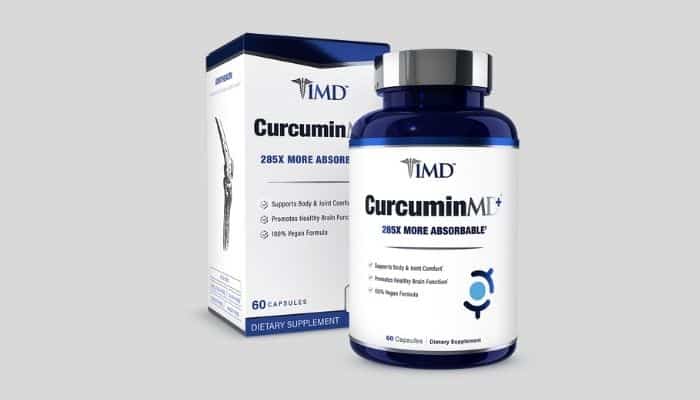 1MD offers 60 vegan CurcuminMD plus($36.99).
If you are looking to buy in bulk, then 1MD has good discounts.
CurcuminMD Plus has Longvida Optimized curcumin formula that uses a patented lipid technology, which helps the curcumin reach the targeted problem areas and increase its bioavailability by 285 times than 95% standardized curcumin.
Additionally, it has a highly bioavailable form of standardized 65% Boswellia Serrata extract, a herb used to reduce joint discomfort and prevent cartilage loss.
CurcuminMD Plus helps relieve sore joints, promote heart health, and give a cognitive boost.
It also provides memory, mood, focus, and anti-inflammatory support by boosting antioxidant enzymes' production.
CurcuminMD plus can be purchased directly from their website and also from other online platforms, including Amazon.
It is recommended to take one capsule twice daily on an empty stomach with a glass of water or as directed by a healthcare professional.
Those who have a sensitive stomach may take it with a small meal.
Key ingredients of CurcuminMD plus
| | |
| --- | --- |
| Key Ingredients | Amount per servings |
| Longvida Optimized Curcumin Extract (from Curcumin longa root) | 400 mg |
| Standardized 65% Boswellia serrata extract | 333 mg |
USPs of CurcuminMD plus
CurcuminMD plus is made in the USA compliant with good manufacturing practices.
It is free of preservatives, and allergens, including soy, gluten, and dairy.
CurcuminMD plus has Longvida Curcumin extract patented under US 9192644 and EP 1993365.
It is a registered trademark of Verdue Sciences Inc that makes of Solid Lipid Curcumin Particle Technology, which wraps curcumin in lipid and transports it to the small intestine.
Therefore, it increases the bioavailability of curcumin by offering a 7.5-hour half-life making it more efficient.
CurcuminMD plus also has WokVel (Boswellia Serrata), a registered trademark of Verdure Sciences, which has proven to improve joint health parameters.
We are satisfied with the list of allergen-free and preservatives-free ingredients. They are the same as advertised without any artificial ingredients or fillers.
User Review Analysis of CurcuminMD plus
1MD has many customer feedbacks and a rating of 4.8 for CurcuminMD plus on their website. Amazon has over 700 global reviews with a rating of 4.4 out of 5 stars.
What Customers Like?
Great for a sensitive stomach
The customers liked that the CurcuminMD plus did not have any piperine, which caused stomach problems in individuals with a sensitive stomach. It has Boswellia, a herb that has been in use for centuries for its anti-inflammatory properties.
Easy to consume and great for pain relief
Many customers benefited from taking CurcuminMD plus for pain relief, especially joint pain. They mention that muscle, joints, and limbs stiffness have gone. Also, it is easy to consume as it is available as a pill.
Return policy
1MD offers a 90-day unconditional money-back guarantee, which the customers appreciate. This ensures that they stand behind their quality formula.
What Can Be Improved?
The product has very few cons mentioned by the customers
A few customers felt that the price was high
Our Recommendation
We recommend CurcuminMD plus for anyone looking to improve joint health, decrease joint discomfort, elevate brain health, boost energy levels, and overall systemic relief in the body based on our TQF (Trust, Quality, and Customer Feedback) analysis.
With two active ingredients backed by science that work synergistically, no preservatives, and a 90-day money-back guarantee, CurcuminMD plus is worth giving a shot.
As with any supplement, please consult a healthcare professional before taking CurcuminMD plus if having any medical condition or are pregnant.
Highly recommended product!
Check out the best price and Buy on Amazon>