I am totally into the idea of encouraging a sweet tooth! Desserts are welcome at any time of the day. Seriously what would life be without a little indulgence into sweet treats!
In India we have a festival every month so there is always a reason to grab a bite of sweet delicacies.
Desserts are one zone of cooking where you can limitlessly experiment. Infusing various flavours into ice cream or deriving no bake cakes or going for dairy free cheesecakes etc. etc. there is a lot of innovation being brought into this category of cooking.
Lately these mirror glaze cakes have caught my eye and boy they are treat to the eyes and taste buds! Ok, guess I have digressed enough…coming to turmeric !
Turmeric is a spice and we all know that. It gives a great hue when infused in dishes but it's taste is very warm a mix of bitter, spicy and pungent.
It is a perfect ingredient for savoury items and if that is the case why have I been talking about desserts in the first place!
That's because Lora Wiley from http://www.diaryofamadhausfrau.com has proven me wrong. She has left me spell bound by infusing turmeric into a classic sweet treat Macarons!
Lora is a food blogger at http://www.diaryofamadhausfrau.com and the woman loves to travel the world (54 countries !!!)
Baking works like therapy for her and I guess her recipe Turmeric Macarons Chocolate Espresso Buttercream Filling proves that!
As Lora calls it 'crazy macron flavour creation' ; this flavour was invented as a result of clearing the spice cabinet! Little did we know that Lora's cleaning spree will give us something so tasty, right!?
Moving to the ingredients, here is the list:
Egg whites
Sugar
Turmeric powder
Almond flour
Cream of tartar
Salt
Chocolate espresso buttercream
These macarons is a great way of taking turmeric without tasting it! The macarons get a beautiful yellow golden hue with a smokey flavour.
The turmeric is just enough to cut off the strong flavour of chocolates espresso cream in a way that leaves your taste buds craving for more!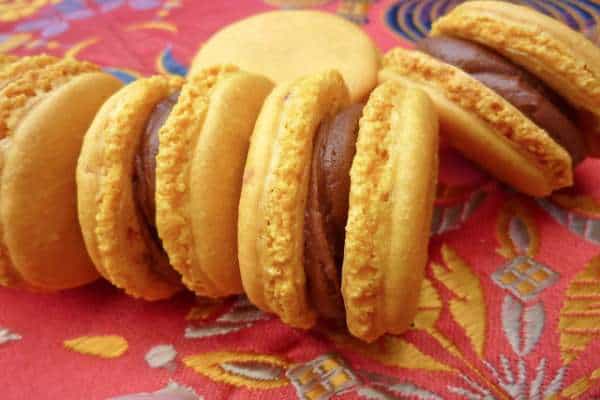 I know when it comes to weight loss or just metabolic health in general, people say no chocolates just steer clear of them.
But I feel denying dark chocolate is a sin, mind you dark chocolate and not the ones loaded with added sugar. And I will prove it you to with a couple of studies.
Now this study is soon to be published in Appetite, Jan 2017. In this study, individuals were asked to consume chocolate or crackers, just a small amount-75 calories, either in a mindful pattern or a non mindful way.
Those who consumed chocolate in a mindful way experienced a greater increase in positive mood compared to those who were not eating in a mindful way. Researchers concluded that chocolate increases positive mood especially when eaten mindfully.
A study published in Appetite, May 2016 identifies that habitual chocolate consumption is associated with better cognitive performance.
Hold on, I have got another one…Brain, Behaviour and Immunity, Oct 2016 published a study which showed that consumption of 50g of antioxidant rich dark chocolate 2 hours prior to a social stress test resulted in decrease in stress induced inflammation and also in stress related hormonal changes.
These help us understand that cocoa flavonols or antioxidants found in cocoa actually benefit brain and heart health.
So occasional indulgence in good quality dark chocolate is a must! Also chocolate contains good fat that can aid in absorption of turmeric.
Lora has been quite generous when it comes to including turmeric in the macarons. Apart from the warm flavour and color, turmeric has a lot to offer for better health.
Just like chocolate, turmeric has a powerful set of antioxidants called curcuminoids and curcumin is the principal curcuminoid.
Dietary turmeric reduces the risk of cancer. (Read Turmeric for Cancer)Experimental studies show that turmeric extract increases the efficacy of chemotherapeutic drugs in colon cancer.
Dietary supplementation of turmeric and ginger has anti-atherosclerotic effect. (Read Turmeric for Heart) A diet enriched in curcumin may benefit in conditions like Post traumatic stress disorder. (Read Turmeric for PTSD)
Almond flour makes room for a grain free and gluten free snack. Consuming almonds as a part of breakfast helps control blood sugar levels in those who have impaired glucose tolerance and improves satiety.
You could experiment with other flours too. And you could swap sugar with honey or stevia, but you got to get the proportions right.
All in all you should definitely try making these lovely turmeric infused macarons at home. For the full recipe click here:
http://www.diaryofamadhausfrau.com/2013/02/turmeric-macarons-with-chocolate.html
Please leave your comments below or do mail us back at [email protected] in case you have a great turmeric recipe and we would love to feature you.
Happy cooking! Wish you great health!
Save
Save