If you follow our blog, then it is not news to you that turmeric is more helpful than your neighbor of 20 years. And researchers keep on discovering new health benefits of the "golden spice".
And the tasty part is, that chefs these days, are taking innovation to a whole new level. They keep finding ways of using ingredients that one might have never imagined.
Turmeric for dressing salads! Kaylee from "lemonsandbasil.com" has come up with this awesome recipe that makes it so easy to include turmeric in your diet.
An adamant believer of the fact that health and nutrition go hand in hand, she promotes this belief by creating these delicious dishes.
This salad dressing combines just some of the finest ingredients that would be perfect for a weight loss recipe- like apple cider vinegar, olive oil and turmeric.
Oh did you know that turmeric supplementation combined with diet and exercise can make you lose up to 1 kg every 10 days. (Read Turmeric & weight loss, Turmeric supplementation helps in weight loss and obesity)
Balsamic Vinegar is an excellent anti-oxidant. It contains Quercetin that helps it in combating cancer. It reduces the risks of heart attacks and helps in digestion, diabetes control and weight loss. It maintains bone health too.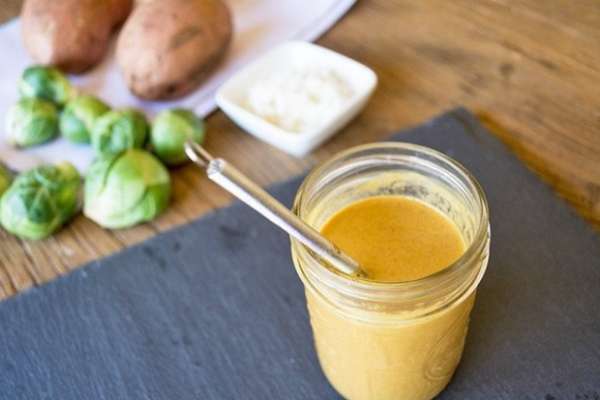 Apple cider vinegar is the most popular health vinegar. It helps in soothing sour throat, whitens teeth and helps in digestion. It lowers cholesterol and prevents indigestion. It helps in weight loss and has antioxidant properties.
Ingredients
Balsamic vinegar
Apple cider vinegar
extra virgin olive oil
Water
Honey
Almond butter
Garlic
smoked paprika
turmeric
Secret ingredient
So this secret ingredient is one food rich of quality protein and you know the more fat it contains the higher is the probability that it will get you rid of belly fat.
To find out that secret ingredient and to get the guide for the whole recipe, please visit the link below –
http://lemonsandbasil.com/balsamic-almond-and-turmeric-salad-dressing/
Feel free to drop every question in the comments section below and do tell us how you like it.
If you have any innovative way of using turmeric please send us a mail, at- [email protected]
Save